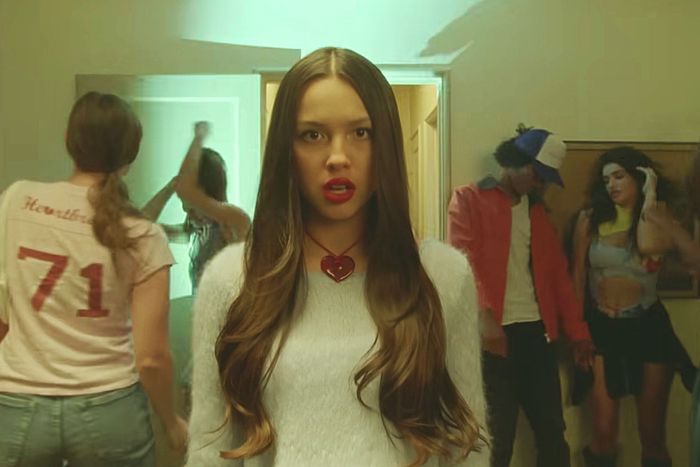 "Drivers License" blew up so quickly it rocketed Olivia Rodrigo out of a starring role in Disney+'s High School Musical: The Musical: The Series and into the rare air of chart-topping singer-songwriter on the first attempt. This doesn't usually happen. Graduating from the junior division takes years of fine-tuning. A No. 1 single eluded Miley Cyrus prior to "Wrecking Ball," Selena Gomez got there a decade into her career with "Lose You to Love Me," and Ariana Grande wouldn't take the crown until "Thank U, Next." The ubiquity of Rodrigo's 2021 debut album Sour is a uniquely 2020s phenomenon: a byproduct of the power of social media to spread trends like aerosols, and a classic case of music connecting with the public off the strength of its unvarnished emotion. With TikTok as the accelerant, "Drivers License" and "Good 4 U" drifted across demographics. But people were hooked by the songs' agonizing honesty, righteous rage, and convincing delivery. Having grown up watching Taylor Swift, Rodrigo used her upper register like a weapon the same way her predecessor did in "We Are Never Ever Getting Back Together." Sour offered massive hooks and dynamic tension — the frustration released in the choruses of "Good 4 U" and "Brutal," the patient crescendos and bridges in "Drivers License" and "Deja Vu" — that suggested even greater depth on the horizon.
After winning a few Grammys and filming a fast third-season departure for her Disney character, Olivia Rodrigo has returned with Guts, a sophomore album that aims to cut a more distinct identity in a landscape of everything-bagel pop albums while continuing to explore the emotional peaks and valleys that attracted fans to songs like "Traitor." Opener "All-American Bitch," which references Joan Didion's Slouching Toward Bethlehem, sets the major themes up early: It sucks being expected to suffer with a smile in a world where women are treated like wells of endless resilience. Rejecting modesty and smallness, Rodrigo shouts and swears as bursts of electric guitar scorch what starts out as a folk song, and the lyrics list unrealistic demands on women: "I don't get angry when I'm pissed / I'm the eternal optimist / I scream inside to deal with it." Guts bristles at restrictive societal mores and beauty standards while seeking meaningful companionship in a field of layabouts, liars, and social climbers. It embodies the duality of its title, the strength and the vulnerability the gut conjures. It's a brusque, confident rock album wrapped up in a collection of wounded ballads about insecurities and mistreatment. It satiates the hunger for more sentimentality in the vein of "Drivers License," though the crunchier moments reveal a singer who ought to get on better with Courtney Love, who accused Rodrigo of copying Hole's Live Through This cover art for Sour.
Guts sticks out in a decade of pop music marked by upbeat themes and one-album genre experiments. Rodrigo, along with returning Sour producer Dan Nigro, strikes a smarter balance between alternative-rock jams and gooey sad songs, evading a sense that they're adhering to a formula by paging through a playbook full of grunge, new wave, and power-pop sounds. (P!nk works with a similar palette, but Rodrigo doesn't share her interest in motivational anthems. Miley split the rockers and the softer songs between Younger Now and Plastic Hearts. Nobody wants to be boxed in, but nobody wants to overstimulate listeners either.) It's also much mushier than the bands its louder moments evoke. It's not easy to tell whether the indecisive "Get Him Back!" ("I wanna key his car / I wanna make his lunch / I wanna break his heart / Stitch it right back up") is inverting the concept of Swift's "Never Ever" or simply aspiring to the slacker-rock thrills of the Butthole Surfers' "Pepper" and Weezer's "Beverly Hills." "Bad Idea Right?" serves punchy pub rock reminiscent of the Cars; "Pretty Isn't Pretty" lands somewhere between Hole's "Malibu" and the Cure's "The End of the World." Tasty guitar leads and solos abound, but whenever you get amped up, a cooldown arrives. Rodrigo is more than capable of carrying slow songs, and they're uniformly lacerating in their earnestness, but by "Logical," they start to feel a bit mechanical.
What's obvious on either end of Olivia Rodrigo's pop-rock spectrum is that noisy defiance is a healing and energizing experience. The album's singles "Vampire" and "Bad Idea Right?" showcase the divergent paths she takes toward catharsis. The first song, a vengeful slow burner, mounts complaints about an unnamed acquaintance on the way to a damagingly concise verdict about their character: "Bloodsucker, fame-fucker, bleeding me dry like a goddamn vampire." In "Bad Idea Right?," she's a less reliable but no less relatable narrator, partying and making contact with someone she will regret reconnecting with in the morning. The major achievement here is making songs so firmly rooted in the specificity of her life feel like they could happen anywhere in the world. Fame is central to the story of "Vampire," but you don't have to sell a million records to feel fleeced by a manipulative person. "Ballad of a Homeschooled Girl" attempts to catch up on the social cues the star missed in her time on High School Musical and outside the standard educational system, but you don't need sitcom experience to connect with the nagging self-loathing it details in the irascible "I know, I know!" before the first chorus and the palpable discomfort in the verses: "Blood running cold / I'm on the outside of the greatest inside joke / And I hate all my clothes / Feels like my skin doesn't fit right over my bones." "I was home-schooled and all this stuff happened in my career," Rodrigo explained in a conversation with Phoebe Bridgers in Interview magazine this month. "But … if you speak honestly about any experience, then someone is going to find truth in it."
And so Olivia Rodrigo's speed-run from Disney to Billboard success continues, shuddering at all of the eyes Sour's meteoric hits attracted while working through classic growing pains no amount of money can insulate you from. Guts feels more personal and less restrained, more refined and less predictable. The core truths are that it's exhausting having feelings and being seen and perceived and scrutinized but also fun to observe the ways we're being observed and to articulate our disinterest in the pageantry of visibility. Wry line deliveries in songs about the weight of strangers' expectations convey contempt for the way the world is governed. Pithy performances in the opener and the crafty "Get Him Back!" benefit from time on sitcom sets. "All-American" and "Pretty Isn't Pretty" approach desirability from multiple angles, voicing discomfort with the compulsion to conform to exacting standards for how to dress and behave and examining the pain of feeling overlooked, while the protagonist of "Lacy" succumbs to a growing resentment for someone who seems too perfect to be believed. Rodrigo is living in a gilded panopticon where every move arouses intense emotion in viewers she may never meet, and the image cultivated by celebrities like her is used to judge everyday people who can't access the same resources. Guts is saying fuck it. Live your life. Hold grudges. Or make amends.