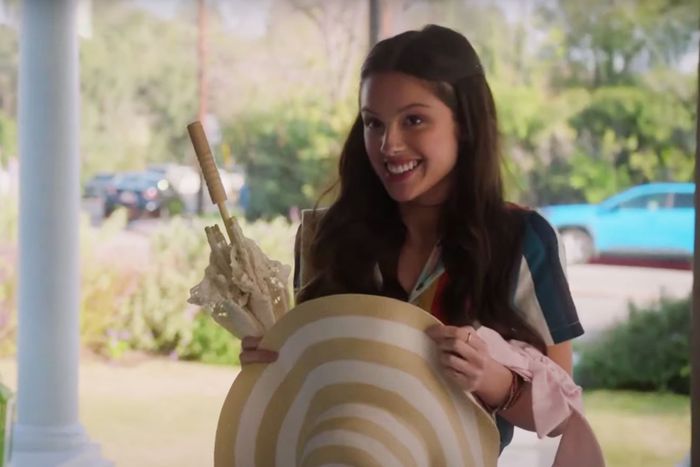 Photo: Disney Plus/YouTube
If you watched High School Musical: the Musical: the Series before Olivia Rodrigo wrote "drivers license" and pedal-to-the-metal'd her way to massive fame, congratulations — you're very cool like I am. But Rodrigo has taken a role on the sidelines as the show heads into its third season, probably because she is going to leave as soon as that's contractually possible. (We imagine! Disney has not confirmed any plans for her to depart!) Or maybe because it's awkward to spend so much time hanging out with the ex you wrote a hit song about, though Rodrigo and Joshua Bassett have proven they can stand next to each other (congrats to them). The point is, while everyone else has gone off to summer camp to do a production of the stage version of Frozen in season three, Rodrigo's Nini is on a journey to find herself. For those who are not keeping up with the season — seriously, though, what is wrong with you? It's cute! — we bring you "What Has Olivia Rodrigo Done This week?"
Episode One
At the end of the last season, Nini's self-recorded songs started to go viral online (meta), so she started to pursue a musical career more diligently and grew apart from her other theater-kid friends (very meta). In the first episode, Nini reveals to Kate Reinders's Miss Jenn that she's going on a trip to California with her two moms, while everyone else goes off to theater camp. She is working hard on new music for Sofia Wylie's character's brother — who is played by former Evan Hansen Jordan Fisher — but having trouble coming up with song ideas and having mixed feelings about choosing to go off on her own (extremely meta). Miss Jenn advises her to "be safe! And take big risks." Good advice for us all, even those who haven't written No. 1 singles.
Number of scenes: two
Episode Two
In the second episode, Nini goes on her trip to Los Angeles and meets her moms' friend Marvin, played by recent Tony winner Jesse Tyler Ferguson. As it turns out, he is also her birth father! They try to make conversation and see if they can form a connection, but things are very awkward by his big pool. Then they discover that they share a mutual love of music, and she learns he was in a band with her mothers back in college in the 1990s (the meta-ness continues). Perhaps they do indeed have something more in common, and perhaps they'll even work on music together. "Whatever happens, I hope you don't stop writing songs," he tells her. (Most meta so far!) Then Marvin says, "The best is yet to come," and Nini sings a song called "The Best Is Yet to Come." Tim Federle told People it is a "poignant grace note to Olivia Rodrigo's remarkable run on our series." The song includes a repeated refrain that goes "you never know," which does feel like a commentary on whether she'll appear more throughout the rest of the season.
Number of scenes: three, and she sings!