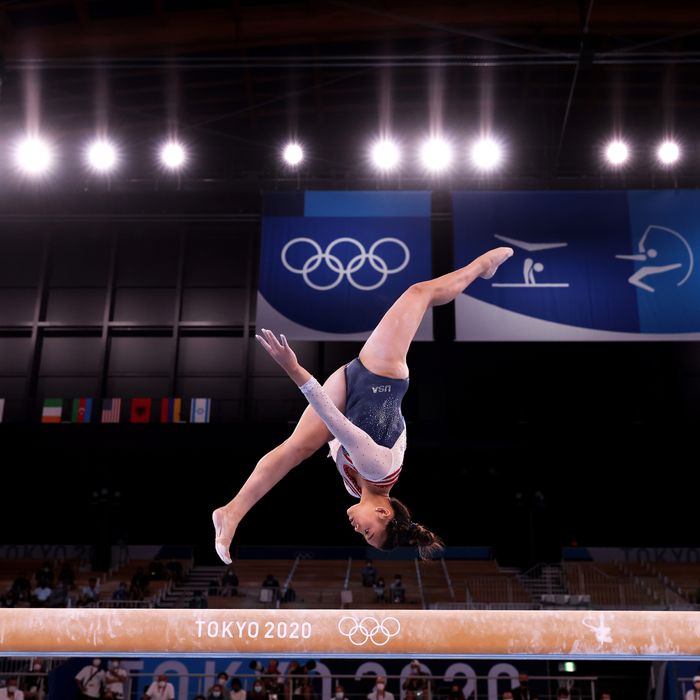 Sunisa Lee of Team United States competes on balance beam during the Women's All-Around Final on day six of the Tokyo 2020 Olympic Games at Ariake Gymnastics Centre on July 29, 2021 in Tokyo, Japan.
Photo: Jamie Squire/Getty Images
The Olympics are happening. They're definitely happening, even though it seems like a terrible idea and at least one country has pulled out and there's been a steady drip of stories about how bad the games may be for COVID-19 infections and how unpopular the games are in Japan. But on the plus side, everyone loves making fun of the cardboard anti-sex beds.
Maybe your Olympic emotions are, "This is happening in spite of everything, and that's thrilling and poignant and we should celebrate every highlight." Maybe your Olympic emotions are more like, "This is happening in spite of everything, and maybe that's a signal they should be canceled?" This is a running roundup for both of those feelings. There are highlights! There is deep concern. There is celebration! There is skepticism. There's oily Tonga guy, and there will be Simone Biles, because whatever else you want to say about the 2020/2021 Olympics, they are absolutely, for sure happening.
This post will update as the Games continue.
THE ULTIMATE LOW: But should this even be happening?
Like, really, should it?
HIGH: Suni Lee won gold and her dad's reaction.
USA's Sunisa "Suni" Lee won gold for the women's all-around event in gymnastics, and her dad's reaction was priceless.
HIGH: Simone Biles prioritizing her mental health.
Biles withdrew from the team finals and women's all-around event to focus on her mental health, and honestly, good for her.
LOW: The curse of the twisties.
During her vault routine, Biles possibly experienced the twisties, which according to the BBC, "can cause a person to lose their sense of space and dimension as they're in the air, causing them to lose control of their body and do extra twists or flips that they hadn't intended. In the worst cases, they can find themselves suddenly unable to land safely."
LOW: The trolls who think Biles should've still competed.
Texas Deputy Attorney General Aaron Reitz called Biles a "selfish, childish national embarrassment" after comparing her to Kerri Strug's who competed on an injured ankle in the 1996 Games. Now, he's trying to apologize. Keep your apology!
HIGH: Katie Ledecky won gold in the women's 1500m event in swimming.
USA's Katie Ledecky earned her sixth gold medal in the Games's first-ever women's 1500m event in swimming.
LOW: Tokyo set a daily record for Covid-19 cases.
On Tuesday, Japan's capital reported 2,848 new infections on the fifth day of the Games. While the new record is believed to be unrelated to the arrival of the approximate 50,000 athletes and others, it underscores the reason why many residents in Japan felt uneasy about hosting the Games in the first place.
HIGH: Three teenage girls snag medals for skateboarding in women's street event.
The future of women in skateboarding is bright after Momiji Nishiya, 13, Rayssa Leal, 13, and Funa Nakayama, 16, won gold, silver, and bronze, respectively, for dominating the women's street event. The girls represent Japan, Brazil, and Japan.
LOW: Kōhei Uchimura's high bar fall.
Four-time Olympic gymnast Kōhei Uchimura slipped while completing his high bar routine, ending his chance of earning a medal for his home country of Japan. Because he is not part of the country's team competition, Uchimura did not qualify for the high bar finals, which was his only event at this year's games.
HIGH: 18-year-old Anastasija Zolotic won USA's first-ever gold medal in women's taekwondo.
Anastasija Zolotic, 18, made history for winning the country's first-ever gold medal in women's taekwondo. The sport made its first appearance in the Games as a demonstration sport in 1988 before becoming, and remaining, a full medal sport since 2000.
LOW: Everyone being too hard on Simone Biles, including herself.
Black women are never afforded the room to mess up, and it's about time to change that.
HIGH: Lady Gaga was playing during the men's gymnastics.
Who says Olympians can't also be little monsters?
LOW: USA lost to France in men's basketball.
The team seemingly sleepwalked their way through the game, ending their 25-game winning streak.
HIGH: Australia's air-humping swim coach.
Australia's swim coach Dean Boxall had an over-the-top reaction after 20-year-old Ariarne "Arnie" Titmus beat out USA's Katie Ledecky in the women's 400-meter freestyle final.
HIGH: The Philippines earns its first-ever Olympic gold medal.
Hidilyn Diaz made history for earning her country's first-ever Olympic gold medal in any sport after winning the women's 55-kg weightlifting event.
LOW: A Senegalese percussionist accused the Tokyo Olympic organizers of excluding him due to his skin color. 
According to the Independent, percussionist Latyr Sy says he was removed from the Opening Ceremonies because organizers "did not want a Black face in the show."
HIGH: At least video-game music is fun?
Wild to hear a commentator cheerily discuss how China is "under international scrutiny from human-rights organizations" over the Sonic theme, but that's the Olympics for you.
LOW: The picture-in-picture ads during the Parade of Nations.
Some nations got the full treatment of factoids and fashion from the NBC crew. Others entered in the corner of the NBC screen next to a giant ad. Would you like to learn more about Finland? Sorry, you're gonna learn about Uber instead.
HIGH: Oh, hey, it's hot oily Tonga guy again!
HIGH: Everyone fully accepting the mood of 2021 and sitting on the floor.
It was really hot, all the athletes were wearing fancy heavy clothing (except Tonga guy!), and waiting for all the countries to march in and wave the flag is just interminable. So all the athletes sprawled out on the stadium floor while they waited, and it looked like a bored school assembly, and honestly, there was something genuine and nice about that. Who among us, etc., etc.
LOW: A big flying drone globe that also happens to look like a coronavirus. 
You can't make us believe that drones are a new concept in 2021!
LOW: Who thought that it was a good idea to get a bunch of celebrities to sing "Imagine" again?
Gal Gadot already admitted that it "didn't transcend" when she tried it for the first time in this pandemic, and yet here we are, still in a pandemic, watching a bunch of celebrities sing "Imagine." They get bonus points for all being in the same key this time, but still, weird to have John Legend, Keith Urban (the chosen representative of Oceania; we're sure Nicole's proud), et al. perform a version orchestrated by Hans Zimmer. Tell us to imagine there are no countries when, in fact, this event is premised on having many different countries competing against each other!
HIGH: Having three performers with big round heads commit to acting out pictograms for all 50 sports in sequence.
It wasn't entirely live (they cut away for some of the martial arts) and it wasn't entirely perfect (at one point they dropped the racquet for tennis), but was very charming and human to see these people running around onstage coming up with creative ways to represent the different categories of sports. It was also a reference to the drawings that originated during the 1964 Tokyo Olympics. This is the kind of endearingly nerdy stuff the Olympics needs.
LOW: The broader sense that no one had a vision for what the Opening Ceremony should be.
The pictogram people were great, the drones were weird, but in total there was very little coherence to the whole program. Just one thing lurching into another totally different thing, with no transitions or cohesive themes.
HIGH: Naomi Osaka lighting the Olympic cauldron. 
She deserves!