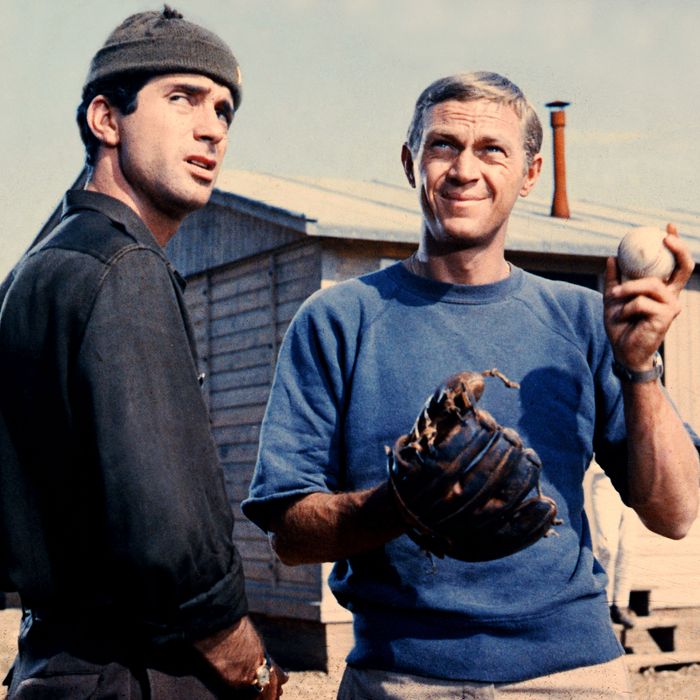 The Great Escape
.
Photo: Mirisch/United Artists/Kobal/Shutterstock
Quentin Tarantino's latest film, Once Upon a Time in Hollywood, opens this week after its controversial Cannes premiere back in May. The film takes place over two weekends in February and August of 1969, and it's filled with references to the era in film and television, some of which are woven into the plot and some of which clearly inspired Tarantino and cinematographer Robert Richardson in their design of the film. Tarantino himself has also mentioned several films to see in advance of his new one, even programming some of them at the Beverly last weekend, and the great Lindsey Romain has put together a piece detailing exactly where to watch the rest of them.
Below is a blend of all of the above — movies referenced in the text, by the filmmakers, and movies that clearly inspired this semi-fictional journey into Hollywood's past. There are literally dozens of films directly mentioned or built into the fabric of the movie — just consider this a starting point. (Light spoilers follow.)
The Wrecking Crew (1968)
Margot Robbie plays Sharon Tate in Tarantino's film, neighbor to Leonardo DiCaprio's Rick Dalton, the aging TV star who's buddies with his stuntman, Brad Pitt's Cliff Booth. While the film centers on Dalton and Booth, Tate exists on the edges, sort of as Tarantino's vision of classic Hollywood beauty. Her most delightful scene in the film takes place when she notices that Phil Karlson's 1968 flick, The Wrecking Crew, is playing at a theater she passes. The Dean Martin caper was one of Tate's last screen roles in the real world, and the fictional version very sweetly tells the ticket-seller that she's actually in the movie they're about to play (also noting that she's the girl from Valley of the Dolls). The employees of the theater let her in, and Tarantino shows several segments of the film, choosing not to digitally replace the actual Tate with Robbie. The result adds to the dreamlike nature of Tarantino's film as we see an actress watching what her character perceives as herself, played by the actual person the actress is playing. As for the movie, it's the fourth and final film in the Dean Martin series of Matt Helm swinging-spy comedies after The Silencers, Murderers' Row, and The Ambushers, and contains action scenes choreographed by Bruce Lee, who also appears as a character in Tarantino's movie, both in a great scene with Pitt's stuntman and briefly in flashbacks training Tate.
The Great Escape (1963)
At one point, Dalton reveals that he was on the shortlist to play the breakout Steve McQueen part in this 1963 classic with the "three Georges" — Peppard, Maharis, and Chakiris — and the film cuts to an imaginary version of what it would have been like to watch Dalton in the movie. Again, Tarantino is playing "what if" in his playful storytelling, revealing how close his fictional characters are to real ones like McQueen (who also happens to briefly be in the film, played by Damian Lewis). Interestingly, this funny interlude wasn't included in the version that played at Cannes, but has been reinserted for the theatrical release. It fits perfectly as it connects McQueen, Dalton, and the kinds of movies that both were making at the time while also revealing how the hero has fallen just short of the stardom he's sought. As for the John Sturges classic adaptation of the Paul Brickhill book, it's one of the best films of its era, a wonderful slice of (sorry) escapist entertainment that holds up today. Rick Dalton wouldn't have worked in it.
Spaghetti Westerns
The subgenre of Westerns made overseas by Italian directors, often starring American actors, is woven throughout Tarantino's film, from the way its title references the Sergio Leone masterpiece, Once Upon a Time in the West, to the actual plot of the film, which sees Dalton going overseas to make movies like Nebraska Jim, which is a nod to multiple films, including one called Savage Gringo, which was called Nebraska Jim in some countries. For Dalton's journey into the spaghetti Western, Tarantino blends together numerous films from the genre, so it's hard to pick just one as an influence you should seek out. See the Leone films, for sure, but also try and track down the films of Sergio Corbucci, who has influenced Tarantino before with films like 1968's The Great Silence and a little movie called Django. Also seek out Enzo Castellari's Any Gun Can Play, a movie that Tarantino has mentioned and that stars George Hilton and Gilbert Roland.
Lancer (1968–70) & The F.B.I. (1965–74)
A large portion of Once Upon a Time takes place on the set of Lancer, in which Dalton plays a villain in the show that starred James Stacy, played in the film by Timothy Olyphant (the late Luke Perry plays co-star Wayne Maunder). The generic Western ran for only two seasons on CBS and NBC, and was basically a riff on the incredibly popular Bonanza, complete with a family dynamic within its two leads. Sam Wanamaker directed the series premiere, and is played in the film by Nicholas Hammond (who you probably won't recognize as the grown-up Friedrich from The Sound of Music).
After Dalton is done filming Lancer, he goes home to watch his guest role on ABC's The F.B.I., a massive hit that ran for over 240 episodes in the '60s and '70s and a show that's also referenced by Dakota Fanning's "Squeaky" Fromme late in the film. So many actors of that era appeared on the show that it makes sense that Dalton would be a part of that crew. In fact, one of the actors who appeared on both The F.B.I. and Lancer has a small part in Tarantino's film: Bruce Dern.
Rosemary's Baby (1968)
When Rick Dalton notices that Roman Polanski and Sharon Tate have just moved in next door to them, he marvels at the fact that the director of this 1968 Oscar winner is living within reach. The use of the film in Tarantino's world is multilayered. On the one hand, it's a very practical reference in that it came out in the summer of 1968 and was huge — surely a movie that would be referenced when people spotted Roman Polanski in February of 1969. It's also a representation of where Dalton wants to be. He dreams of that chance Hollywood encounter — like living next to the director of a movie as important as Rosemary's Baby — that could shape a career. Finally, there's the tragic fact that Rosemary's Baby is about true evil driven by a cult existence, which is an element of what happened in the Hollywood Hills in August of 1969, both in reality and in Tarantino's warped version of it.
Arizona Raiders (1965)
This '60s Western isn't directly textually referenced in the film but has been cited by Tarantino himself as an influence, likely for a number of reasons. The production values of it seem to influence the aesthetic of life on the set of Lancer, which would have tried to replicate Hollywood Westerns on a smaller budget the way it does in Tarantino's film. But there's also the fact that Arizona Raiders stars Audie Murphy, the kind of square-jawed star of '50s and '60s action movies on which Rick Dalton's career appears to be modeled. The Dalton hit film in Tarantino's world, The 14 Fists of McCluskey, feels very much like a project that would have attracted the war hero Murphy, star of movies like To Hell and Back. In fact, Murphy was cited as an influence on Inglourious Basterds, which also played with history the way Once Upon a Time does. Just as the spaghetti Western connects Django Unchained with Once, Audie Murphy connects Basterds with Once in fascinating ways.
Easy Rider (1969)
This is another one that Tarantino and Richardson have mentioned, and it comes up briefly in the film itself. Again, it's a movie that was a part of the pop-culture firmament to such a degree that it makes sense that it would be referenced in a movie about Hollywood in 1969, but there's more to it than just the film's popularity. Easy Rider is a movie about counterculture, and the hippies who took over Spahn Ranch and became acolytes of Charles Manson are a part of Tarantino's vision, too. In a very different way, both films are about changing times. They're also both, to a certain degree, buddy movies. The dynamic between Peter Fonda and Dennis Hopper has a similar energy to the one between Leonardo DiCaprio and Brad Pitt, although Rick Dalton and Cliff Booth would hate to read that.
Three in the Attic (1968)
This swinging 1968 comedy comes up a few times on one of the dozens of marquees we see throughout the city and in posters and commercials. When a film is name-dropped several times by a writer-director as detail-oriented as Quentin Tarantino, it's not by accident. Richard Wilson's comedy stars Christopher Jones as a philandering student whose girlfriends all learn that they have the same beau and conspire against him. It was pretty critically derided, so why include it? It's one of those swinging '60s comedies that helps define the freewheeling era, not unlike the dance scene Tarantino stages at the Playboy Mansion. While the dark undercurrent of the Manson murders lingers in the background of Tarantino's film, he's careful to also present the fun, freewheeling nature of the era through references like this one.
Bob & Carol & Ted & Alice (1969)
This 1969 Oscar winner from Paul Mazursky wouldn't come out until after the action of Once Upon a Time, but Tarantino and Richardson have mentioned it as an influence, and that influence feels largely visual. While it came out in September of 1969, it would have been filmed in the era that the filmmakers here are trying to capture, and Mazursky and cinematographer Charles Lang's choices likely influenced the design of this film given how both are set in Los Angeles and feature beautiful people struggling to figure out what's next in their lives. Lang's work was nominated for Best Cinematography, and Richardson's deserves to be, too.
Hammerhead (1968)
While it feels like most of the influences on Once Upon a Time are American or Italian, Tarantino unexpectedly dropped this British thriller as one to watch before seeing his film. Again, this movie feels like one Rick Dalton would have made, and it likely influenced at least one of the films within the film, which involves a car jumping across a bridge. It's also probably not coincidentally produced by Irving Allen, who produced The Wrecking Crew. And it all comes full circle.
The Green Hornet (1966–7)
In one of the most controversial scenes in OUATIH, Brad Pitt's stuntman Cliff Booth flashes back to a fateful day on set with Bruce Lee, which appears to be during the production of his ABC hit, which ran for only one season from 1966 to 1967. Most artistic choices in Once have a mirror and this one arguably gets two. First, we see Lee again, training Sharon Tate for her work on The Wrecking Crew. Second, it's referenced that Rick Dalton guest-starred on Batman, and that series and this one actually crossed over in early March 1967. One wonders if Dalton and Booth didn't reunite with Lee then. Sequel!
Romeo & Juliet (1968)
We broke this one out of our massive "movie advertising" entry further down this list because Tarantino very purposefully hits it twice. It's on a marquee in the first half of the film, set in February of 1969, and then you can spot it again in August of 1969, complete with the claim that it's in its eighth straight month! Why hit it twice? Well, it was a massive hit, making more than any Shakespeare adaptation to that date, but there are likely other reasons. (1) It tells the tragic story of young death, so when Q.T. hits it as a reference just before the end, it's a way to up the dread and remind us that violence is going to ensue. (2) It was directed by an Italian — Franco Zeffirelli — and everyone knows how much this movie loves the Italian filmmakers of the era.
The Valley of the Dolls (1967)
When Sharon Tate goes to see The Wrecking Crew on a beautiful February day in Los Angeles, she mentions to the ticket seller at the movie theater that she's in the film that's playing. The seller drops that the star of The Wrecking Crew was also in Valley of the Dolls, and Tate gleefully responds that that was her too! The 1967 Mark Robson adaptation of the Jacqueline Susann novel was a massive hit, pulling back the curtain on the pitfalls of Hollywood for young women in the '60s. Tate played Jennifer North, a character who marries a nightclub singer and ends up working in soft-core porn in France, before getting breast cancer. It's trash, but it's high trash.
The Mercenary (1968)
When Tarantino had to pick what else would be playing at the movie theater showing The Wrecking Crew, he wasn't about to make that a random choice. His decision is a movie that clearly shaped his career long before the story of Rick Dalton: Sergio Corbucci's The Mercenary. Also known as A Professional Gun, this Western stars Franco Nero and Jack Palance, and includes a score by Ennio Morricone, who scored Tarantino's The Hateful Eight, winning his first Oscar in the process. Corbucci's films have been major influences on Tarantino for years, especially a little one called Django, so this one feels like a nice nod to a personal hero.
C.C. & Company (1970)
Tarantino shows off more of this quirky choice than most of his other references by allowing a lot of the preview to unfold as Sharon Tate finds her seat before the start of The Wrecking Crew. Despite being a possible anachronism — would a movie that didn't open until October 1970 be previewed 20 months earlier? — it's a fun choice, and not just because it was directed by someone who shares the same surname as the movie star in the room: Seymour Robbie, who was also a workmanlike TV director of the era (he even shot six episodes of The F.B.I.). This biker flick stars football legend Joe Namath and Ann-Margret, and most people hated it. Gene Siskel gave it zero stars!
Hullabaloo (1965–66)
There's an instantly GIF-able shot early in Once Upon a Time that features Leonardo DiCaprio singing and dancing on the NBC variety series. The music series was a showcase for dozens of legends, including James Brown, Sammy Davis Jr., the Rolling Stones, Sonny & Cher, and many, many more. Rick Dalton's episode probably wouldn't make any highlight reels, as the star warbles his way through Jim Lowe's 1956 hit "The Green Door." Like so many of Tarantino's decisions in the production of the film, it's a perfect choice. Not only is it a goofy song, but it's about someone who is out of the loop, much like Dalton feels like he's outside the Hollywood inner circle.
Rick Dalton's TV Shows
When Rick Dalton meets with Al Pacino's Marvin Schwarzs near the beginning of Once Upon a Time, Schwarzs rattles off a list of shows on which Dalton has guest-starred, suggesting that he needs to start another chapter in his career. Shows mentioned include Tarzan, Batman, and Land of the Giants. You know the first two (and you can even hear an ad/giveaway for Batman if you stay through the credits), but the last one may be unfamiliar — it was an Irwin Allen creation that ran from 1968 to 1970 (so Dalton must have been on it early) on ABC. A group of space travelers land on a planet where everything is … well, giant. Yes, we also hope there's a deleted scene someday of Dalton's appearance.
Bonanza (1959–73)
Dakota Fanning's Squeaky Fromme keeps telling Cliff that Bruce Dern's George Spahn needs his rest so that they can watch Bonanza and The F.B.I. as they regularly do. NBC's hit Western is still one of the longest-running shows of all time, running for over 400 episodes over 14 seasons. It aired for the entirety of the '60s, and influenced dozens of other shows, including Lancer, on which Rick Dalton guest-stars within Q.T.'s film. A lot of people made Bonanza appointment television — possibly even Squeaky Fromme.
The Tarantino-verse
At the end, Rick Dalton does a cheesy commercial for Red Apple cigarettes, a brand of smokes that has popped up in Tarantino's films for years, including The Hateful Eight, Inglourious Basterds, Kill Bill, Pulp Fiction, Grindhouse, From Dusk Till Dawn, and Four Rooms. It even made an appearance in Romy and Michele's High School Reunion. There are rumors of a shot of a Big Kahuna Burger bus billboard in Once Upon a Time — and everyone knows the role that played in Pulp Fiction — and the set of Bounty Law that Rick and Cliff are being interviewed on is a set that was used on Django Unchained. There are also thematic connections between Inglourious Basterds and Once, and not just in the way that both films revise history. The film within a film, The 14 Fists of McCluskey, certainly seems like something inspired by Basterds.
Death on the Run (1976) and Kiss the Girls and Make Them Die (1966)
One of the films that Rick Dalton makes on his trip to Italy is the brilliantly titled Operazione Dyn-o-Mite, which combines footage from actual films, including Moving Target, directed by Sergio Corbucci. Also known as Death on the Run, this 1967 flick starred Guy Hardin, who, like Rick Dalton, was best known at the time for his work on a TV series, the ABC Western Bronco. It's also worth mentioning the amazingly titled Kiss the Girls and Make Them Die from 1966, filmed under the title Operazione Paradiso.
Rick Dalton's Fake Movies
Quentin Tarantino recently appeared on the Pure Cinema Podcast and broke down the literal influences that inspired Rick Dalton's fictional career. Dalton's biggest hit, Bounty Law, was based on Steve McQueen's TV Western Wanted: Dead or Alive, which ran on CBS from 1958 to 1961, and which McQueen used as a springboard to a movie career. If only Rick could do the same. In Once, Rick Dalton made a hit Western called Tanner, which is inspired by the 1958 Tab Hunter vehicle Gunman's Walk, which Q.T. included as a part of a program he curated for Sony Movie Channel. Dalton's Nebraska Jim feels like an amalgam of a couple films, including Corbucci's Navajo Joe and Savage Gringo, which was alternately called both Nebraska Jim and Ringo del Nebraska, which brings us to Dalton's best title, Kill Me Ringo, Said the Gringo. Tarantino has attributed that title to Duccio Tessari's 1965 A Pistol for Ringo and The Return of Ringo. Finally, he has said that one of Dalton's Italian films — Red Blood, Red Skin — was inspired by Nathan Juran's 1969 Western Land Raiders, starring Telly Savalas and George Maharis.
Movie Posters, Ads, and Marquees Featured in the Film
There are dozens of films and TV shows advertised in some form in Once Upon a Time in Hollywood from the double feature of Lady Cement and Pretty Poison at the drive-in near Cliff's trailer to the poster of Don't Make Waves at Sharon Tate's house. Other films advertised in some form or even just name-dropped within Q.T.'s movie include Joanna, Pendulum, The Night They Raided Minsky's, Love, Hate, & Dishonor, The Illustrated Man, The Golden Stallion, Babette, Krakatoa East of Java, The Killing of Sister George, Sweet Charity, The Sergeant, Ice Station Zebra, 2001: A Space Odyssey, Hells Angels '69, Candy, Funny Girl, Oliver!, Mackenna's Gold, Sam Whiskey, They Came to Rob Las Vegas, and The Boston Strangler.
More Films and Shows Cited by Tarantino
Finally, it's worth picking out a few more movies that Tarantino himself specifically name-dropped before the movie. (And worth noting that both Q.T. and Robert Richardson have mentioned dozens of films as visual and thematic influences, including everything from The Exorcist to Evel Knievel.) 1969's Cactus Flower stars Walter Matthau, Ingrid Bergman, and Goldie Hawn, who won an Oscar for her acting work. Like Bob & Carol & Ted & Alice, this one feels like a production design and visual influence given that it would have been shot in Los Angeles around the same time as Tarantino's film is set. One of the more surprising influences is Jacques Demy's first English-language film, Model Shop, which is also advertised literally in the film itself. It feels like this one may have influenced the fashion of Margot Robbie's take on Sharon Tate. Likewise, Richard Rush's 1970 film Getting Straight could have impacted the costume design here, but it's also worth mentioning that it's about counterculture and unrest on a university campus, and "changing times" is certainly a theme of Once. Finally, Tarantino mentioned 1959's Battle of the Coral Sea, a film about a naval battle during WWII. Again, the choice is multilayered. It's a historical epic — not unlike movies Dalton would star in and even Once itself — and it features Cliff Robertson, a TV star turned movie actor, again like Dalton.