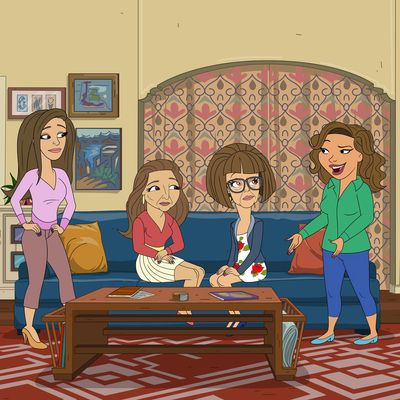 Photo: Courtesy of POP TV
"The Politics Episode," an animated One Day at a Time installment produced in the thick of the COVID-19 pandemic, perfectly encapsulates the negative effects of the past few months on scripted television. This admirable attempt to circumvent the restrictions placed on the entertainment industry fell flat more than I'd care to admit, and yet, it's not really fair to place the blame on those involved with ODAAT — because this is an immensely frustrating case of circumstances beyond their control.
ODAAT shut down production on its fourth season back in March after completing six episodes out of 13, and its future remains just as uncertain as it was three months ago. So for that reason alone, the ODAAT team's idea to turn one of its planned-but-unfilmed episodes into an animated special was an inspired one. The entire main cast recorded their parts remotely (save for Stephen Tobolowsky, whose Dr. Berkowitz doesn't appear in "The Politics Episode"), allowing ODAAT fans not just their Alvarez family fix, but another opportunity for the Norman Lear-produced sitcom to do what it does best: address topical issues in a smart and funny manner.
Unfortunately, between the coronavirus-forced production limitations and the unprecedented anti-racism uprising of recent weeks, there was no way for "The Politics Episode," written by co-showrunners Gloria Calderón Kellett and Mike Royce, to avoid appearing dated. Yes, the plot centers on the Alvarez family welcoming their conservative relatives for a visit, and preparing for the inevitable heated arguments regarding the November 2020 election. But since the episode still takes place in a world where COVID-19 doesn't exist and George Floyd's death and subsequent protests occurred in the midst of production, Penelope's use of the tragic El Paso Walmart shooting to drive home a point about racism feels like something out of a bygone era.
What makes the episode's shortcomings all the more dissatisfying is that this animated special is being promoted as a teachable moment. Countless families are struggling to have these kinds of difficult conversations about racism and politics right now, and they need all the guidance they can get. That makes the episode a tougher sell if it can't use the Trump administration's mismanagement of the COVID crisis or say the names of George Floyd or Breonna Taylor. (ODAAT tries to get around the former by giving Penelope a line where she encourages her conservative cousin Estrellita to "imagine something happening on a global scale" that "shuts everything down," and comprehensive leadership is nonexistent. But making coronavirus hypothetical just dilutes the gravity of the situation.)
What "The Politics Episode" does have going for it is the incomparable vocal work of Justina Machado, who still manages to deliver pathos through the barrier of animation during Penelope's signature heartfelt monologue.
The episode centers on Lydia's announcement that their Donald Trump–supporting relatives are flying in from Miami for a visit. This news spurs Penelope to run through various theoretical scenarios in which she attempts to reason with her family members, to no avail. (It should be mentioned that even with "The Politics Episode," ODAAT sticks to its tradition of never referencing Donald Trump by name, even though the red hats and "Make America Great Again" chants leave little to the imagination.) Gloria Estefan and Melissa Fumero reprise their roles as Tia Mirtha and Cousin Estrellita, respectively, with Lin-Manuel Miranda — reduced to a one-note gag— making his ODAAT debut as the voice of Tio Juanito.
There are some fun moments — Schneider's mile-high hair will never not make me laugh, and the Lydia–Mirtha sing-off was cute — but the real meat of the episode occurs at the end, when Alex and Elena coach Penelope in constructive discourse. (In short, facts don't matter and conflict resolution takes years to perfect.) I'm still wrestling with the structure of the Estrellita–Penelope debate, which is also how the entire episode is set up: Aside from the very end, when the Reyes family actually shows up at the Alvarezes' door, all of the interactions with Mirtha, Estrellita, and Juanito are either hypothetical or flashbacks of a previous encounter. Granted, that doesn't mean Penelope is exaggerating her cousin's unflinching anti-immigrant, anti-LGBTQ, pro-life stance; Estrellita made her viewpoints quite clear during her last ODAAT appearance. Chances are, the cousins' discussion would've gone exactly the way it did, even though what we saw came from the minds of Elena and Penelope.
That's the other thing I have to keep reminding myself about the Penelope–Estrellita debate: We don't know for sure how it would've gone down, but that's not the point of the episode. It's to learn how to present valid arguments to people for whom facts and common sense aren't priorities. Not an easy task. The trouble is, many of the cousins' arguments, which would've worked beautifully in January or February (even Estrellita's), no longer hold water in June 2020, where it's impossible for TV shows to stay up-to-date. When Estrellita insists that the current president "keeps us safe," Penelope should've been able to knock down that statement with a single number: 100,000. As in, over 100,000 Americans dead. Instead, all she has to work with is Paper Towel-gate.
Systemic racism in the United States, however, is a topic that doesn't need to dominate the news cycle in order to be timely. Which is why Penelope poignantly arguing that "the president made it cool [to be racist] again," and her statement of "Black Lives Matter, Trans Lives Matter, Brown Lives Matter" saves the episode from becoming an unintentional relic of pre-COVID life. (ODAAT does connect itself to recent events by encouraging viewers to text Color of Change at the episode's end.)
For the sake of our country, I do hope that "The Politics Episode" does help people figure out how to approach these tough conversations with their loved ones. Since this is the last ODAAT episode for the foreseeable future, I can think of no better legacy for this series, because no one knows how to craft this kind of television better than the brains behind ODAAT. But if the current conditions are going to have such a disappointing effect on the finished product, I think we need to take this episode as another warning for the film and TV industry: It's going to be a rough road ahead.
This Is the Rest!
• I get that a "Hey, look! It's the Hamilton guy!" joke is a prerequisite for any Lin-Manuel Miranda appearance, but can't we retire it already?
• Schneider saying "Hi-ya!" instead of "Y ja!" is almost as precious as his pronounced "H" when saying "Hola."
• You gotta admit, two Gloria Estefans are always better than one.