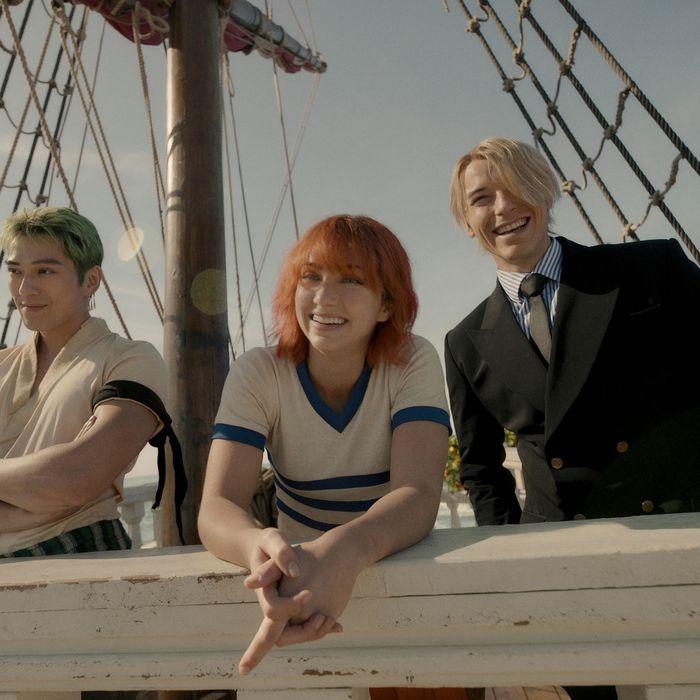 Photo: Netflix/COURTESY OF NETFLIX
Up until now, One Piece has been a shockingly pleasant surprise of a live-action adaptation. The show understands the appeal of the source material and re-creates it in a way that's welcoming to newcomers while still offering longtime fans a chance to reexperience one of the best pieces of modern fiction in a different way. But in this episode, for the first time this season, One Piece makes some adaptational stumbles. To start, it makes changes that don't work, then it delivers an exact replica of an original moment that also doesn't work.
This whole season of One Piece has remixed the story, changed the order of events, and expanded upon certain moments and characters to give them more screen time and depth. Largely, it's been a success, especially making Garp and Koby a big part of the season and using a bit of Zoro's backstory to tease future developments. When it comes to Nami, however, this shuffling ends up undermining her story. From the very first episode, we are ahead of the characters. We know she's a traitor from the beginning, so when she finally reveals this, it's not an effective surprise. And yet we are still ahead of the characters going into this episode, because every time the Straw Hats wonder whether Nami truly is a traitor, we know better.
In the last episode, we saw her trying to run away with Luffy before Arlong found them, so we know she has no loyalty toward the fishmen. And at the start of this episode, we see her arrive at Arlong Park (literally a water park with games and such) and see her old office and the chains on the ground. If there's supposed to be tension in where Nami's true allegiances lie, it's nowhere to be found here.
Still, we spend the better part of an hour wondering why Nami left the crew and why she's working for a tyrant with genocidal tendencies, the One Piece equivalent of Killmonger (even his musical motif is reminiscent of Ludwig Göransson's score). Arlong isn't just a ruthless pirate who goes around collecting tributes from the islands he conquers. He's untouchable, as he pays a Marine captain to look the other way. Though he'll toss the Marines coin in order to be ignored, Arlong doesn't like them, and he threatens to kill the captain after he makes a racist remark about fishmen. Arlong resents the World Government that once enslaved his people, but he also hates other fishmen who accept co-existence, like the fishman Warlord of the Sea whom Arlong calls a government dog.
If only the Straw Hats would at least believe the lie Nami's trying to sell, it would increase some tension, but other than Usopp, they're all on her side. Sanji, of course, simply believes women to be mysterious and complex, and ever the gentleman, he believes them and believes in them. Luffy outright refuses to believe Nami's working for someone else and is convinced she needs their help. He believes in her just like he believes in the rest of the crew — she just needs to hear it in person. Zoro's the only other one who is on the fence, but mostly because he's hurt by her leaving and not because he believes she's truly a member of Arlong's crew.
Still, there's plenty to like about the episode, like Coco Village itself. As I predicted earlier in the season, the show glossed over most of the other villages the Straw Hats visit in the source material in favor of giving Coco Village more time and importance. We get a better sense of its villagers, the geography of the town, and its history than we get with the other places the crew visit, even at the quick pace the episode follows. The crew also comes across Nami's sister, Nojiko, and after a bit of Sanji's flirting, they hear Nami's story.
A former Marine named Bell-mère took in the orphaned Nami and Nojiko as her own. Though Nami resented that they were poor, they lived happy lives until Arlong and his pirates arrived in town demanding tribute. Though Bell-mère tried to hide Nami and Nojiko, Arlong realized there were more plates on the table and demanded more money. In order to save the two girls, Bell-mère sacrificed herself, using all the money she had left to pay for her daughters to live just before Arlong shot her.
After that, Nami went over to Arlong and made a deal. She would work as her cartographer, making maps of the whole East Blue. In exchange, Arlong promised to sell her Coco Village outright when she managed to save 100 million berry. And, years later, Nami has saved up that immense sum. Of course, Arlong won't have it, and he sends the Marine captain he bribed earlier to confiscate Nami's hard-earned (or, well, hard-stolen) money. All the years of making people hate her, of keeping the secret in order to keep her loved ones safe — are undone in a moment.
In an absolute rage, Nami runs toward Arlong Park, then collapses halfway through, realizing how futile the situation is. Finally, the girl who was so strong, so secretive, who pretended like she didn't care, can't take it anymore. Everything she's bottled up for years comes out, and she breaks down in tears, even grabbing a knife and stabbing at her crew tattoo. This is Nami's most iconic moment in the manga, the moment that changes everything for Nami, Luffy, and One Piece, and Emily Rudd does a spectacular job selling the emotion behind it. Luffy arrives and stops Nami from tearing open her arm before she finally asks him for help — an act of vulnerability that's also an act of strength, because for the first time in a long time, Nami's not on her own. Without a second thought, Luffy puts his hat, his most precious treasure, on Nami's head, like Shanks did to him all those years back after saving his life, and makes a promise: "Of course I will," he tells her.
It's a great moment in the manga and anime, but the problem is that the episode keeps this entire scene verbatim, even the moment Luffy shouts out "Of course I will!" a second time, this time to the heavens. That moment works as a single panel in a manga or even in the anime. But in live action, it's extremely goofy in a way that feels out of place, even compared to other goofy moments. It breaks the immersion, albeit briefly. Just because it happens in the manga doesn't mean it has to happen exactly the same way here. Still, the re-creation of the shot of Luffy gathering his crew to fight like they're the Seven Samurai, an elite squad, is absolutely badass and a great place to end the episode with the four looking over at Coco Village under attack by a vengeful Arlong.
Of course, they're getting more than they bargained for, because the Marines are also heading their way. Earlier, we see Garp heading to the Baratie, enjoying a nice (free) steak dinner, which Garp immediately accepts. Let's briefly appreciate Garp being a stealthy MVP this season, a dude with tremendous power who is as goofy and hungry as Luffy. Zeff doesn't want to help the Marine, but the two are cordial, talking about Zeff's retirement and his belief that the world belongs to the young. Zeff even tries to stop Garp from chasing Luffy, telling him the kid's special — Luffy reminds him of old Gol D. Roger. But Garp rejects the idea, calling the young pirates impulsive children and reminding Zeff of how Roger ended up (not well). He doesn't want Luffy to suffer the same fate, and he refuses to see the world as changing and up to the young. While this is happening, Koby and Helmeppo come across a bartender who happily tells them where to find Luffy, their mission accomplished.
X Marks the Spot
• Buggy is annoying as hell, but it is hard not to find him delightfully funny.
• Arlong's crew looks completely awful, especially when compared to how the rest of the show balances practical and digital effects so well. This is the biggest misfire of the season in terms of looks.
• For fans of the anime and manga, we get a mention of Jimbei and even of the boars of Jaya.
• Would you look at that! Another episode taking place all at night …
• For how gory/adult the show is, there was precious little blood coming out of Nami's arm as she violently stabbed at it, wasn't there?
• It seems the show erased Hatchan, which is a shame because he's the coolest of the fishmen.
• Luffy needing to hear Nami tell him in person if she didn't want to be on the crew is nice foreshadowing.