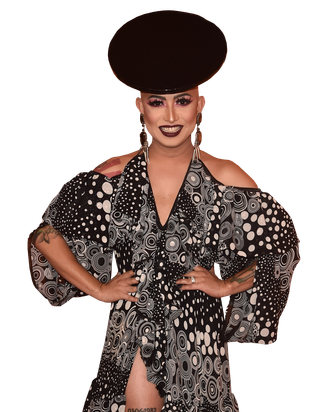 Fun fact: Ongina is the only RuGirl whose name begins with O.
Photo: Alberto E. Rodriguez/Getty Images
Way back yonder in RuPaul's Drag Race season one, the original experimental bald queen Ongina set the template for what it means to be a fan favorite. After years of Reddit speculation, she finally returned to the franchise for All Stars 5, immediately scouring the workroom for juicy tea and pokin' eyes out with a jaw-dropping entrance look.
On last Friday's episode, Ongina was sent home entirely too soon after suffering the misfortune of losing her voice during a singing challenge, of all things. But we're just happy to have had her back on TV. After her untimely exit, she chatted with us about her Filipino inspiration, the infamous season-one Vaseline filter, and that reading challenge.
Hiiiiiiieeeeeeee!
Hiiiiiiiieeeee!
Fans have wanted you on All Stars for years, and in the season premiere, you were the last queen to walk into the workroom …
Very rightfully so. Did you see my entrance look?
Oh, yes. What was it like to walk back in?
It was everything. One, it was incredible to be the last one in because I think everyone, including myself, has been anticipating this moment for so long. Two, it was nerve-wracking as hell to walk in and then turning to my left and seeing the competition, like, Oh shit.
And that entrance line — was that a reference to your All Stars 1 appearance?
Yes. Because people have been waiting and waiting and waiting, I was like, this is perfect. Sorry, I've been stuck in traffique.
And then you rolled into the maxi challenge in that little Malibu Barbie car.
A lot of people were like, "She didn't even know the words," and it wasn't supposed to be a lip sync. It was to challenge myself and choreograph a dance, which I don't normally do. I dance well, but choreography's tough because you gotta learn 5,6,7,8. And honestly, I don't know if I am being biased, but I didn't do that bad!
When you were on season one, it was a totally different beast of a show. You and Bebe Zahara Benet are the only people who have really experienced these two very different sides of the Drag Race Ruvolution. What are some of the bigger changes, from season one to this VH1 era?
To be fair, though, my season was re-aired on VH1. It was just at 2 in the morning. But the one biggest difference you'll see is I'm no longer in a Vaseline filter, so you're watching me in full HD. The set is no longer Ru's basement, which is amazing. And the overall pressure and production value is obviously a thousand times larger and crazier than my season. But the experience overall, despite me lasting as long as I did, was totally incredible.
Do you have any reads for your All Stars 5 sisters that you'd like to use now? 
When I was writing my reading jokes, I was laughing my ass off. I was like, "I am hilarious! They're gonna die! This is so funny!" And then I got there and I was like, "Wait, I'm not reading. I'm asking questions and handing out compliments."
Some guy emailed me a long time ago, and said, "If you ever get on All Stars, I'm a comedic writer." I never responded. But then right after that episode, he forwarded me that email. And I just sent it back to spam. Listen, I know I did bad. But if I had a read 2.0 I might actually hire that comedy writer.
I mean, him forwarding that email is kind of a savage read in itself.
It is! That's why I sent it to spam. I was like, How fucking dare you. 
Your elimination was so rough, because you powered through that singing challenge even though you were sick and had lost your voice. What was it like rewatching this episode?
I had been dreading that episode since the time I left set. I was so sad because I was like, Great. It really had to be today. The week that we're filming a live recorded version of a group song, I have a literal viral infection in my throat. But what made it so incredible was Shea really campaigning for me. A lot of that you didn't see on television, but she just told me to be confident, to use what I've got because that's what I have, like that raspy, smoking grandma voice. And Mariah really reminded me to have a good time, have fun, she brought the comedy to it. So that actually gave me back the boost of confidence I needed, and I think that shows in my performance on the girl-group challenge.
It's so tough in All Stars, because even the bottoms of the week are so strong.
At the end of the day, I have to remind myself that this is a contest. There's gonna be tops, and there's going to be bottoms. Story of our lives. I did the best that I could in my situation. But I've listened to that song so many times in the past two days. I'm literally looking for a DJ to remix it for me right now.
Has Henry Cavill reached out to you yet?
I would probably pass out where I'm standing.
You and Mariah should be in the next Justice League movie. 
If they don't put me as an extra in a new DC movie in my entrance outfit, I'm gonna be really mad.
What was that outfit inspired by?
It was inspired by my country in itself, which is called The Pearl of the Orient Seas. That's the nickname of my country. The outfit's called Pearl of the Ocean, because I now live across the ocean, in America. And it was inspired by our feminine superhero Darna. I took elements from her outfit, and then the designer infused it to really represent my country in a powerful way. The designer is Patrick Isorena. He also did my "Love the Skin You're In" runway.
It couldn't have been a more perfect outfit because I reconnected with my family in the Philippines two years ago, and it helped me reignite this passion for my culture. I didn't do a lot of representing in season one. So I told myself that if I ever got back on All Stars, I would represent my country. That is a modern take on a traditional Filipino dress that ladies wear. And coincidentally enough, that runway aired on the day that we celebrated Philippine Independence Day.
Do you have a huge fan base in the Philippines?
I do. They are, if anything, very supportive people, and they love every single Filipino Drag Race queen that's ever been onstage. We are such proud people. They just love the representation, and I'm so happy and so proud that I got to do that for them and for me.
Can you share who you would've done for Snatch Game? 
I had such an iconic moment as Connie Chung in the first season, so I was gonna bring her back, but do her more how Bobby Lee does her on MadTV. Or I was gonna do Marie Kondo. I'm sad that you're not gonna get to see it, but also glad that you're not gonna get to see it, because I don't know how I would've done! How funny would I have been, seeing my reading challenge, right?
You still had some iconic moments on this season, even though it was a short run. 
My run in the season may have been short, but I'm so incredibly proud and so happy that I finally got to walk on this All Stars stage. Even though my performance was less than what I wanted, I still was able to genuinely show who I am, and I'm very happy about that.
So where do you take it from here?
I'm gonna try and maybe get my hands dirty on producing some shows to really expand on what the audience sees, because there are so many talented artists out there from the Drag Race franchise who don't have all the opportunities to be able to showcase that talent. So I'm hoping to have a produced show with a rotating cast that will highlight some of the ones that aren't getting the limelight that they deserve.
This interview has been edited and condensed for clarity.