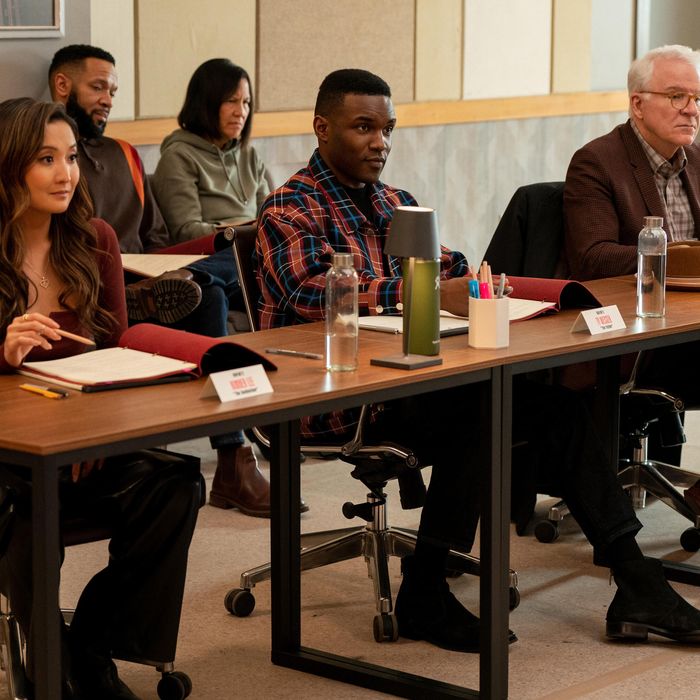 Photo: Patrick Harbron/Hulu/ HULU
Meryl Streep has earned endless acclaim and awards for her ability to completely disappear into any character imaginable, from Margaret Thatcher to Ricki Rendazzo. But with this season of Only Murders in the Building, Streep has found a role that may be her biggest stretch to date: a struggling, failed actress.
The season-three premiere of Only Murders in the Building begins by smartly broadening the world of the show beyond the walls of its titular structure to the Broadway stage, where Oliver (Martin Short) is directing a new play. For this reason, we're introduced to Streep's character, actress Loretta Durkin, by way of a voice-over from Charles (Steve Martin) that clues us in on her backstory. We see how she fell in love with theater as a young child, leading her to a life as a struggling actress trudging through endless rejection with the hopes of one day finally being seen and hearing the magic words "Where have you been?"
Those words are finally spoken when she auditions for Oliver's play, entrancing him with her performance and earning the role. But Charles's voice-over wonders, "When you finally do land your dream, your moment in that spotlight, how far would you go to hang on to it?" This question will likely prove applicable to more than just Loretta this season.
Delivering a new murder mystery each season, OMITB has the unenviable task of sticking to its very specific premise without becoming cyclical or repetitive. While the timelines of the first two seasons ran consecutively and dug deep into the rich world of the Arconia, this season not only takes a small step out of the building but also takes place one year after the events of season two. That time jump helps the series stay fresh, particularly by showing the characters in a totally new light. Though they are largely downtrodden underdogs in the first two seasons, after successfully solving two murders (and clearing their names in the second), this season begins with their finally enjoying their own moment in the spotlight.
Oliver is directing a Broadway play that Charles is acting in, and both are reveling in their newfound career success. Mabel, meanwhile, is navigating the new dynamic and struggling with feeling left behind, especially without the shared outlet of their true-crime podcast. As she wonders later in the episode, "Who are we without a homicide?"
That question doesn't linger, however, because just as Oliver is basking in the long-awaited return of his once-flailing career, his leading man drops dead onstage on opening night — a collapse we saw teased at the end of the previous season. A despondent Oliver wonders how we got here, and the show answers this question for us, flashing back four months earlier to the play's first read-through, back when spirits were high and the actors were all alive.
But before they enter the read-through, Oliver attempts to keep Charles and his penchant for bringing up Brazzos in check. "No peacocking!" he exclaims (a line that could double as a SAG-AFTRA strike rule) before peacocking into the room himself. He takes the floor to introduce the play: Death Rattle, a mystery about a murder in a Nova Scotia lighthouse to which the only witness is an infant. We're also introduced to the show's producers, the mother-son team of Donna and Cliff DeMayo, scene-stealers who add to the mayhem by kissing each other on the mouth. "He's gay, so I can kiss him like that," Donna explains.
Seeing an opening to ham it up, Charles fumbles through an introduction of himself and his career, the highlight of which is his credit on "a series of TV ads for the Dukakis campaign."
As if the room weren't beautifully chaotic enough, the play's lead and future casualty, Ben Glenroy (Paul Rudd), bursts into the room with the crowd-pleasing exclamation "Okay, who farted?" Accompanied by his manager-brother Dicky, Ben is a flashy movie star making his Broadway debut and filming a documentary about it (with Jesse Williams playing the documentarian, Tobert). And fear not if you were worried we were straying too far from the architectural heaven that is the Arconia; sure enough, Ben has just moved into the building.
The read-through begins, and Loretta takes a big swing with bold accent choices, trying out thick and poorly received Scottish and French Canadian dialects. "This is my process; it's just how I find the nanny's voice," she explains, a sentence straight out of a Fran Drescher biopic. It's of course no surprise that Streep is good at acting, but in this scene, she's so good at it she can convince us she's actually not good at it, as Loretta completely bombs.
Despite her floundering at the read-through, Oliver reassures Loretta that he has her back, telling her, "You go, I go." While he's clearly taken with her audition, this staunch support for Loretta must go deeper, especially considering that Oliver's newly rehabilitated reputation is on the line. Though we haven't seen them compare notes on their respective career struggles, it's fair to assume there's some affinity or connection there given that Oliver is coming off a long dry spell, not unlike Loretta's own lifetime of rejection.
But while he says he won't do the show without Loretta, when we flash forward to opening night, Oliver is adamant that a silly little thing like Ben's death shouldn't stop them from pushing on. In fact, he doesn't even let the death get in the way of his opening-night party, as he pulls a Clive Davis and forges ahead with the celebration anyway.
While Oliver's first reaction to Ben's death was to consider the impact it would have on his own career (tough but fair), Charles, having been feeling the looming pressure of an eight-shows-a-week schedule, is oddly relieved. Mabel, meanwhile, has murder on her mind. She instantly suspects poison and tells Oliver that a podcast about the poisoning of a big movie star could be big. But more important for her, a podcast about the poisoning would let her reconnect with her two friends.
This new dynamic between our three leads masterfully steers us back to the podcast conceit without making it feel contrived or obligatory. Even though the show's premise calls for the podcast, this character-led motivation makes its return feel organic. Plus, by framing the podcast as a wholesome group-bonding activity, the idea doesn't feel as exploitative as it is. Also helping on that front: Ben is terrible, so who cares if we're exploiting his death a little bit?
At the opening-night party turned shiva, Oliver joins Loretta at the piano, where she sings Richard Rodgers's "The Sweetest Sounds" (the same song we saw ignite her love for theater as a girl). Though Ben's death has perhaps foiled Oliver's revived career, Loretta says the silver lining is that the end of the show means the pair can now pursue a nonprofessional, non-platonic relationship.
But just as that idea is floated, the party is shockingly interrupted by Ben himself, back from the dead, bursting into the room and once again shouting, "Who farted?" (which is exactly how I picture the resurrection of Christ, too). After a questionable medical explanation for this return, he explains that his near-death experience has made him reevaluate his douchey behavior toward the cast and crew.
His apologies around the room not only give us a glimpse of the relationship dynamics he had with each of these potential suspects; they also give Rudd a chance to shine as he brilliantly delivers one hilariously misguided, backhanded apology after another, like a joke-filled line-o-rama worth watching over and over. That is until he gets to Loretta, whom he calls a snake (Loretta's Reputation era incoming?) and dramatically hisses at her.
Ben's grand return is cut short when he gets a phone call he has to take in private (suspicious) and heads up to his apartment.
With Ben back, so is the show — but despite pining for this very dream her entire life, Loretta doesn't seem happy at all. "Ben may be back, but it doesn't change the fact that he's a fucking asshole," she says, a line that positions her in prime-suspect territory.
With the party turned shiva turned resurrection over, Mabel goes home to her gorgeously renovated but lonely apartment. She sits for a moment before texting Oliver and Charles and inviting them to go to the diner. They meet at her apartment, where she tells them her aunt has sold the unit and she'll be moving out in four weeks — adding some context to her fear of being left behind or forgotten by her two friends.
Although out of service earlier that evening, the newly repaired elevator arrives, and as the trio hesitantly take it downstairs, Charles muses to Mabel that they technically couldn't have continued the podcast anyway since Ben didn't die in the Arconia. And with that, a drop of blood falls onto Charles's hat from above. As the doors open and they run out, Ben's bloody corpse crashes through the ceiling — marking a lucrative day for the building's elevator technician.
"You gotta be fucking kidding me," Jackie Hoffman's ornery Uma says, bearing witness to these three becoming entangled in yet another murder in the building.