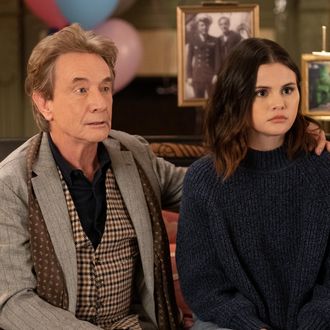 Photo: Hulu/Patrick Harbron
Thought the Only Murders in the Building finale would finally resolve everything? Don't kid yourself — this show got renewed for a third season, and by the looks of things, so will the podcast. And possibly now a documentary? There's a lot going on at the Arconia, and we'll find out more when Only Murders returns August 8. While we are attempting to piece together what's going on with Charles, Oliver, and Mabel, here's what we know now that the trailer's out.
Who's moving in this season?
In a way, Gomez's Instagram is like her personal version of Mabel's podcast: she's dropping hints for us to find out what the new season will be about. And what is her biggest clue? Meryl Streep, of course. Via Instagram, Gomez revealed that Streep would be starring in an undisclosed role. But Streep isn't the only special guest this season. Deadline reported that Jesse Williams will bring a camera crew to the Arconia. He will be in a reoccurring role as an unnamed documentarian interested in the same investigation as Mabel, Charles, and Oliver. On the heels of the season-two finale in August, Variety confirmed another star, Paul Rudd, will join season three of the Hulu comedy, starring as stage star Ben Glenroy. And (spoilers ahead, if you want to press pause) from those final moments of season two, it looks like he's not coming out alive. Hulu later revealed key art on July 18, including for Streep's character, Loretta Durkin, in a fabulously tilted hat. She's a co-star of Glenroy's who seems to be helping with the investigation, while also searching for the spotlight herself. The trailer introduced yet another suspect: TikTok star Kimber, who's also in Oliver's show and is played by Ashley Park. On top of that, it looks like there are some familiar faces returning this season, like Da'Vine Joy Randolph's Detective Williams and Jane Lynch's stunt double Sazz Pataki.
But what happened?
A year after the trio finally solve Bunny's murder, Ben is starring in Oliver's new play, alongside none other than Charles-Haden Savage … until he seems to drop dead mid-show opening night. In a statement to Variety, Only Murders showrunner John Hoffman called Ben Glenroy "a clear source of many upcoming questions," as if that weren't obvious! The trailer lays out more clues, like that Ben was bothered by Loretta's terrible acting … but also that Oliver's set was generally pretty unsafe, and Ben could've just died. So was Ben murdered? What was he arguing with Charles about? The one mystery we have solved: This murder truly was out of the building, based on a snide elevator comment from Uma to the gang in the trailer.
Will there be music?
Yes, and likely more than an old Brazzos recording. This season of Only Murders seems to be putting the vocal talents of Martin, Gomez, and Streep to good use with a trailer teasing original songs from the composers of La La Land, Waitress, and Hairspray.
When's the release date?
The season will premiere its first two episodes on Hulu August 8. After that, one episode per week will come out on Tuesdays.
This post has been updated throughout.