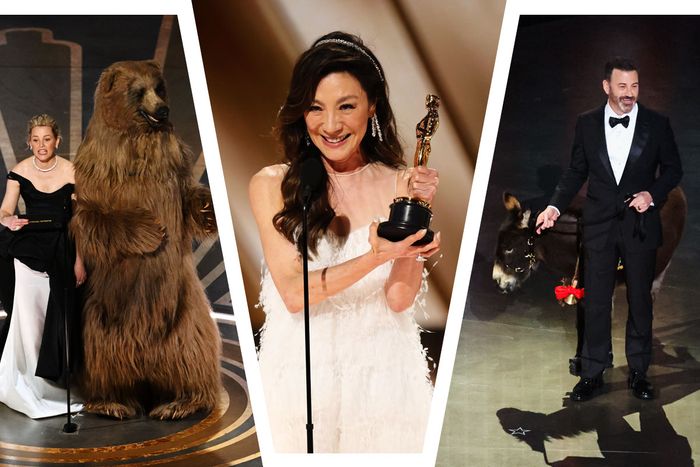 Photo-Illustration: Vulture. Photos: Getty Images
Yes, the show ran close to four hours. Yes, there were a few baggy moments and little places where you could imagine things to trim or tighten. But if those were the costs, the benefits far outweighed them: The 2023 Academy Awards were a solid, sincere, and generous awards show delightfully free of big, awkward comedy moments that didn't land well with the crowd and zero interludes in which the Flash had to enter the Speed Force.
Instead, Jimmy Kimmel did a serviceable job as host, popping in occasionally for few short jokes but never overstepping or creating a strange mood. All of the awards previously cut from the ceremony were reinstated, allowing for beautiful moments like a group "Happy Birthday" sing-along. The abrupt, stilted introduction of a mid-ceremony trailer for The Little Mermaid felt like a naked promotion that needed more of a lampshade, and probably we saw one too many appearances from Cocaine Bear. Yet the ceremony felt as well paced as any massive awards ceremony could possibly be; the strongest argument in favor of just letting the show run long was that very few acceptance speeches were cut off by an aggressive music cue trying to keep things moving. As it turns out, when people have a chance to say their entire speeches without fear of a looming orchestral exit sign, the whole show starts to feel more gracious. Cap it all off with a big win for Michelle Yeoh and, truly, what more could you want from one of these events? (A win for Angela Bassett.)
LOW: The Champagne carpet. You know what really signifies glamour and opulence? A beige carpet in the same shade as the carpets at the Vulture offices, which made it seem like all the celebrities were attending a regional business conference. This carpet stained easily and tended to wash out many of the gowns, especially ones in lighter tones; anyone in a shade between white and peach looked vaguely Photoshopped.
HIGH: Jimmy Kimmel's perfectly fine opening monologue. Sometimes a completely standard, right-down-the-middle opening monologue is what the people need to hear. Kimmel parachuted onto the stage for a Top Gun: Maverick tribute, then swiftly ticked off the important boxes: shout-outs to the big-wigs in the crowd, including Spielberg and the Fabelmans team; a little joke about the number of Irish nominees this year; a run-through of the first-time nominees; and a light-but-palpable touch for required hot-button issues (Ozempic, watching movies in theaters, the lack of nominations for women directors, the Batgirl cancellation, the Babylon budget, Scientology). Of course, the big question was how Kimmel would deal with the Slap. The answer was by being very clear about it! First there was a run of jokes aimed at how bizarre it was that no one responded quickly enough last year, then he ran through the actors who would intervene if someone tried to hit him this year. It was direct, it was unfussy, and it was effective. That's the job, baby.
LOW: The Oscars reminding us of the movies they didn't nominate. The ceremony's "The magic of movies!" opening montage included Jordan Peele's very good Nope, a movie that wasn't nominated for anything, while Kimmel specifically encouraged viewers to watch The Woman King and Till, the lead actresses of which were arguably snubbed. What is the common denominator for all these movies the Academy reminded us it couldn't find a way to recognize? Hmmm. We wonder. [Hard stare.]
HIGH: Every time Best Animated Feature winner Guillermo del Toro says, "Animation is cinema." Because it is! And if the Oscars could expand what they've been nominating, that would also be great.
WHOA: The lighting design of the Dolby Theatre's seats. During each Best Picture nominee's spotlight segment, the lights in the Dolby Theatre went out so that the screens around the theater got the audience's full attention. But when each segment ended, a camera overhead captured the Art Deco–esque design of the lights lining the chair backs turning on across the theater — a nifty bit of visual interest to break up what could have otherwise been a drab night of stage and crowd shots.
HIGH: Ke Huy Quan's speech after winning Best Supporting Actor. "This is the American dream," Quan said while accepting his award for Everything Everywhere All at Once. Recounting his experience coming to America as a refugee and reflecting on his career in Hollywood, the actor gave a speech full of powerful, direct emotion, a fitting capper to an awards-season run full of earnest enthusiasm. Just like Ariana DeBose as she announced his win, we couldn't help but tear up.
HIGH: The Irish lads of live-action short-film winner An Irish Goodbye using their speech to sing "Happy Birthday" to one of their collaborators. It was actually his birthday! How nice.
LOW: Wait, we're watching trailers for upcoming movies in the middle of the Oscars now? Look, we understand that ABC is owned by Disney, and we know the Academy is looking ahead to renegotiating its TV contract for the ceremony when it expires in 2024. But with the mid-ceremony introduction of a trailer for the live-action Little Mermaid, it seems as if one of the Academy's strategies for boosting viewership is offering in-ceremony ads. People like trailers, we guess, so … maybe this will work for them?
HIGH: Michael B. Jordan's "Hey, auntie" to Angela Bassett. Jordan revisiting his iconic Killmonger smirk and Majors's follow-up "We love you" to Queen Ramonda was a nice little moment of synchronicity between the Creed III co-stars, who have hinted at working together again in the future. Write a role for Angela so she can finally get the Oscar she deserves!
LOW: It's tough to award makeup artists for The Whale without reinforcing fatphobia. For instance, "The team that transformed Brendan Fraser into the whale" is a way of saying, "Here is an award for the makeup artists of this film." It's also a way of saying, "Here is a team of people who made an attractive human actor into a not-human creature." The challenge, of course, is that this occurs whenever anyone tries to say anything about The Whale, which should maybe tell us all something about the wisdom of making The Whale?
HIGH: David Byrne hot-dog fingers! Performing "This Is a Life," the best-song nominee from Everything Everywhere All At Once, Stephanie Hsu and David Byrne! With hot-dog fingers!
LOW: Pedro Pascal didn't say dicks. It's a shame that My Year of Dicks didn't win for best animated short film. Yes, that's probably the bigger loss here. But still, they should've made Pedro Pascal say dicks.
HIGH: How excited Colin Farrell was to see Jenny the Donkey again. The entire ceremony should have had a Colin-specific camera because this man's expressions — and that blown kiss! — were so pure. (We were all very devastated to learn it was not the real Jenny, but congratulations to her on her continued retirement!)
WHOA: Lady Gaga's very self-serious explanation of the "deeply personal" song she wrote for Top Gun: Maverick. The extreme close-ups on Gaga's face as she sang "Hold My Hand," her posture while hunched over that stool, the moody lighting, her all-black outfit, and "You can be your own hero, even if you're broken inside." So Gaga is deep in that Harley Quinn role, huh? (The "In Memory of Tony Scott" screen revealed at the end of the performance, though — good.)
WHOA: The Oscars are a place where you can watch Jimmy Kimmel tell Cocaine Bear to stop messing with Nobel Prize winner Malala Yousafzai so they can kill time as a whole set comes together onstage for Rihanna. Hollywood is quite a town.
HIGH: Sarah Polley wins best adapted screenplay for Women Talking. Polley gave a lovely acceptance speech, first crediting Miriam Toews's novel, then describing the film as a radical act of democracy in which people with opposing viewpoints come together to find a way forward.
LOW: They played Polley off with the theme from Pirates of the Caribbean. Women are talking, but we prefer not to believe them when they describe abuse from much-loved movie stars.
WHOA: Kimmel jokingly asking everyone to get out their phones and … vote on whether Robert Blake should be included in the "In Memoriam" segment. Messaging and data rates may apply!
LOW: Tom Sizemore missing from the "In Memoriam." Did Sizemore have a troubled personal life? Yes. Did he possess an incomparable screen presence that should have been acknowledged during the segment? Also yes.
HIGH: A refreshing lack of terrible bits. The show stretched long, well over three hours, but Kimmel did his job as a host just well enough, popping up between categories without doing anything too groan-inducingly exhausting. If anything, there were too many jokes about how long the show itself was. Own the space, Kimmel!
HIGH: Michelle Yeoh's acceptance speech. "Ladies, don't let anybody ever tell you that you are past your prime," Yeoh said, becoming the first Asian woman and the second woman of color to win Best Actress. At the end of a long awards season, Yeoh grew emotional in her speech, which she dedicated to moms everywhere, including her own 84-year-old mother watching in Malaysia. Yeoh, the face of the film and competing in perhaps the most uncertain category, delivered the emotional high of the night, so much so that the arrival of Harrison Ford and his very speedy announcement of Everything Everywhere All at Once's Best Picture win felt like a quick denouement.