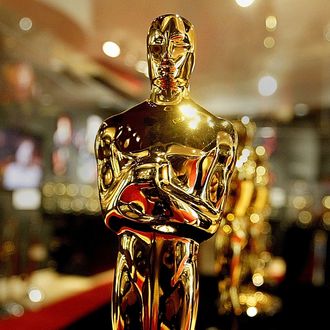 Photo: Carlo Allegri/Getty Images
You'd think that this wouldn't need to be news, but it is: An awards show is actually gonna show us all of its awards. Per Variety, Academy of Motion Picture Arts and Sciences CEO Bill Kramer has confirmed that the 2023 Oscars will present all 23 categories during the live telecast on the same slap-less stage as Rihanna. The Academy was widely dragged last year when it demoted eight categories — Original Score, Makeup and Hairstyling, Documentary Short, Film Editing, Production Design, Animated Short, Live-Action Short, and Sound — by presenting those awards during the red carpet (which obviously meant all the seats weren't filled). Highlight clips were later edited back into the show, but many cinema-lovers expressed outrage at the idea of giving less attention to professions that are already often underlooked. "Bullying works," one fan tweeted in celebration after it was announced that the full categories were coming back. Below, everything else you need to know about the ceremony, including the pre-shows, presenters, performers, and more.
Who's hosting the Academy Awards ceremony this year?
Since a post-slap Chris Rock turned the Academy down, Jimmy Kimmel will host for the third time. A newly formed crisis team will be on deck in case of any live mislaps— er, mishaps. White Cherry Entertainment's Ricky Kirshner and Glenn Weiss will produce the show, with Weiss serving as director for the eighth year in a row. Given that the full categories have been reinstated, we expect that the telecast will last a little longer. Hopefully Kimmel won't get too tired flying the Oscars plane — we wouldn't want him to make lying down during awards shows a habit.
How do I watch this year's Oscars?
The 95th Academy Awards ceremony will air live out of the Dolby Theatre in Los Angeles on March 12, 2023, at 8 p.m. ET on ABC. If you have a cable sign-in, you can also watch on ABC.com or the ABC app. Hulu Live TV, YouTube TV, FuboTV, and AT&T TV will stream the show as well. International fans can consult this handy list from the Academy.
Will there be a pre-show and a red carpet?
Yes! In fact, there will be two. First, you'll able to judge everyone's red-carpet outfits from 1 to 4 p.m. on ABC. Hosted by Linsey Davis and Whit Johnson, On the Red Carpet Live: Countdown to Oscars 95 will feature interviews with nominees and also stream on ABC News Live's website starting from 1:30 p.m. ET up until the ceremony starts.
Meanwhile, Vanessa Hudgens, Lilly Singh, and Ashley Graham will host the official Countdown to the Oscars lead-in show, which will air at 6:30 p.m. ET on ABC. This pre-show will spotlight various Oscar nominees, performers, and presenters, with backstage assistance from TikToker Reece Feldman.
Who's presenting?
MC and Oscar winner Ariana DeBose will take the stage to debut her long-awaited follow-up to the BAFTAs rap, probably (teaser: "Paul Mescal / Made us hurt after all"), and dole out awards alongside fellow winners Halle Berry, Nicole Kidman, Jessica Chastain, Riz Ahmed, Jennifer Connelly, Troy Kotsur, and Questlove. Oscar nominees Glenn Close, Samuel L. Jackson, John Travolta, Harrison Ford, Salma Hayek Pinault, Florence Pugh, Sigourney Weaver, Kate Hudson, Antonio Banderas, Andrew Garfield, and Melissa McCarthy are confirmed presenters. Current and past HBO queens Mindy Kaling, Julia Louis-Dreyfus, and Pedro Pascal will all present. Meanwhile, Creed III's anime-inspired director and star Michael B. Jordan will appear, together with co-star Jonathan Majors, Fabelman Paul Dano, Emily Blunt, Dwayne Johnson, Janelle Monáe, Halle Bailey, John Cho, Cara Delevingne, Eva Longoria, and Zoë Saldaña. But wait, there's more! Four Weddings and a Funeral's Andie MacDowell and Hugh Grant, Marvel girls-at-large Danai Gurira and Elizabeth Olsen, Cocaine Bear front woman Elizabeth Banks, John Wick 4's Donnie Yen, and Hindi star Deepika Padukone will also present awards.
As for the match-ups, Vanity Fair gave a small snapshot of what's to come Sunday night, based on Saturday's rehearsal day:
1. Andie MacDowell and Hugh Grant

2. Jonathan Majors and Michael B. Jordan

3. Harrison Ford and Glenn Close

4. Mindy Kaling and John Cho

5. Kate Hudson and Janelle Monae

6. Halle Berry and Jessica Chastain

7. Florence Pugh and Andrew Garfield
Who's performing?
Another thing returning to the stage is … *dramatic music* … Rihanna. The cosmetics CEO and Super Bowl LVII halftime performer will perform her Oscars-nominated song "Lift Me Up" from Black Panther: Wakanda Forever at the ceremony, showrunners announced on February 23. It's her first Oscar nomination, and, more importantly, her second performance in the same 30-day period after a seven-year hiatus. Her Academy Award is pending, but her fans have already gotten a win. Producers will announce the remaining slate of performers in the coming weeks.
But she's not the only musician turned Gary Ross–film star who will be performing this year. Lenny Kravitz, musician and Hunger Games vet, will be singing during this year's "In Memoriam" segment, according to Deadline. Film vets who died after last year's ceremony include Fame's Irene Cara, Grease's Olivia Newton-John, Beauty and the Beast's Angela Lansbury, and Six Days, Seven Nights star Anne Heche. After the Oscars, over 200 of the now dead film professionals will be commemorated via photo gallery on the Academy's digital magazine, A.Frame. Get out the tissues.
This post has been updated.