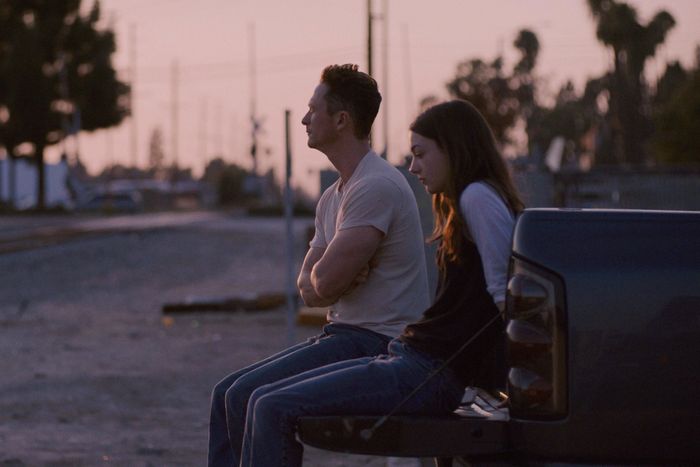 Casting Jonathan Tucker is a bit of a tell. The actor has played crazy-eyed guys for so long that his name immediately signals a certain kind of character: a hotheaded, trigger-happy villain, as in his Charlie's Angels assassin, Kingdom MMA fighter, and Justified and Westworld gunslingers. But the smartest thing Palm Trees and Power Lines does is recognize Tucker's overlooked asset: his ability to temper the predatory glint in his eye with soft-spoken sensitivity. His co-starring role weaponizes that duality to tremendously unsettling effect. Narratively, there aren't many surprises in director and co-writer Jamie Dack's debut film about the relationship between a teenage girl and an adult man. But Tucker's performance here is so mesmerizingly disquieting, and such an intelligent distillation of his appeal, that it's difficult to look away from even as Palm Trees and Power Lines sinks into an irreversibly grim portrait of romantic manipulation.
Dack won a directing award for Palm Trees and Power Lines (written with Audrey Findlay) at last year's Sundance Film Festival, but she says the film's controversial content delayed its distribution: "People were scared." The past few years have seen a mini-trend of films that follow young women ground down into predatory situations — The Assistant, Never Rarely Sometimes Always — and Palm Trees and Power Lines has a similar setup and sparseness. Lily McInerny stars as 17-year-old high-schooler Lea, who's drifting through the summer vacation between junior and senior year in a haze of monotony. She sunbathes with her best friend and drinks or smokes in silence while their social circle rates the attractiveness of other girls. She avoids her mother, Sandra (Gretchen Mol), an oversharer with a rotating array of boyfriends. (Lea's shock at seeing one of Sandra's exes invited back into their house hints at what might have caused the yawning chasm between mother and daughter.) And Lea has a tendency to apologize for taking up space, literally and figuratively, like when the guy she's hooking up with rolls off her, ignores her obvious lack of pleasure, and complains that she hasn't left enough room for him to relax in the car's backseat.
Lea is desperate to feel something — anything — and Palm Trees and Power Lines first frames her in ways that accentuate her loneliness: centered while walking aimlessly among a forest of utility poles, facing one direction in the foreground while Sandra faces another in the background. In the early scenes, McInerny crafts Lea from averted glances and sarcastic asides with brief glimpses of interiority breaking through her armorlike ennui: her panic when her best friend starts hanging out with another classmate Lea doesn't like; her wide eyes, curious and wary, when her friends talk about sex; her small, delighted smile when older guy Tom (Tucker) notices her at a restaurant where her friends run out on the bill, leaving Lea to be physically assaulted by the chef until Tom intervenes. The more time Lea spends with him, the more McInerny's performance opens up, and the film cleverly (and troublingly) ties the teen's confidence to 34-year-old Tom's influence and presence. Tucker, operating at a less outlandish but no less intense frequency than his more typecast work, easily shoulders the responsibility of being the most charming asshole in the room.
Physically, he puts himself at Lea's level: leaning down or bending over so his eyes are aligned with hers as he builds a bond. He appeals to her maturity, distancing Lea from the friends he dismisses as childish and the mother he calls overbearing and out of touch. Cunningly, he frames their conversations as negotiations between what he wants and what she wants, but really they're decisions he's already made. Here, again, the economy of the film's script is an asset. Tom's dialogue gradually grows explicit in its flirtatiousness and latent menace: "I don't want you seeing other guys … You're mine"; "You want me to take you away? You want to run away with me?"; "Nobody loves you the way that I love you." Tucker calibrates his performance to add jealousy and unbroken eye contact here, nonchalance and a bemused grin there, and all those double-edged lines help Tom establish, and keep, the upper hand.
By the time we recognize that Tom is working from a groomer's script, it's too late. Palm Trees and Power Lines doesn't deviate from where you predict it will go, and the final third sags a bit before reaching its jarring conclusion. But the relationship McInerny and Tucker build is so convincing in its mixture of exploitation and yearning that Palm Trees and Power Lines capably secures what Lea desires most too: your attention.