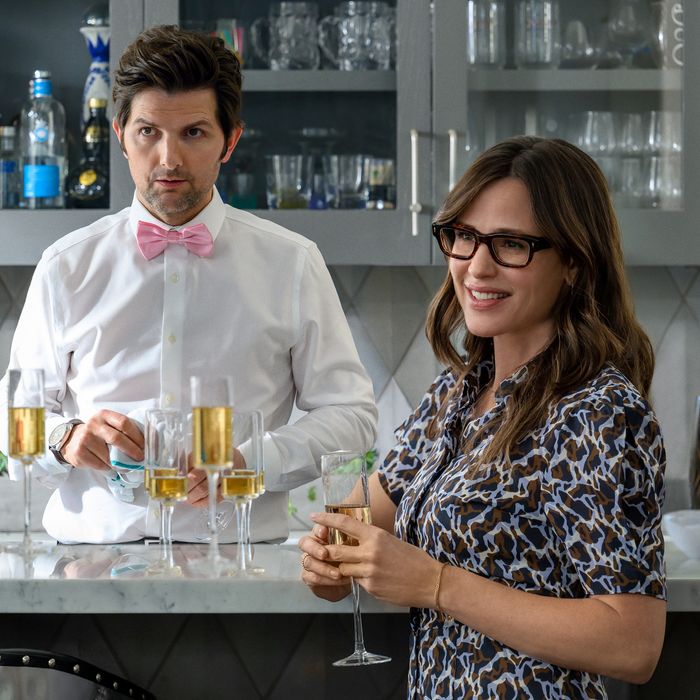 Party Down
Jack Botty's Delayed Post-Pandemic Surprise Party
Photo: Vulture; Photo: Starz/Colleen Hayes
As far as I'm concerned, this episode officially marks the true beginning of the Party Down revival. While I completely understand how the previous episode's events were necessary to catch us all up on what's been happening over the past 12 years, I also know that it's not Party Down until Henry Pollard begrudgingly dons a pink bow tie.
It's been about 20 years since Henry first left Party Down to go chase stardom, and even though two decades have elapsed, he's back slinging 'dervs and debating whether limes have grains. As Henry experiences his first day on the job for a third time, the opening beats of the episode feel almost like a redux of the original premiere of the series. We check in with Ron as he fusses over the last-minute preparations for the party with the hostess, but then there's a shift in tone as we switch to Henry's perspective. We steal a quiet moment with him as he threads his bow tie through his collar, pops a few pills, and braces himself as he returns to the wild world of food service.
But while this moment establishes Henry's begrudging return, it (thankfully) doesn't linger in feelings of pity or shame. Part of the fun of Party Down was always the representation of food service as a crucible for engaging and unpredictable connections with co-workers. As soon as Henry arrives in the kitchen, Roman and Henry start chatting, and the camera sneakily pans to the left for an exciting reveal: Kyle is there, too. The three settle in for some familiar pre-event banter, and in seconds, Party Down is back and better than ever.
The event is Jack Botty's postponed 44th — now 45th — surprise birthday party. It's odd that Evie was going to throw Jack a lavish party for his 44th birthday, seeing as how it's not really a significant or meaningful number, but Evie seems to be a woman who goes for the top shelf in everything that she does — more on her in a bit.
Historically, we haven't seen the Party Down crew cater too many events at private residences — four in total, and hangin' with Steve Guttenberg doesn't really count — so watching them brazenly invade the off-limits spaces in Evie and Jack's house is pretty funny. In particular, there's a lavish bathroom that everyone wants to be in. It's where Henry pops a few stolen pills at the top of the episode, and later, Sackson, Ron, and even a former child star named Tandy are drawn to the spacious and well-lit room.
The party itself is pretty boilerplate. It's a surprise birthday with surprise karaoke. Cool! However, even though Evie seems to be a thoughtful and kind partner, Jack is cheating on her. He bungles his own surprise party by stumbling in through the kitchen door in a lustful embrace with Tandy. The crew is amused but not shocked. They've seen worse. They promise Jack that they'll keep the indiscretion under wraps, and then they promise Ron the same thing. Under financial duress and living in the Party Down van, Ron is still trying to get Jack to sign up for a series of events so the company can stay viable.
Ron is doing everything he can to make the company work. He confesses to Henry that he's been working underground events throughout the pandemic and, as a result, he's had COVID four (!) times. He's lost his sense of smell, so he's blissfully unaware that he smells like a guy who lives in a van. When he asks Henry about this, he's tactful yet direct — Ron stinks. Ron's also lost his sense of taste, which is not great for a catering manager, especially one that's hired a new, whimsical-bordering-on-deranged chef.
Enter Lucy. It feels like Lucy was written as a direct contradiction to all the Very Serious Chefs™ that populate our TV screens in both reality and fictional formats. Lucy's intense foodie energy would probably be too much for the likes of Carmy Berzatto or even the often-manic Monica Geller. As a heightened version of an easily parodied trope, it's clear that actress Zoë Chao is having an absolute blast playing Lucy. She doesn't really care about people liking the food — she just wants her creations to evoke a feeling. That feeling is definitely not satiety, because the creation she presents at the party sounds absolutely wretched.
To Ron's horror, Lucy's play on cake bites isn't playful at all; it's cheesy as hell … literally. Lucy explains that she's created bites made of "basic sheet cake, done in an on-sale, store-bought style, with a center of ripened Camembert." She prides herself on the fact that the bites provide "an earthy whiff of decay" as the finishing flavor. The rhythm of the dialogue here feels so specific to how chefs on reality shows try to present their dishes in a fanciful, descriptive way, but Lucy's descriptors truly do evoke a feeling. Do I want to eat these cake bites? I'm not going to say I'm not curious.
Throughout the episode, the two PD newbies, Lucy and Sackson, orbit around one another. Sackson laments that he wants to break the rules and film himself doing a dance in the mirrored bathroom, and Constance discourages this because she doesn't understand what "content" is. Lucy doesn't need to understand it, though. It's enough for her to know that it's Sackson's way of expressing his art. So she tells him to go for it.
Sackson and Lucy both enjoy triumphant moments later in the episode. When Sackson catches Ron showering in the very bathroom that he wants to film in, Ron gives him the go-ahead. Watching the forever tech-challenged Ron react with total bewilderment when he sees a ring light for the first time — "What is this … circle?!" — is one of the high points of a great episode.
Lucy's win comes when she finally passes out her cake bites of death. While Ron is busy scrubbing van stench off his body, she weaves through the crowd, offering up the brightly colored domes. While chatting with Lydia about the precarious nature of child acting, Tandy grabs one and takes a bite. The cake does exactly what it's supposed to do, shocking her into a revelation about her life. A sort of domino effect takes place as Lydia starts to worry about her daughter Escapade and how early fame could have robbed her of her childhood. In an effort to presumably help Escapade recapture her lost youth, Lydia quickly books Party Down to cater a prom, an event we'll certainly see later in the season.
So, in a way, the cake bites help Ron secure another gig for Party Down, even if all of his original plans for the evening go completely awry. Tandy rides the ominous feels from the cake bite all the way to the microphone on the karaoke machine. There, she admits to the entire crowd that she's been sleeping with Jack. She apologizes, but no one seems too shaken by her admission. Evie certainly isn't surprised, because Henry has already told her about Jack's indiscretion.
It's nice to think that Henry warns Evie about Jack out of the goodness of his heart, but really, it's more because he has a connection with her. Also, now that I think about it, maybe he has a thing for women who are already attached to not-great guys? Casey was with her unsupportive husband when she met Henry, and now Evie's in a similar situation. It all makes me wonder how Henry met his ex-wife.
Even though Jennifer Garner has her rom-com game face on, it's tough to think of her as anything but a replacement for Casey. The flirtatious asides at the bar and in out-of-the-way spaces are so similar in tone to the interactions between Casey and Henry in the show's original run that it's easy to imagine that they were originally written for Lizzy Caplan, not Garner. Similarities aside, the chemistry between Garner and Adam Scott is definitely there, and Evie even gets to deliver a few acerbic doses of reality. Like a decaying cake bite in conversational form, Evie circles back to Henry's catchphrase: Are we having fun yet? She decides that the answer is no.
Comment Card
• I'm not sure whose company claims the vanity card with the "tree" logo that appears at the end of every episode, but I love it so much.
• Callbacks? Kyle explaining the lime grain to Henry was a fun twist, and Ron telling Sackson that filming in the bathroom is an "RDD," only for Sackson to respond with total confusion, was also excellent.
• Even though Sackson is Gen Z through and through, his quirky, up-for-anything attitude definitely helps him fit in with the rest of the gang. The interaction with Ron about the bear at the end of the episode had me cackling. "God never closes a door without opening a window." "That's how a bear got my uncle." "Seriously?" "Yeah."
• I Googled Tipo Fico so you don't have to. Sadly, it does not exist. Yet. Get on that, Tom Ford!
• I always forget that James Marsden can sing. He has so much talent that it almost seems unfair.
• Lucy's cake bites with a side of mortality reminded me of the great "cake or death" bit from Eddie Izzard's classic stand-up routine, Dress to Kill. If you haven't seen it, check it out here. For the record, with Lucy's recipe, you get both at the same time.