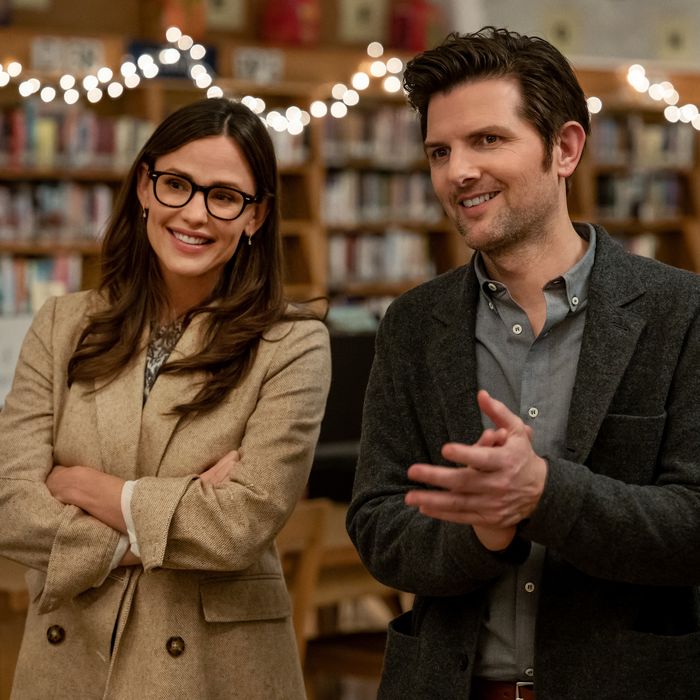 Party Down
Sepulveda Basin High School Spring Play Opening Night
Photo: Colleen Hayes/B) 2022 Starz Entertainment, LLC
The season finale of Party Down treads on familiar territory. In season two, the gang catered the opening night of a regional-theater production of a play called Not on Your Wife. This episode toys with the concept of farce and features mistaken identities, secret affairs, and a hilariously hammered version of Roman. It's also the only episode in which the gang caters a party for actors and creatives who are overtly enthusiastic about their craft. "Theater people," Roman scoffs when they arrive. But by the end of the night, even the skeptical sci-fi buff has been swept away with optimism in the power to play pretend.
"Sepulveda Basin High School Spring Play Opening Night" circles back on the concept of Hollywood dreams but grounds everything on a very human level. After Henry's high-school theater production of 'Tis Pity She's a Whore goes off without a hitch (except that everyone thinks the incest plotline is incredibly romantic), the kids find that Evie has set up an after-party — with real Sprite! — in the school's courtyard. Throughout the event, we check in with the Party Down crew and find that all the creatives have learned to roll with the punches in relation to revising, shifting, downgrading, or letting go of old dreams. It's a fitting theme to leave us with as this miraculous third season ends and we all anxiously await news about future episodes of the show.
In the aftermath of his dance-off fail, Sackson has found that he's getting a lot of traffic on his escalator face-plant video. Instead of the inspirational content and dance videos he was initially inspired to share, he's changing course based on the most recently available information. Kyle finds out that the role he inexplicably nabbed even after getting canceled isn't what he thought it would be (he's the dad, not the hot teen), and Roman laments the loss of his one great idea after Smydgyn tanks faster than Quibi did.
If you've ever been part of a high-school-theater cast party — raises hand — you'll know this episode isn't too far from reality. Cast parties are designed for people to sneak away and have intimate, booze-fueled moments with one another, only to be summoned back for a sing-along led by an overly confident dude with a guitar and a halfway decent voice. In this case, that confident dude is the vice-principal, Mr. Mittman.
The first attempt at a party in the courtyard is thwarted almost immediately by the stern Mittman (the deliciously foulmouthed Veep alum Dan Bakkedahl). He confronts Evie and Henry, telling them that having food on school property without a permit is even worse than serving alcohol without a permit. Later, we find out he's 100 percent correct because the food-service union is absolutely brutal when it comes to other companies stepping on their turf.
Ron was aware of the risks with the food-service union but decided to take the job anyway because it's Henry! The 'derv biz is going pretty well for him — he's booking a lot of luncheons — but there's a bit of confusion with Constance and her financial adviser, Gary. Ron's lawyer, Gene Sleeves, sounds like a completely incompetent version of Saul Goodman. Gene filled out some forms incorrrectly, and now it's unclear who owns the business.
Constance doesn't get a ton of screen time here, but Jane Lynch is unhinged and hilarious even from behind an iPad screen. She's chatting with Ron from an ayahuasca retreat, and she continually denies having any business acumen at all. She isn't sure who owns the business either, and she's about to see the face of God in her hotel room so she has to go. The mystery of who technically owns Party Down is never resolved, but did anyone else get the feeling that Constance's business manager may be screwing her over? Or maybe I'm just hopeful there will be a reason to get her back in a pink bow tie for future seasons. It's been fun watching her play off the rest of the core cast, but a daffy Constance interacting with party guests sans filter was one of the true delights of the show's first season, and I'd love to see Lynch work that magic again.
We also get short shrift with Lydia in this episode. She shows up at the beginning of the party to viciously neg her way through Kyle's Lost Boys deal ("For starters, you can shut your ham flap" is about to be in serious rotation at my house), but then she disappears to have drinks at Red Lobster with Ted Fine.
Once buzzkill Mittman shuts down the party, the kids decide to move the festivities to the library. This is against the rules, but when have any Party Down employees ever played by the rules? Henry enlists Ron's help. At first, Ron is reluctant to go back in because things are going so well for the company, but when he finds out this could be Henry's last hurrah, he gives in immediately. He's genuinely excited for Henry when he shares the news about getting the role of "administrator" Colonel Balorian in Evie's Star Saga. Of course, Ron would love a character who excels at management … but Henry is less excited.
As the party moves to the library, Henry continues to hedge with Evie. At first, she doesn't suspect anything is wrong, but she eventually starts to question his noncommittal phrasing. Scenes featuring the two this evening slowly shift from shared excitement to a melancholy mutual understanding. Things come to a head when Henry and Evie get called to the principal's office and Henry faces the chopping block for the unsanctioned party. Evie bounces to her feet and reaches out for Henry, inviting him to drown his sorrows with some proper booze and celebrate their future. When he balks, she finally realizes what's happening. Throughout this exchange, Jennifer Garner serves up some truly devastating facial expressions. When Henry mentions that her offer was like a dream come true, Garner somehow manages to convey Evie's potent mixture of frustration, disappointment, and annoyance with a subtle tightening of her lips and a darting sideways glance. "Don't say fairy tale," she warns.
When Henry is confronted with the choice of "making it" in a role he's not passionate about or continuing to do something that stokes his creative fires, he chooses the latter. The relief we see him feel when he decides to let go of his once-upon-a-dream and give himself space to pursue a different path is palpable. Adam Scott offers up so much grace to Henry at this moment, and his shift in this finale episode feels like a sea change.
Elsewhere, Lucy's dream is snatched away from her as Ron eats her $2,000 saffron ball. It's only fitting that her food works its kooky magic one more time before the end of the season, and the pricey appetizer — meant to be her audition for an upscale restaurant called Hautér — restores Ron's sense of taste and smell. He's just mad about saffron, but Lucy has lost the ability to execute her vision. At the conclusion of the episode, Roman circles back, giving her the same advice she offered him at the beginning of the night: persevere and find a new idea.
Funnily enough, the idea of dreams not being all they're cracked up to be returns in this episode's final moments. Yes, friends, Casey Klein is back. She has everything she always wanted back in her Party Down days, but she's absolutely miserable. While working a press junket for her hit show, The Stabilizer, she sneaks in the back to grab a bottle of vodka. When she sees Henry, something clicks.
The electric chemistry between Scott and Caplan is as strong as ever. The two former lovers fumble for a moment before a dickhole PR guy comes to whisk her away. As Casey starts to leave, she gives Henry a warm hug with a secret on the side: She's planning on quitting her show.
From the start, Party Down has always explored when it's time to give up on dreams. And the finale makes the salient point that dreams aren't a fixed point; they're fluid. When we first met these crazy kids over a decade ago, they had end goals in mind, and now, success or no, they've seen what's on the other side. Casey quits, Henry lets go, Kyle accepts, and Roman shifts. I'd love to see what they all do in the next chapter of their lives. Here's hoping for a fourth season. Until then, please refrain from all personal business on the company pond.
Comment Card
• Kyle keeps getting older, while the girls stay the same age. But seriously, he should absolutely not be flirting with high-school girls. Who does he think he is? DiCaprio?
• Lucy's appetizer opus includes a pine-cone sauce, but in the world of Party Down, that's been done before. In season two, Lydia lamented carrying trays of "Santa Barbara grilled eel beaks in a baby-pine-cone sauce." It's probably best that Lucy start from scratch on this one.
• Even though I held out hope for cameos from previous Party Down alumni like J.K. Simmons and Kristen Bell, the revival episodes didn't need it. That said, if there's a fourth season, give us some Siltskin!
• Last but not least, I'd like to thank Vulture for holding the Party Down reunion that eventually spawned this excellent season of television.