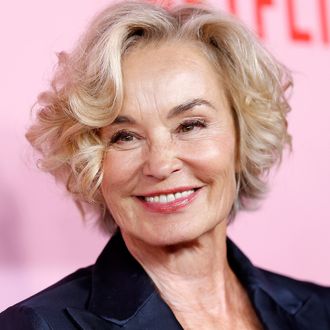 Oh, mother, mother, mother, mother.
Photo: John Lamparski/Getty Images
The Hayes Theater is about to get rocked by an incoming motherquake. Hide under your tiny theater seats with no legroom, because there will be enough writing, directing, and acting to cause a seismic event. This momentous occasion is due to the grouping of four incredible women (and one Jim Parsons), who are coming together to put on the aptly named Mother Play. Written by Pulitzer Prize winner Paula Vogel (Indecent, How I Learned to Drive) and directed by Tony-nominated Tina Landau (The SpongeBob Musical, Floyd Collins), the cast includes capital-M Mothers such as triple-crown-acting winner Jessica Lange (you know the credits), Tony winner Celia Kenan-Bolger (To Kill a Mockingbird, The Glass Menagerie), and Emmy winner Jim Parsons (The Big Bang Theory, The Normal Heart). Previews for the show begin April 2, 2024, and it will officially open April 25 for a limited run. The play follows a forceful matriarch, Phyllis, and her two children in the D.C. suburbs in 1962. A family period drama written by Vogel? This motherquake is slated to register a 9.8 on the cunt-o-meter.