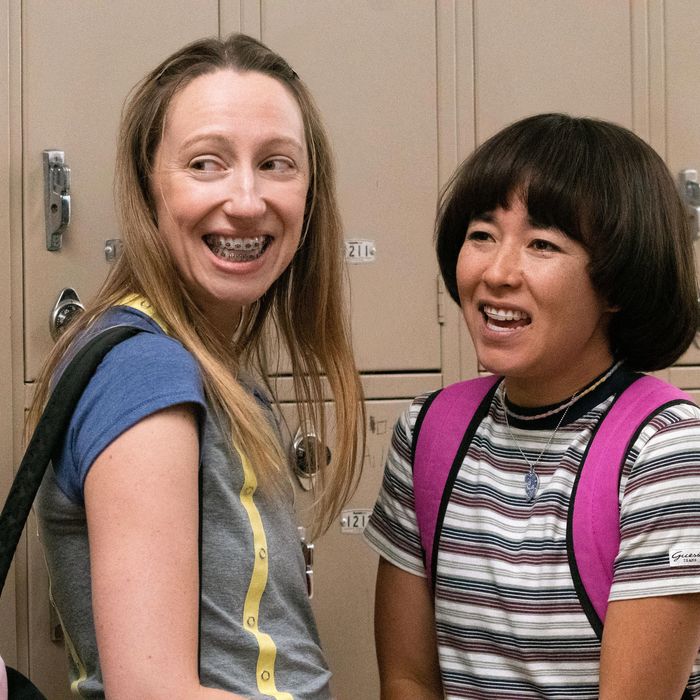 Even as seventh-graders, most of us dreamt of what we wanted to be when we grew up. But despite its frankness on nearly every other topic, PEN15 has been pretty cagey about Anna and Maya's aspirations. We know all the things they like to consume, from clothing to toys to TV shows. But aside from Anna's love of choir, the show has always been a little vague on the girls' goals, perhaps in the service of keeping them more broadly relatable.
"Play" is the show's first real deep dive into a key aspect of Anna Konkle and Maya Erskine's autobiographies: that they are, and have always wanted to be, performers. They may be dorks, but they're still playing pretend as 13-year-olds because it's more than a game for them. So when Maya has that interest legitimized by landing a starring role in the school play, while Anna doesn't even get a part, it's a major blow. You can practically smell the desperation as Anna tries to change Greg the drama teacher's mind by singing "Ave Maria" for him.
The added alone time for Anna isn't great. Her parents are at each other's throats over control of the house, which is hanging in the balance of a court case. With Maura now in the rearview, she still doesn't have any non-Maya friends. Her romantic prospects aren't great, either: Alex is still ignoring her and Brendan and Marissa are still together. But the arrival of a wise-beyond-his-years theater tech with a seeming interest in Anna's personal growth changes everything.
It's hard to pin down the exact role of Steve, the high-school freshman sent to supervise the middle-school techies. With a deep reserve of calm and a seemingly endless supply of Bruce Lee quotes, he's almost a "magical Asian man" trope, albeit one with a deep interest in James Wong's oeuvre. The show's surrealism usually doesn't extend to its characters, but in this case, Steve seems less like a cute older-boy crush and more like the parent/therapist that Anna desperately needs. He demands that "Obi-Wan Koneobi" stop apologizing for herself, and encourages her budding leadership among the wayward techies, eventually appointing her as the show's stage manager.
Maya, too, is gaining confidence in her abilities. Despite a rocky start in which Greg outright encourages one of her classmates to shit-talk her (seriously, is every teacher/coach at this school a sociopath?), she not only wins the other kids' respect, but her first boyfriend as well. Gabe, who's been paired with Maya as the show's romantic lead, doesn't want their first kiss to be a transactional scene in a play. So he gallantly offers to date her, so they can kiss as themselves before they have to do it onstage. It's a moment of real warmth in the lunar landscape of middle-school romance, which Erskine quietly renders with a vivid flush of joy.
Unfortunately, Gabe is still gay — much as he'd like to deny it, both to himself and to Sam and Jafeer. Though he knows it'll be hurtful, he even calls his friends "faggots" in front of fellow actor Ian, the school's obvious "gay kid." As the reality of the kiss looms, he tries to get out of it, not realizing quite how unstoppable Maya can get once she's fixated on a boy. When Gabe thinks he has a cold, she shows up at his house with a pair of face masks, through which they awkwardly slow-dance and eventually, smooch. (It may have been a workaround so Erskine didn't have to kiss a child actor, but it's also one of those eerily prescient moments that make you wonder if artists are a little bit psychic.)
Gabe's complicated coming-to-terms with queerness dovetails nicely with the episode's central theme, which is Maya and Anna's growing individuation as people. That's reflected in the show's rendering of one of life's great divides: the mutual antagonism of actors and techies. The final-act face-off between the two groups is hysterically funny, from the duct-tape war paint on the techies' all-black ensembles to the meticulously puff-painted inside-joke sweatshirts worn by the drama kids. Anna pulling rank on Maya with the universe's largest key ring was the perfect dollop of surrealism on top.
The conflict continues into "hell week," as Maya and Anna's onstage bickering creates one of the funniest bits of the season. Lobbing F-bombs at a rate that would have given my middle-school teachers a coronary, Anna ruthlessly pauses Maya for cues and berates her for not knowing her light or her lines. Maya moans about being unable to access the "truth" of her character, because she's always being interrupted. Separately, they've been living their best lives, but returning to each other, they're shown in their worst lights: Anna as demanding and susceptible to peer pressure, Maya as narcissistic and immature.
PEN15 has always had to walk a tough line with Anna and Maya's friendship. They need to be mostly united against the onslaught of middle school, lest the show feel too cruel, without being so joined at the hip (or in this case, boob) that there's no conflict. This episode threads the needle perfectly, showing how a rift between friends can sometimes form without anyone really being at fault.
That's particularly illuminating for Anna, whose long-suffering attitude as an overwhelmed stage manager has not a little to do with what's going on at home. As Maya moves forward as an actress and with a boy, she's shown dealing with the fallout of hell week, sweeping up the theater and turning out the lights. It's clear Anna is headed for a breaking point with her parents, and that no play is big enough to provide an outlet for that amount of emotion. It might be one of PEN15's more subtle heartbreak endings, but it's just as palpable as the others.