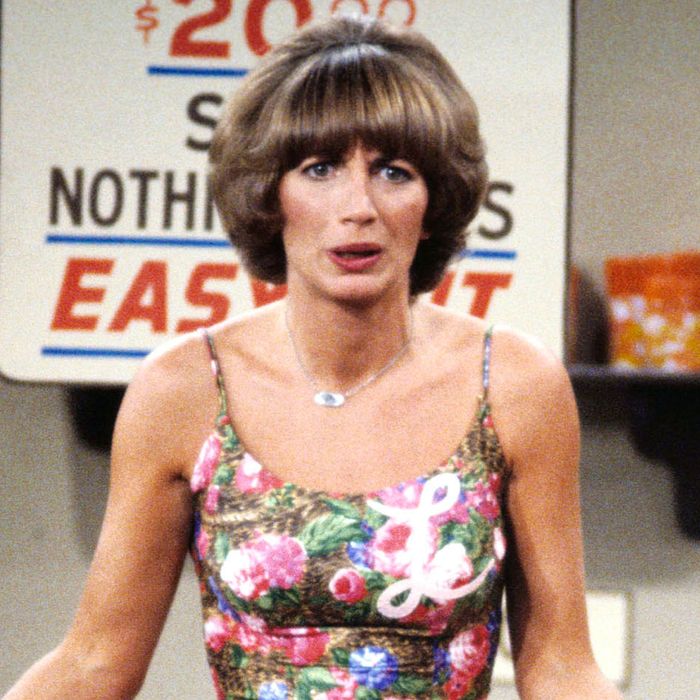 Photo: Silver Screen Collection/Getty Images
Penny Marshall's death yesterday was shocking less due to her age — she lived to 75 — than her ubiquity; she'd been a steadily present pop-culture figure for over four decades, making her mark first as a character actor of considerable comic skill, then as a director whose films broke financial barriers and brought substantial acclaim to her actors.
As a performer, Marshall had a spiky earthiness and offhand authenticity that she carried into her work as a director. She wasn't overly flashy or distractingly stylized; she didn't indulge in "look at me" camera moves or ostentatious angles. She was an actor's director, focusing on performance and characterization, and creating a credible reality in which those elements could breathe. Nearly every film she made is classifiable as "comedy/drama," even if it was more cleanly marketed as one or the other; her comedies were never just setups and punch lines, but told absorbing stories tinged with melancholy, while her dramas were imbued with playfulness and good humor. Marshall specialized in the kind of mid-budget, star-driven, adult-oriented studio entertainment that, sadly, is all but extinct these days.
The body of work Marshall left is formidable — per IMDb, 15 credits as director, 14 as producer, and 71 as actor — so if you're thinking of catching up, here are some of the highlights.
The Odd Couple
Marshall's early acting credits are an array of one-off guest shots on TV shows like That Girl, The Bob Newhart Show, and Love, American Style. Her big break came in 1972, when big brother Garry Marshall cast her in his hit sitcom adaptation of Neil Simon's Broadway play and feature film The Odd Couple. The role of Myrna Turner, Oscar Madison's secretary, gave audiences their first real taste of Marshall's distinctively bone-dry line readings, flawless comic timing, and iconic Bronx accent. (She would reprise the role in the 1993 TV movie The Odd Couple: Together Again; she made her final acting appearance in 2016, on an episode of the most recent Odd Couple revival.) Streaming on Hulu.
Laverne & Shirley
Brother Garry's next big hit was Happy Days, and he again looked out for his sister, casting Penny in a third-season episode called "A Date With Fonzie" alongside Cindy Williams. They played Laverne DeFazio and Shirley Feeney, a pair of tough-talkin', wise-crackin' brewery workers out on a double date with Fonzie (Henry Winkler) and Richie (Ron Howard); the episode was so well-received, Marshall created a spinoff series, which was on the air barely two months later and would run for eight seasons. It made Marshall into a household name, but she wasn't content with sitcom stardom; in season four, she directed the first of four Laverne episodes, and when the show folded in 1983, she went looking for more directing work.
Jumpin' Jack Flash
Marshall was set to make her feature directorial debut with the time-travel comedy/drama Peggy Sue Got Married (Debra Winger was to play the leading role), but she left the project due to that old bugaboo, "creative differences," and was replaced by Francis Ford Coppola. As luck would have it, she inherited her subsequent debut in similar circumstances. Shelley Long was originally set to star in this spy caper comedy for director Howard Zieff before both were replaced, respectively, by Whoopi Goldberg and Marshall. Jumpin' Jack Flash isn't among either's best work — the seams of its behind-the-scenes turmoil show, and it's flush with that peculiar imbalance of action and laughs that plagues so many mid-'80s, post–Beverly Hills Cop comedies — but Marshall's direction is confident and energetic, and she clearly found a kindred spirit in Goldberg, whose idiosyncratic persona and style are not unlike her director's. Streaming on DirecTV.
Big
Marshall's first smash came two years later, with this fanciful tale of a 12-year-old boy who wishes upon an arcade machine to "be big," and then wakes up the next morning in the body of 30-year-old Tom Hanks. Sensitive, whimsical, and uproariously funny ("I get to be on top!"), Big was one of the biggest hits of the summer of 1988 — it was the first film by a female director to gross over $100 million — and a critical success, picking up Oscar nominations for Best Screenplay and Best Actor (Hanks's first). Marshall's direction is so modest, it's easy to take for granted. But she pulls off the difficult task of grounding this fable in a real world, with real stakes; note the film's most heartbreaking scene, in which our out-of-his-element hero, all alone for the first time, curls up on the ratty bed of his fleabag Times Square hotel and sobs. Considering the emotional impact of that scene, it's not surprising that Marshall next decided to try her hand at all-out drama.
Awakenings
Penny Marshall was present for Robin Williams's big launch — Laverne makes a guest appearance, alongside Winkler's Fonzie, in the pilot episode of Mork & Mindy, another Happy Days spinoff. Twelve years later, she would shepherd Williams through one of his first (and one of his finest) dramatic turns. Awakenings adapts the true story of Oliver Sacks's efforts to "awaken" a ward of catatonic patients, circa 1969, via an experimental (and unfortunately short-term) drug program. Williams is marvelous as the Sacks stand-in, stripping away his usual improvisations and bouts of mania to play a man whose emotional inscrutability matches the physical inaccessibility of his patients. Robert De Niro earned an Oscar nomination for his work as Leonard, the first of the patients to respond to the treatment, and (heart-wrenchingly) the first to regress. Marshall directs what could've been yet another medical weepie with a light, graceful touch, refusing to overplay the sentimentality, and finding the film's core in the emotional truth shared by its protagonists.
A League of Their Own
Marshall's winning streak continued with this 1992 baseball comedy, which tells the true story of the WWII-era All-American Girls Professional Baseball League. She found her ideal leading lady in Geena Davis, who projects both strength and vulnerability as protagonist "Dottie" Hinson; reteamed memorably with Tom Hanks, who's both touchingly broken and hilariously funny as perpetually drunken manager Jimmy Dugan; and directed Jon Lovitz and Rosie O'Donnell to their finest big-screen work, ever. Another $100 million-plus grosser, League would also mark the end of Marshall's run of hits, though she continued to work steadily, on both sides of the camera, for several more years. Streaming on Crackle.
Hocus Pocus
Once she'd moved into directing, Marshall rarely had the time or interest in any substantial acting work. But she kept herself busy with cameos, making brief but enduring appearances in everything from The Simpsons to Nash Bridges to Portlandia. She even turns up in this beloved 1993 Disney witch comedy, playing the wife of brother Garry — which wasn't weird at all! — and throwing the stink eye at Bette Midler's Winifred Sanderson ("Now, tart-face, take your Clark Bars and get out of my house!").
Renaissance Man
This 1994 military comedy failed to connect with critics or audiences, which is unfortunate — it's a warmhearted and likable little movie, with a charming Danny DeVito performance at its center, a marvelous supporting turn by the great Gregory Hines, and fine work by a sharp group of young thesps as DeVito's students (including Mark Wahlberg, Richard T. Jones, Stacey Dash, and Kadeem Hardison). Sure, it's a little mawkish, and is another of those mid-'90s movies where "you see, it's kind of like rap music" passes for a classroom strategy. But it's an awfully hard movie to dislike, and Marshall's sure hand with actors is as striking as ever.
Get Shorty
Penny Marshall clearly loved being Penny Marshall — at least, that seems like a fair assessment based on her filmography, in which many of her post–Jack Flash cameos find her playing a fictionalized version of "Penny Marshall," usually the "Hollywood big shot" variation. She pops up as herself in She's Having a Baby, Going to America, Looking for Comedy in the Muslim World, New Year's Eve, the TV movie Jackie's Back, and on episodes of Bones and Entourage. But her best "Penny Marshall" appearance is in Barry Sonnenfeld's 1995 Hollywood satire, which culminates with a clever jump cut from the events of the film to their dramatization in the film within a film — a motion picture directed by Ms. Marshall, who seems (as ever) a little bit put out. Streaming on DirecTV.
The Preacher's Wife
Marshall's penultimate feature made something of a soft landing back in the 1996 Christmas season — and was done few favors by the comparisons to its inspiration, the 1947 Cary Grant vehicle The Bishop's Wife — but it's aged well, a likable, affable picture given life by the light, charming performances of Denzel Washington as a good-hearted angel, Whitney Houston as the title character, and Courtney B. Vance as her husband. Expectations for this one were probably just too high for Marshall to fill, but it's an enjoyable "hangout" movie, particularly considering how rarely its stars were allowed to relax and play onscreen like they are here.
Riding in Cars With Boys
Her final narrative effort was one of her trickiest. This 2001 coming-of-age drama, adapted from the memoir by Beverly Donofrio, stars Drew Barrymore as a teen mother who tries desperately to raise her son properly, only to make many of the same mistakes as her own parents. It's a tough story to tell, and "Bev" is a hard character to get a handle on (for both the actor and director). But Marshall fills the film with little touches of working-class authenticity, Barrymore finds the character's humanity and nobility in spite of her flaws, and the supporting cast (including Brittany Murphy, Steve Zahn, James Woods, Lorraine Bracco, and Maggie Gyllenhaal) is top-notch. The film's muted reception and Marshall's health woes would keep her from directing another feature, though she helmed episodes of According to Jim and United States of Tara, and was reportedly in postproduction on a documentary profile of Dennis Rodman. That film is slated for release next year — one more treat from a fine and frankly underrated filmmaker. Streaming on DirecTV and Starz.