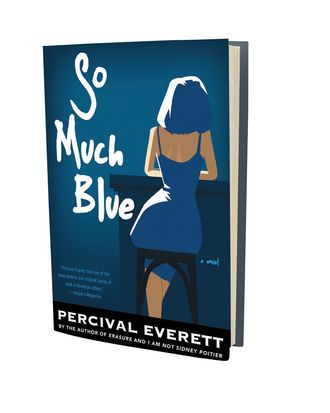 At age 61, Percival Everett may have the lowest profile of any major American novelist now in his or her prime. He's published more than two dozen works of fiction and poetry since 1983 and has won several awards of the sort that, like the Dos Passos Prize he took home in 2010, are reserved for deserving non-famous authors. He teaches at the University of Southern California, is published by the Minnesota independent press Graywolf, and, as the writer Justin Taylor remarked in a 2015 survey of his work for Harper's, is "probably not coming soon to a bookstore near you." He grew up in South Carolina, the son of a dentist, and studied philosophy before entering Brown's fiction program.
"Experimental" is a label that sticks to the work of many who pass through Brown, and though it isn't misapplied in Everett's case, it doesn't tell you much. His work tends toward satire; his narrators go in for philosophical essaying; he toys with genre; and he does metafictional cultural comedy, often on matters of race.
In the story "The Appropriation of Cultures," from his 2004 collection Damned If I Do, a black slide-guitar player takes a request from some white frat boys to play "Dixie" one night at a South Carolina club, then buys a pickup truck with a Confederate-flag decal on the back. He takes his act, "Dixie" included, to local black audiences, and it catches on — it's fast enough to dance to. A reversal takes hold: "Soon, there were several, then many cars and trucks in Columbia, South Carolina, sporting Confederate flags and being driven by black people. Black businessmen and ministers wore rebel-flag buttons on their lapels and clips on their ties." The flag disappears from the grills of 18-wheelers and from the top of the state capitol.
There's nothing like that sort of broad satire in Everett's tightly wound and slow-burning new novel, So Much Blue. Kevin Pace, the narrator, is a middle-aged painter of some mostly bygone renown, a husband and father of two, and a man with more than one secret. (Everett is also himself a painter and has published his paintings in There Are No Names for Red, a 2010 collaboration with the writer Chris Abani.) The first of Pace's secrets is a giant canvas he's been working on for years in a locked studio on the grounds of his family's Rhode Island farmhouse; no one, including Kevin's family, has seen it, and it's become the subject of art-world gossip.
Then there's the secret his 16-year-old daughter, April, told him: She's pregnant and intending to get an abortion, but she doesn't want her mother, Linda, to know. Further in the past is his memory of an affair with a young French watercolorist named Victoire. The darkest of Kevin's secrets has to do with things that happened when he and his best friend, Richard, visited El Salvador in 1979, on the eve of its civil war. This tangle of things he can't tell tortures Kevin, and the novel is the record of his agonizing about his own idealism, naïveté, and guilt. The challenge Everett has set himself is to turn these clichéd scenarios into a novel you can't stop reading.
As a well-off black artist who lives in a largely white and tony New England interzone between town and country and sends his kids to private school, Kevin — an alcoholic in long-term non-AA cold-turkey recovery — is given to wry observations about class. Every day he walks in paint-splattered boots to grab a lunch of a couple of hot dogs at Frazar's Feedstore, where on Saturdays and Sundays "upscale ruralites and weekend equestrian-garment wearers would park their mostly German cars on the gravel yard and rub well-heeled elbows while drinking coffee from paper cups on the wide porch … oblivious to the fact that the family who owned and worked the store fairly hated them."
Kevin suspects the father of April's child might be a boy named Jason who works at the Feedstore. She disabuses him of the idea: "For one thing, the Frazars are fake poor. They've got more money than anybody, but Jason's always throwing that blue-collar bullshit around. He lords the fact he goes to public school over everybody like he's hot shit." In their rickety 1960s pickup (more of the blue-collar bullshit: The family car is an Audi) Jason and his father deliver Kevin an overpriced "stable fly suppression system" — basically a drum that spins and sprays insecticide centrifugally — that he considers filling with caustic soda and using to erase his secret painting. He worries the corrosive effects might improve rather than erase the canvas.
The novel proceeds in short chapters under three alternating headings: "House," for the present; "Paris," covering the affair and set around 1999; and "1979," the section set in El Salvador. In the Paris chapters, Kevin is marked neither as rich nor poor nor black but as an artist and an American. The affair lasts a week and requires a minimum of deception: Linda is more suspicious that he's relapsed with the bottle. Kevin realizes that by going to bed with a woman 25 years his junior he's both enacting a cliché and falling in love in a way that he never has with his wife. "I felt guilt for feeling no guilt," he says.
Victoire invites him for coffee with her mother, who knows he's a married man, and she tells him, "You are too American." She asks if he loves her daughter, and he says, "Oui, beaucoup." He knows, though, that there's no future for Victoire with him, that he won't manage to visit her in New York, and he could never, as she suggests, hire her to teach his children French. When she tells him her secret, that she's experienced depression in the past and attempted suicide, a new kind of guilt creeps in.
But it's the El Salvador sojourn that's the source of Kevin's most haunting memories. The story has the elements of a comic thriller — two poncy bohemian grad students go into the jungle to save their apparently drug-addled friend: Richard's fuck-up brother Tad — but the adventure isn't played for laughs. Kevin and Richard enlist the help of an American Vietnam vet living outside San Salvador, a sort of Rambo-for-hire nicknamed the Bummer, who tells Kevin, "Don't worry, boy, we ain't in Mississippi. It's hot like Mississippi, but it ain't Mississippi." They set off with an M16 and other artillery in a Cadillac and come upon a village where a massacre has just occurred, and Kevin finds himself burying the body of a toddler lying dead in the road. It's not the only death he witnesses.
There are echoes in So Much Blue of Don DeLillo's The Names, with the shadowy doings mingling with the story of a failed marriage, and of Alberto Moravia's Boredom and its jaded painter-narrator. Americans dabbling in politics, drugs, bloodsport south of the border; an American indulging in faithless love in Paris; class posturing among Americans in Rhode Island — Everett has blended these disparate strands of an imagined life into a quietly beguiling novel. That he's constructed it on an edifice of clichés, sanded down and transformed into combustive elements, is a sign of his mastery of the form.
*This article appears in the May 29, 2017, issue of New York Magazine.