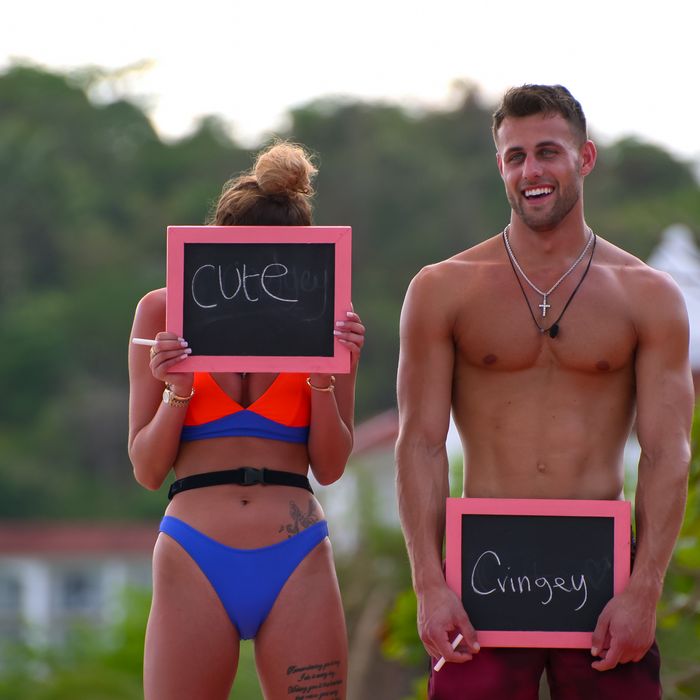 Photo: B) 2023 Netflix, Inc.
We're picking up in the throes of chaos: Meaning Francesca ditching Dom for a date with Damian and Bartise entering the scene. I feel like I'm reporting from a reality-TV warzone.
Regardless of my feelings about Damian (or Bartise), I think the Love Is Blind people are the best fit for this show. Whether they want to find their soul mate or not, they present like they're genuinely looking for love. Seeing how they function compared to the contestants from competition-based shows is almost appalling. Take Francesca, for example. With her, it's all strategy. She grills Damian right away: If she leaves Dom for him, would he be loyal? Damian sounds relatively noncommittal, but I think he's merely trying to play it cool after watching Francesca do yoga. Hat tip to the producer who cut in the B-roll of Dom doing his nails while Francesca and Damian were doing downward dogs.
Onto Ines and Bartise. She claims she's annoyed with the guys in the house because they're more boys than men … good luck with Bartise! Bartise is the biggest boy (and clown) in the book. Bartise guesses her French accent is Russian, then South American, and then says he's here to explore all options. He is so dumb it's unbelievable. The biggest LOL moment from this episode comes when Dom tells Chase that Bartise looks like him, except that Chase is bigger. Chase gets a glimpse of Bartise and (rightfully) can't be more offended. He tells Dom never to disrespect him again. Go off.
This is perhaps Chase's only redeeming moment, though. He tells Georgia that he admires her for stomaching through the pain during the hot pepper challenge, which is a weird thing to say. It turns you on to see her struggle? This is also false! Georgia puts Chase in his place, and I love her for it. She quickly corrects his narrative, telling him he struggled too and not to pretend that he sacrificed winning on Georgia's behalf. He also comes clean about botching the kissing scores, and Georgia rolls her eyes at him for claiming Kariselle chipped his tooth. That's just plain rude. Then Georgia amps it up and goes into full interrogation mode. She asks a series of rapid-fire questions: Are you single? Are you not? Are you living with someone? Did you just go to Hawaii with someone? Chase is floored. He has explanations for everything and blames Francesca for opening this can of worms in the house. And then … THEN! Then Chase has the audacity to give Georgia a gift to smooth things over, and the gift? The gift is a rock — a literal stone. Surely the producers could have scrounged up something better. Ines is accurate when she tells Chase he's like a baby in a big man's body. Georgia is done with this crap; I'll tell you that! And Francesca is officially done with Dom! This girl is an absolute menace. She says she wants to prolong her decision because she doesn't want to give another girl an opportunity to swoop in and match with Dom herself. When she finally breaks things off, Dom says that he loves her. Dude, get a grip. You obviously don't. Georgia sees this as her chance to ditch Chase and matches with Dom, and Francesca is pissed about it. Not as pissed as Ines, though, who's stuck picking from "three ding dongs" — Chase, Nick, and Shayne. She opts for Shayne, and I'm not too proud to admit I'd make the same choice.
Our first round of matches:
Francesca and Damian

Kariselle and Joey

Izzy and Bartise

Georgia and Dom

Ines and Shayne
This means yes, Chase goes home, and he takes it hard. Judging by his confession, this may be the first time he's ever faced an obstacle: "For the first time in my life, a curve that hard …" Pour one out for Chase! The only contestant who has an accurate read on Francesca.
The next morning, production phones it in, and the group's challenge is to stand in order of most to least compatible. We all think this is the first step. It turns out this is just the challenge! Joey and Kariselle win. They remind me so much of Jon Favreau and Katy Mixon in Four Christmases (complimentary). In the boardroom, they choose Chloe (Too Hot to Handle) for Shayne and Colony (Selling Tampa) for Dom. I can already tell Colony is too mature for Dom; this match will be a dud. Chloe and Shayne, on the other hand … perhaps Joey and Kariselle are onto something! Joey also asks Kariselle to be his girlfriend! Yay for them.
As expected, Chloe and Shayne get on like a house on fire. Their energy is unparalleled and unmatched, and maybe just perfect for each other. Shayne claims he hasn't even texted with anyone since Love Is Blind. I don't believe him, but I believe him. Also, as expected, Dom and Colony fizzle out. She wants someone to match her boss energy. When Dom says he's happy to be a house husband, she laughs in his face. Get a job! Back at the house, Dom introduces her to the other guys. She gets to talking with Bartise, who says he's not ready for marriage and kids. Colony and I have the same question: Then why were you on Love Is Blind? A show that famously ends in marriage?
Bartise is getting too cocky. He tells Izzy that although they were the most connected yesterday, he's not sure if he's picking her tonight. He makes his way to Ines and tells her that they should match based upon … "the way" Bartise looks and "the way" Ines looks. He also tells Ines that usually, when he meets girls, they're stumbling all over themselves because they're so nervous, and he respects how Ines keeps her cool. Bartise, please be serious for 60 seconds. That's all I ask. Why would anyone be nervous about meeting you? Kariselle is not pleased and reminds Bartise that he's only there because she handpicked him for Colony. Maybe I'm easily seduced by her smudged eye makeup, hair, and accent, but we need to save Ines from these people! What is she doing here?!
While all this is happening, Dom tells Georgia this is the happiest he's been in a long time. I have to laugh! You were in love with Francesca yesterday? But I'm rooting for Dom over Francesca, so sure. Francesca is pissed over this little development. Kariselle says Dom is being nasty for hooking up with Georgia. Is everyone suffering from amnesia? Francesca kicked Dom's ass to the curb? He's allowed to move on! Also, he and Georgia are making out in a discreet corner. Francesca takes this as a green light to make out with Damian whenever she wants now, and Damian asks a question that's on my mind: Is our kissing genuine, though? Or just retribution? Francesca says it's def genuine (sure, Jan), and the couple proceeds to share the most pornographic, disgusting makeout ever.
Tonight's matches:
Georgia and Dom

Francesca and Damian

Kariselle and Joey

Chloe and Shayne

Ines and … Bartise
Colony is gone before we even get to know her, but she's too serious for these clowns. She makes good money, has a real career, and does not need to be vying for 20-something reality TV wannabes. Losing Izzy is tough. Her energy is great, but girl, go watch Bartise's season of Love Is Blind and you'll learn you dodged a bullet.
The next challenge looks like something out of a poor man's Survivor. Basically, the contestants have to soak up water through sponges (that are affixed like swimsuits), run back to their stations, and squeeze it out (by humping each other) until they drain enough water that a ball floats to the top of a water jug. Ines informs Bartise that she's not squeezing his dick. Francesca and Damian win for completely different reasons. His motivation? To score some one-on-one time with Francesca. Hers? Putting Georgia on a date to split up her and Dom. Francesca's energy is so dark-sided. This comes out in the boardroom as well. First of all, why are Zay and Nick back? We don't need them. Francesca says that she wants to bring Will in because Dom doesn't like him. Damian points out that they're not trying to set up Will and Dom. Poor, sweet, naïve Damian. They end up matching Chloe and Mitchell, who are exes with unresolved business, and Ines and Will.
This is what you need to know about Mitchell: He's a virgin, he refers to "boobs" as "wiggies," and he says "ferk" instead of "fuck." How did Chloe last eight months with this man? Anyway, the exes make out. Chloe spills the beans to Joey, who lives for all the gossip, and Mitchell breaks the news to Shayne, who freaks out. Chloe has a decision to make. She grills Mitchell, who explicitly says he doesn't do well with commitment. "But you're on Perfect Match," Chloe says. At least on The Bachelor, they pretend they're there for the right reasons! She believes Mitchell and matches with him, dumping Shayne in the process. This is a big mistake. Big! Huge!
Ines and Will's date is good, but more important: Ines finally dumps Bartise's ass. Bartise says the only reason he held back was that he was respecting Ines's comfortability and claims that he "built" her up. Wait, what? I am rolling on the floor in absolute hysterics. Ines is like, What the fuck are you talking about? Bartise cannot fathom that Ines is not into him and demands to know why she's not matching with him. She's like, We don't have a romantic connection? Done.
Tonight's matches:
Georgia and Dom

Kariselle and Joey

Francesca and Damian

Ines and Will

Chloe and Mitchell
After Bartise is cut, he says that he and Shayne both experienced trauma tonight and that they're bonded through that. FFADSJLKFKASJAFSKJASFLKDLKASDJLFAJLKF#WJ@LKWLK. PLEASE BE SERIOUS FOR ONE SECOND. I pray Bartise never returns, but the devil works hard.
The next challenge is called Cute vs. Cringey. The individual cast members respond to hypothetical scenarios with a judgment: Is it cute or is it cringey? If couples' answers match, they are safe. If they disagree, they're one step closer to being eliminated. Playing this game with Francesca would be easy because she's such a hater that she's likely to believe everything is cringey. Nick goes through the list: Using the same toothbrush, popping each other's pimples, speaking in baby talk … Chloe and Mitchell lose, fast. He jumps headfirst into the man-made elimination "pool," which seems to be about three feet deep. Dom says Mitch could have died a virgin, and readers, I laughed. Ines and Will win, but their date is a flop. In the boardroom, Will is a total dick and ignores all of Ines's insights regarding matchmaking. Will puts Diamond (Love Is Blind) on a date with Dom (this won't work out), and Ines pairs Francesca with Abbey (Twentysomethings). A bisexual twist! Also, has anyone ever heard of Twentysomethings?
On his date with Diamond, Dom is straight up: He's with Georgia, and he's only on the date because someone at the house wanted to fuck with him. Diamond appreciates his honesty, and the two head back to the house.
Francesca's date with Abbey prompts Kariselle to talk about her sexuality with Joey, who couldn't care less. Kariselle worries about what Joey's family would think about him dating someone bi ("They don't give a fuck") and if it scares him that the last person she was in love with was a woman ("No"). Joey says it's 2022 and people need to take their heads out of their asses. This is the Joey we know and love! Kariselle is scared about being perceived as straight if she ends up marrying a man; she doesn't want to lose her bisexuality just because she's in a heteronormative relationship. This is a real struggle! I feel for Kariselle. But Joey won't be able to help you sift through this one — time to call in the big guns (a therapist).
Abbey and Francesca get back to the house, and they're smitten. Their date is flirtatious and coy, and although I don't think these two are soul mates, I think they'll stick it out together for a night at least. Diamond warns Damian that Abbey is "wild," which I don't believe. Mitchell, however, seems to believe this and flirts with her, claiming there's ain't no way Chloe is caging him in. Big talk for a virgin! I just feel for poor, poor Damian. He tries to talk to Francesca, who interrupts him mid-sentence, calls Kariselle over, and then asks Damian to check on Dom. Damian is like, You can just ask me to leave, you know?
Kariselle is simultaneously encouraging Ines to go for Dom. Kariselle and Francesca are such messy bitches. They live for the drama and live for stirring the pot. Their cliquishness and shit-talking are a little off-putting at this point, but I love how the other side is developing due to it. I will say, Kariselle has a point when hyping up Ines to talk up Dom, but she's out of her mind if she actually thinks Ines and Dom are a good match. In the end, Francesca goes for Abbey, leaving Ines and Damian to make the best out of a shit situation.
Tonight's matches:
Kariselle and Joey

Diamond and Will

Ines and Damian

Georgia and Dom (and he even asked her to be his girlfriend!)

Chloe and Mitchell

Francesca and Abbey
I learn a lot from the next challenge. One member of each couple is the caller, while the other is the runner who must make it through a maze, picking up blocks along the way, blindsided. It shouldn't be surprising that some of these people don't know their left from their right, yet it is. Francesca is furious that Abbey isn't willing to break her neck to win (unlike Damian), and Chloe and Mitchell come out on top. On their date, Mitchell says he wants three or four kids but then says he's not looking for a relationship right now. Is he not aware that this show is called Perfect Match? It's not fun to watch when then fuck boys admit to being fuck boys. Go on a different show! I want the delusion and fantasy of soul mates seeking each other out! I want commitment or at least the illusion of it. Chloe is pissed. Ferking pissed. And who wouldn't be? She ditched Shayne for Mitchell, and for what? Chloe prays that Shayne is on the board and that if he is, he'll give her another shot.
Match Point
• There's nothing wrong with a foot fetish, but both Francesca and Damian definitely have them and definitely are in denial about them.
• I'm not sure what Netflix's rules are, but Francesca doesn't end up with anyone from the show. She's seemingly engaged (or about to be) to Jesse Sullivan of TikTok fame.
• I also found Ines doing an eye makeup tutorial for anyone interested.