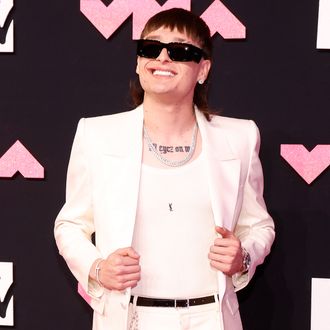 Photo: Taylor Hill/Getty Images
Peso Pluma's October 14 conert in Tijuana has been canceled after death threats were issued by the Jalisco New Generation Cartel. "Our goal is to protect the fans and the team," Peso Pluma's labels Double P Records and Prajin Music Group said in a statement on Instagram Stories. "For the safety of everyone involved, we will cancel our show in Tijuana. Thank you so much to all our fans for understanding. We love you."
Banners with death threats against Peso Pluma appeared in Tijuana Septmeber 12, according to multiple sources. The banners were signed by the Jalisco New Generation Cartel, and per The Arizona Republic, they translate to "This goes to Peso Pluma, refrain from presenting yourself on October 14, because it will be your last show due to your disrespect and loose tongue, you show up and we are going to (break you)." This comes ahead of Pluma's show at Estadio Caliente in Tijuana. According to Punto Norte, a 43-year-old man was arrested in possession of one of the banners.
A regional prosecutor in Tijuana released information on the suspect arrested in connection with the narcomantas erected threatening Peso Pluma. "He was at the time and place. When he saw the authorities, he ran away. He was then arrested and found with narcotics in the bag. It was almost three in the morning," Municipal Security and Citizen Protection Secretariat José Fernando Sánchez González said, per Billboard.
Peso Pluma has come under cartel scrutiny for his narcocorridos, a subgenre of Mexican regional music that depicts the drug trade in its lyrics. Pluma has performed several songs from the POV of a Sinaloa cartel member. Pluma has not claimed to be a member of the cartel but has (per Pitchfork) said that cartels will sometimes pay for songs to be written in their honor.
Montserrat Caballero Ramírez, the municipal president of Tijuana, had previously been considering canceling the show in the name of public safety. "Singers like Peso Pluma glorifies crime, so there are certain groups that get upset and unfortunately those who suffer the consequences are the citizens who want to attend their concerts and then are put at risk," she said. "In the next few days we will determine whether the concert goes ahead or not." News of the cartel's messaging broke hours before Peso Pluma performed at the 2023 VMAs.
This post has been updated throughout.