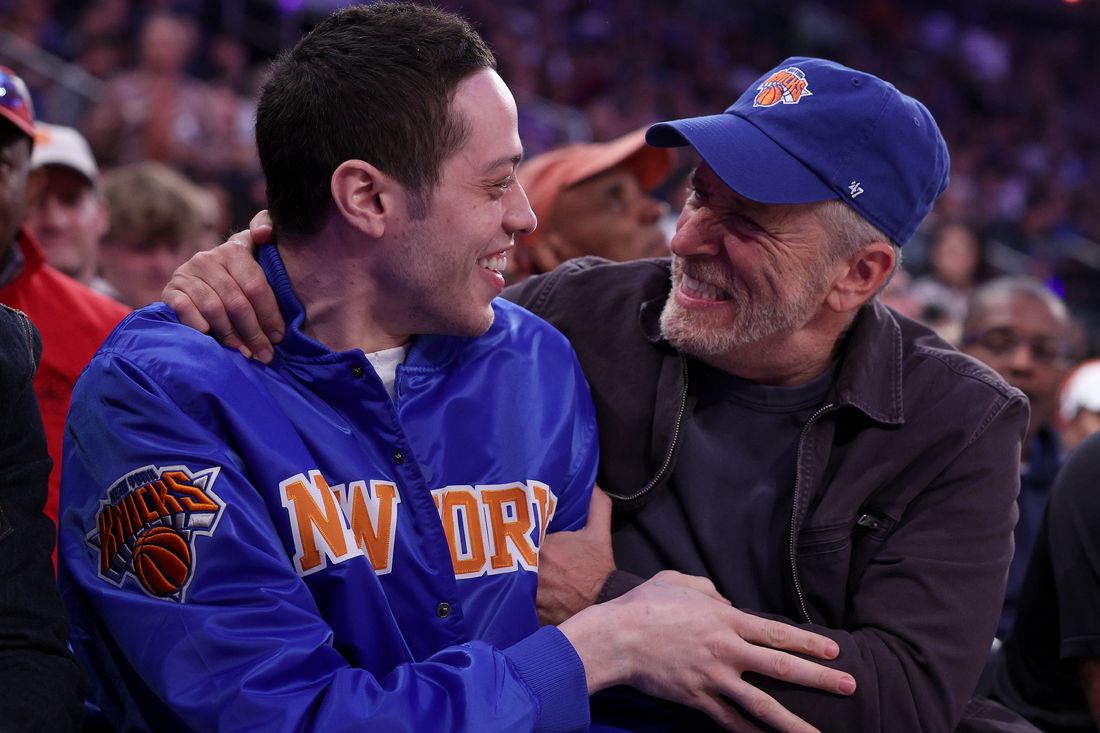 Pete Davidson with Jon Stewart at Madison Square Garden the other day.
Photo: Getty Images
A meaningful percentage of Americans know at least a few intimate details about Pete Davidson. They're probably familiar with his backstory — that he has struggled with mental illness, or that his father, a firefighter, died on 9/11. They've likely heard a thing or three about his personal affairs, like the fact that he dates beautiful women, and that one of them commented on the size of his penis so notoriously that it became a top meme of 2018.
They might also know that, like most of us, Davidson tends to fixate on the people who hate him. That list of haters (I am a skeptic, that's different) includes Kanye West, who launched a very troubling harassment campaign against him when Davidson was dating Kim Kardashian, as well as people wondering why he's so famous, or considered attractive — questions that have at times become everyday online cultural conversation. With the level of saturation he's achieved, the miracle is that people in general like him. Taco Bell sales went up 14 percent in the U.S. after he appeared in a recent series of ads. He's been invited to the Met Gala three years in a row. Judd Apatow made a film based on his life that people actually watched. Now Davidson has a TV show called Bupkis that is also about Pete Davidson; his second semi-autobiographical vehicle in three years. He's not yet 30.
In the show, Davidson plays a version of himself still living at home with his mother on Staten Island but who is also a successful comedian. In a late-season episode, he has brunch with his friend John Mulaney, who is also playing himself. They are there to talk about rehab, and the setup has a big whiff of cross-promotion: Mulaney just released a stand-up special, Baby J, about his recovery experience.
Over coffee at Sarabeth's, Mulaney apologizes for hiding his drug problem from Davidson. Being honest about it, he says, would have felt too much like a role reversal: "I know you're like 29 now, but I still feel some responsibility as an older person to make sure you're okay. You're always in crisis." This is the thesis of the show and a major ingredient of his celebrity appeal.
When details from Mulaney's personal life drew outrage in 2021 — it wasn't really his drug use but the fact that, after getting clean, he filed for divorce from his wife and started seeing someone else — defenders accused his disgruntled fans of being in a "parasocial relationship" with the comic. But for Davidson, parasociality is not the by-product of his celebrity — it's the substance. The line on Davidson is that he's a good kid, that he's been through a lot, and we ought to watch out for him. It's also an order from the top. Powerful executives — like Apatow and Lorne Michaels, who executive-produced Bupkis — seem to look on him paternally. We're not his audience. We've been cast together in the role of caretaking siblings.
As a teenage stand-up, he impressed Amy Schumer, who got him a small role in Trainwreck. On set, he so impressed Bill Hader that Hader recommended him to Michaels. Michaels cast him, not yet 20, on Saturday Night Live. A few seasons in, Davidson began an incredibly public romance with the monstrously famous Ariana Grande. All of a sudden, people who'd never heard of the guy were learning about his borderline personality disorder and his Crohn's disease. Grande heaped praise upon him, gushing to her followers as she might have to her friends. The couple got matching tattoos and announced their engagement. They got a pet pig, of which Davidson got a tattoo. Then they broke up shy of the six-month mark.
Grande released a backhanded single inspired by her exes, a total banger that broke streaming records. Davidson, in a public Instagram post, talked about ending his life. The NYPD performed a wellness check. Fans and fellow celebrities came forward in support. A month later, Mulaney by his side, Davidson joked about the incident on SNL's "Weekend Update." "You are loved by many," Mulaney said, "and we are glad you are okay."
As the consort of a much more famous person, Davidson had come to occupy a precarious cultural position. Like many women before him — usually, they are women — he might have become a discarded muse, an object of loathing. As it turned out, Davidson had a knack for dating in public. He stayed in the headlines with a string of beautiful, famous girlfriends — so many that "dating Pete Davidson" became yet another meme — and a series of partings on good terms. He gave open-hearted interviews about living with mental illness, the toll it had taken on his relationships, and the difficulty of managing it all through the public onslaught. His vulnerability was fetching. Rooting for him felt almost like a restorative gesture.
Meanwhile, a stand-up special, a biopic, more seasons of SNL. While most comedians mine their lives for material, Davidson's is a matter of public record. He works a hybrid occupation somewhere between comedian and influencer. Both jobs involve living on display, performing as oneself, and excavating one's life for content. Some influencers are really funny. Some comics are not.
There's a difference between telling one's story and having it told, and Bupkis is Davidson's attempt to write his own narrative. It's also a bid to reassert himself as a comedian by tapping into a comedy tradition that bears some resemblance to "content creation": the stand-up-driven sitcom.
The form dates back more than half a century, but it boomed throughout the decade in which Davidson was born, and Bupkis pays homage to Everybody Loves Raymond. That show's Brad Garrett is a series regular on Bupkis, and Ray Romano makes a few guest appearances. The show thematizes Davidson's relationship with his mother, sister, and Italian American grandfather, who live on Staten Island; TV Raymond's Italian American family lived on Long Island. But ELR was a family sitcom, and Bupkis isn't, really. It's random and episodic; family members pop in and out. Instead, it follows a different subgenre: the meta-sitcom, where the star plays a version of himself as he is, not the Everyman he might be in a different timeline. Being visible is not the same thing as having a vision.
As Kathryn VanArendonk writes in her Vulture review, the show "banks a lot on the audience's inherent interest in Pete Davidson" but "is not always sure about what to do with that curiosity." While all shows assume that we care about their stars, they also assume the responsibility of making us care about them. Bupkis's lineage is Louie, Curb Your Enthusiasm, The Larry Sanders Show. It aims for respect by association. Other contemporary writer-performers like Ramy Youssef (Ramy), Mohammed Amer (Mo), David Burd (Dave), and Chris Estrada (This Fool) place themselves at the center of their shows but don't pretend to be the point; without huge followings, they had no choice but to make themselves the building sites for the show's wider world — broadening out rather than narrowing in.
Bupkis proceeds as though we've already made the emotional investment and are bonded enough to appreciate Davidson's self-parody. The show opens with him in a VR headset, reading his bad press then jerking off to porn. Just as he's ejaculating, his mother comes downstairs with laundry. Much of the show's humor comes from inside jokes about Davidson's public image; a lot of it comes from jizz jokes.
There are nubs of plot — Pete's beloved grandfather, his remaining father figure, is dying; he's abusing drugs; he wants to have a baby — any one of which might have become a full story line. In the end, these are more like emotional motifs, little bells the show rings when it wants you to feel one way or the other. In place of character development, Davidson works a "post-failson" shtick, hanging out with his cronies in the basement and getting himself into jams, then checking in with his therapist or his personal assistant. He's never, like, at the Met Gala, though he does appear at a deserted J.J. Abrams set in a godforsaken part of Canada.
The Larry Sanders Show was about Garry Shandling, Curb Your Enthusiasm was about Larry David, and Louie was about Louis C.K. But each show situated its star within an ecosystem. Each one granted us access — taking us behind the scenes of a late-night show; embedding us in Hollywood or within the New York stand-up scene — while surrounding the star with strong characters and creating the conditions for them to actually interact. Each one churned a premise out of its star's public narrative but in a way that transcended the star.
Unlike Davidson, by the time they made their signature shows, Shandling, David, and Louis C.K. had banked decades of experience. Louis C.K. had a canceled sitcom under his belt before he made a mid-career breakthrough and emerged as an improbable philosopher king. Louie, about an oafish comedian's comedian, was improbably philosophical. (It also owed hugely to Pamela Adlon, who would make her own self-referential, very good show, Better Things.) David made one of the most successful sitcoms of all time, got himself a big Hollywood mansion, and stayed a petty, neurotic New Yorker. The show made him iconic for that, not the other way around.
But Pete does Pete — Kramer, George, and Elaine all in one — while the supporting cast, an illustrious circle of co-signers, worries about his welfare. As Mulaney, during their brunch date, says, "We'll all take care of you."
As an influencer, Pete Davidson is really good at his job. His personality shines off the cuff, and he possesses a combination of traits that don't often come together in public figures. He's a dude, a guy, who is radically open, good-natured, and cool: honest about his problems, unabashed in his sensitivity, and not out to hurt anyone (as far as we know). A good role model, really, who can speak to other guys in a way that few male figures really have.
There is pleasure in caring for Davidson. He's a lovable guy; impressive people say so. The show works in the sense that you want him to "win" — to gain some insight, hone his skills, maybe come back in eight years with a better show. But if you keep coddling someone, they'll never grow up.