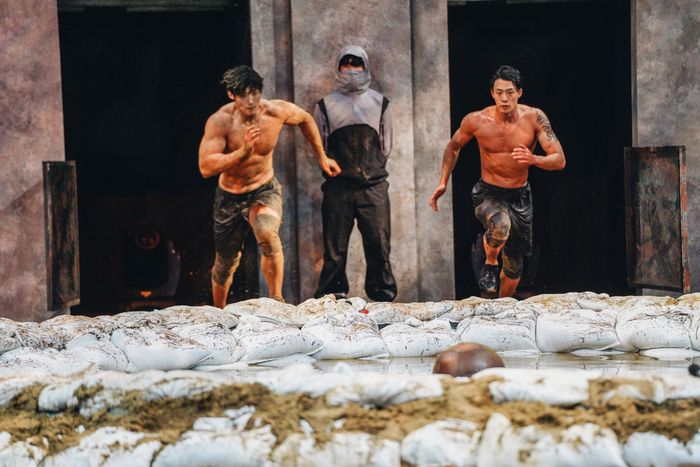 The most brutal moment of Physical: 100 plays out in episode three during a one-on-one wrestling match between male MMA fighter Park Hyung-geun and female bodybuilder Kim Chun-ri, whom Park hand-picked for a match with the strategy of easily beating a weaker opponent. Park decides his go-to move throughout the three-minute round will be kneeling on Kim's stomach and solar plexus so she can't move or breathe. It's the type of savagery you'd expect from a show that borrows from the aesthetic of Squid Game to imply life-or-death stakes — and it's a complete vibe shift from every other match-up of the competition so far, which have been soundtracked by cheers of encouragement from the other players. Now, though, the viewing area goes mostly silent, save for the players telling Park to get up, that "this isn't fun," a statement that underlines how Physical: 100 elevates itself above a mere Squid Game dupe: It isn't built to be brutal. This series is intense, yes, but thanks to certain choices made by both players and production, it's also really fun.
Netflix's new Korean competition series scratches a feral voyeuristic itch to watch absurdly strong people get put through the physical and emotional ringer as their pride and joy, their body, is tested. The premise seems like a straightforward strongman competition: 100 contestants, both men and women, from various professional fields that build muscle and endurance (bodybuilders, soldiers, Olympic athletes, fitness influencers, professional dancers, and more), face both team challenges and one-on-one matchups, and the last one standing can say they have the "most perfect physical body," in addition to a cash prize of 300 million won (about $240,000 USD). All of this takes place in a windowless bunker facilitated by faceless attendants and led by a voice from above that sounds just like Squid Game's Front Man.
Where Squid Game's aesthetics followed the theme of "demented children's summer camp," Physical: 100 is more of a modernized Gladiator. The voice from above narrates the rules of each round as both the players and viewers take in the grandeur of the ornate set, contestants all wear the same clothes (with one player noting that it "feels like a prison"), and faceless attendants jump in to play referee when necessary. Plaster busts of each player's torso are kept in a central chamber, a circular room that feels bigger and bigger as the number of statues, and contestants, gets smaller. When someone is eliminated, their "body" is destroyed, the busts shattered in the closest approximation of death this series has.
But instead of, say, exploding the busts in pitiless, spectacular fashion, Physical: 100 requires the losers to smash their bodies themselves. As they do so, we hear their reactions in voiceover: they ruefully call their body "useless," promise to work out more, and even hug the statue before it's totaled. These are some of the most humanizing moments within the series, the complete opposite of a triangle or circle face loading an anonymous gift-wrapped coffin into an incinerator. These contestants aren't just perfect physical bodies paraded out for our amusement; they're allowed to show their emotion and be full, relatable people.
Early on, competitors mostly group themselves into cliques — the national athletes, the YouTubers, the UDT soldiers. But individual favorites emerge as survivors get through each round and have more opportunities to reveal themselves through confessionals that highlight their personalities, and challenges that highlight a level of skill that doesn't seem human — or, in the best cases, a combination of both. See beast-mode standout Jeon Young, a dancer who choreographs the zombie movements for the dramas Kingdom and Hellbound and transforms into one of his subjects in his one-on-one match with Olympic gymnast Yang Hak-seon, zipping around the jungle gym on all fours. Once the match ends, the gymnast and the dancer bow to each other out of respect and give a mini-performance of flips and breakdancing.
That ending moment between Jeon and Yang speaks to what makes Physical: 100 so unusual among reality competitions: the camaraderie between contestants. Even as they're challenged, the majority of the players are united in their appreciation of physical skill, and they default to rooting for one another whenever they're not in direct competition, the one-on-ones soundtracked by shouts of encouragement from spectators above. Physical: 100 may be the best example of good sportsmanship on TV: All of the players are polite to each other, maintaining the honorifics and cordiality that are part of Korean culture, and many of the losers say after their matches that they're now rooting for their opponent to make it all the way to the end. There are inevitably some obvious assholes and showboaters who creep into the expansive cast, but most of the post-game confessionals are filled with philosophical reflections like, "If you did your best, you accept the result." The players seem to genuinely want the best outcome of each match, and they look out for each other.
And when lines do get crossed, Physical: 100 doesn't use it as an excuse for drama. Let's refer back to the match between Fighter Park and Bodybuilder Kim, the one that gets outright dangerous. Employing a tactic that has led to death when used irresponsibly isn't Park's only controversial move during the match. After he kneels on Kim's torso the first time, and the female contestants tell him to give up, Park gives the women a menacing look, miming for them to zip their lips. After the game resumes and he kneels on Kim's solar plexus, he makes the gesture again. This is objectively uncool, but where a lesser reality show might lean into the villain edit, giving Park unfair advantages and milking the drama until every viewer hates him, Physical: 100 doesn't gild the lily. Instead, the team captains of the next round treat Park as a pariah, skipping him until he's automatically assigned. The show respects both the viewers' and the players' intelligence by letting the scenario play out organically.
In every part of Physical: 100, the contestants are the ones who ultimately control their victory or defeat. The producers don't give them an easy go of it, as most of the gameplay highlights mental will and strategy over out-and-out strength. But there are no cruel tricks courtesy of the voice from above that makes it seem like the players never had a real chance to win. Nor is there a lingering focus on rivalries between players that prioritizes interpersonal betrayal over the unforgiving gameplay. That kind of manipulation was a huge part of the capitalism-critiquing theme of Squid Game — a theme that the people who greenlit Squid Game: The Challenge didn't seem to grasp — but who wants a reality show that replicates that bleakness? Instead, Physical: 100 entertains by choosing to be honorable, hopeful, and thoughtful, and as a result it is a genuine blast to watch.