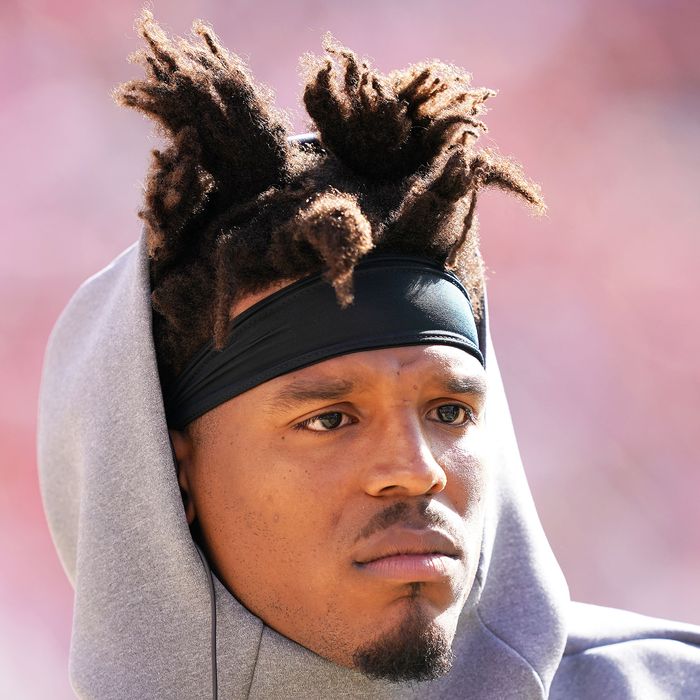 A Panther, a Patriot, adrift.
Photo: Thearon W. Henderson/Getty Images
Heavy lies the crown for the individual who declares: "I see myself not only as a football player, but an entertainer and icon." It's exponentially more so the case when that individual is one of the most prominent Black quarterbacks ever to play in the NFL.
That declaration was offered by the gifted and enigmatic Cam Newton during an interview shortly before the Auburn University star and newly minted Heisman Trophy winner was picked first by the Carolina Panthers in the 2011 NFL draft. It was a bold statement of ambition, one that would grow increasingly tenuous over time. Newton has yet to win a Super Bowl during his nine seasons, coming closest in 2015–16, when he won the league MVP award but produced an uneven performance in a Super Bowl 50 loss to the Denver Broncos. Instead, he arguably became better known for various controversies: making a sexist remark to a female reporter during a press conference and expressing what comes off as performative bafflement over racism in America, among others.
Newton is a complex and fascinating public figure, eminently worthy of examination, and that's precisely what a new audio documentary from the Ringer, called The Cam Chronicles, tries to do. Led and hosted by Tyler R. Tynes, the show endeavors to take Newton seriously on his own terms — as a football player, entertainer, icon — in an attempt to extract a better fundamental understanding of Newton as a person who's shouldering all those roles. The Cam Chronicles doesn't get all the answers it wants, but it does ultimately locate the core trials of Cam Newton: Being a professional athlete and a person are difficult endeavors in and of themselves, but being an icon on top of that is a near-impossible task.
For the most part, the podcast conducts itself as a straightforward biographical sports documentary. It's an efficiently plotted creature, with each of its six episodes oriented around a different moment of Newton's biography, from his upbringing in Atlanta to his scorching college career in Auburn, all the way up to his professional life in Charlotte. As a result of this structure, it takes a while for the series to get to the meaty stuff of Newton's more contemporary exploits, but the lead-up is necessary work. Tynes lays out Newton's elemental components in those early episodes: his underlying mischievous streak, his sense of identity and the world as the son of a preacher, his self-perception and will toward greatness. By the time the series reaches its latter half and really heats up, these biographical components give foundation to the real story, which rapidly snaps into view: The Cam Chronicles is the story about shouldering the burdens of being an intensely public, incredibly wealthy, and exceedingly prominent Black athlete in America — and, to some extent, flailing in the role.
It continues to be outrageous just how much we seem to ask of Black professional athletes, particularly exceptional ones. They are made to refract in so many ways: to be a symbol, to be a role model, to be an interlocutor of race, to be held to impossibly high standards, to be conditioned as to be nonthreatening to white people and white structures. Indeed, sometimes they are asked to have geopolitical import, as in the case of the recent fracas involving the NBA, China, and LeBron James's notable silence on the subject of democracy in Hong Kong.
A long-standing question simmers beneath the surface throughout the series: to what extent should we be expecting Black athletes to be all these things? Plus, for the specific case of Cam Newton, there is the additional complexity of operating within the context of a racist sports league, one that ostracized another Black quarterback, Colin Kaepernick, for kneeling in protest of police brutality.
And yet, Tynes points out, that could very well come with the territory of Newton's own stated ambitions. "We have to remember what Cam said he wanted to be: an entertainer and an icon," Tynes narrates in the fifth episode. "Maybe Cam himself misunderstood what the second part of that claim meant." This is the area that seems to govern Tynes's interest in particular: the space between a Black person's ambition and the race-specific costs of those ambitions within a racist society. But also, where does the notion of personal responsibility lie within this tension?
That query pops up most acutely when Tynes reexamines the infamous 2017 press conference during which Newton gave a condescending and sexist response to a standard game-related question by Jourdan Rodrigue, a female reporter. "It's funny to hear a female talk about routes," he said. What happened next contained all the hallmarks of 21st-century public-square nightmares: Rodrigue criticized the remark, triggering an online backlash against her, resulting in people resurfacing old tweets that referenced Rodrigue's father making racist jokes, which incited further controversy and chaos, and culminating, finally, in a public apology from Newton. Tynes recounts all this, and then pulls back the frame to further illuminate the civilian costs. Rodrigue, we'd learn, received enough death threats to warrant temporary relocation. We also learn that the situation caused her to contemplate suicide. The causal chain is remarkable to behold for its senselessness; a brief, offhanded sexist remark by Newton results in catastrophic collateral damage. It is a stunning example of the other side of Newton's burden: Black athletes are made to carry so much weight, but are also given an incredibly sharp and unwieldy blade.
It should be noted that, for all of The Cam Chronicles' excellence, Newton himself only makes a brief appearance. Early in the first episode, Tynes visits a Newton-affiliated football camp not long before the pandemic shut everything down, where he was able to speak briefly with the man. Newton is reticent, untrusting of the media in the way that many star athletes are. For the remainder of the series, the show primarily draws from archival tape and a gallery of talking heads, including Newton's father, Cecil Newton Sr., who appears heavily. When Tynes does reenter Newton's physical orbit — as he does multiple times — it's within the context of being a fly on the wall. (Well, for the most part. There's a fairly amusing moment where Tynes, visiting Cecil Newton Sr.'s church, is made to address the congregation.)
But Newton's absence doesn't matter so much for the series, which ends up being carried by a star turn from Tynes himself. Already a compelling and vivid writer, Tynes is a revelation behind the mic. Energetic and opinionated, funny and free, his approach to shepherding the narrative offers an appealing window into what podcast narration can be, divorced from the heritage of the public-radio voice or carryovers from conventional sports documentaries. Tynes commands your attention with a distinctly human voice, and it sounds like the future.
The Cam Chronicles ends in a moment of uncertainty for Newton, as football fans already know. After a nearly decade-long run with the Panthers, the team ultimately released its oft-injured star quarterback following the most recent season. He lingered in free agency for an unexpectedly lengthy period of time, so much so that many onlookers began to wonder if we were witnessing the end of a once-promising career.
And then, of course, Newton signed a short deal with the New England Patriots, the NFL's perennial villain, injecting one more burst of life into the narrative of his career. It was a shift in fortune and context for Newton, who is now a wanderer not only as a football player but also as an entertainer and icon. Where his legend goes from here remains to be seen, but in The Cam Chronicles, we have an accounting of where it's been.