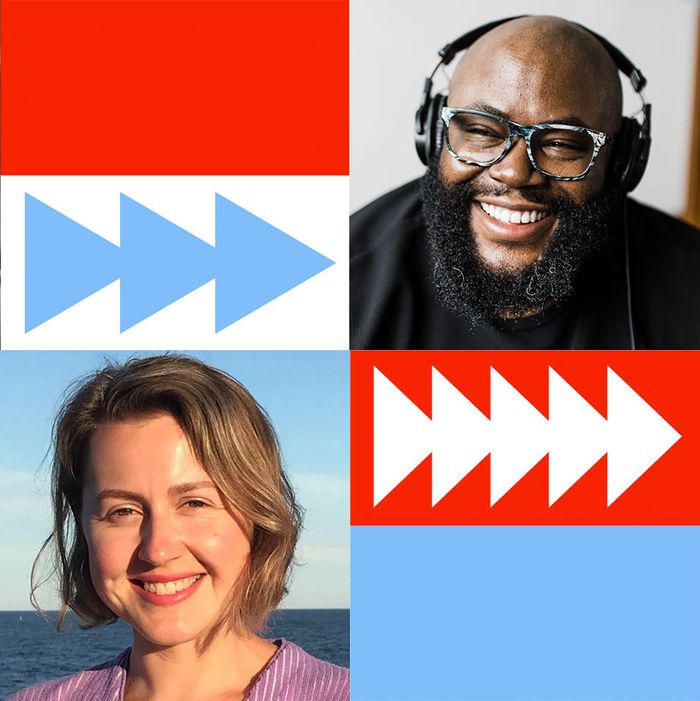 Photo-Illustration: Vulture. Photos courtesy of the subjects.
This year may well turn out to be a rough one for the podcast business, but there's still plenty to look forward to in 2023: new shows, new seasons, and, most important, new breakout talents.
That last item was a big focus in our inquiries when we ran the Vulture Podcast Survey last year. We asked hundreds of people in the audio industry a question: Who are the podcast creators you're excited to watch in 2023?
There were plenty of submissions, but one name came up most often: James Kim, who surfaced a few years back with his indie fiction project, Moonface. Of course, he wasn't the only person to receive multiple votes, so for this week's column, I reached out to Kim and three others — Shivani Dave, Ronald Young Jr., and Mary Knauf — to get a sense of what we should expect from these podcasters and how they're thinking about the New Year.
James Kim
Kim is the creator of Moonface and, with Brooke Iskra, the short podcast Vermont Ave., which won the Best Fiction prize at the Tribeca Festival in 2021. He's currently producing several projects through his studio, Overtones Media.
"I've had my head down working on several of my own projects for the past couple of years. Somehow they're all potentially coming out this year, which has been exciting, stressful, and scary, and it has put me in a state of disbelief. Not too long ago, I found it hard for people to say yes to my ideas. Now I've got three in the works at the same time!
"The first one is You Feeling This? It's a fiction anthology show centered around the people who make up Los Angeles. I think of it as a podcast mixtape about love. The whole goal of the show is to bring creators who are either new or starting out in the fiction-podcast space and have them tell intimate stories about what love means to them. There's stories about work-life balance, friendship breakups, even a ghost story. The style of the podcast is also what brings these stories together. We decided to not record anything in a studio; everything you hear has been recorded on location. It was a challenge, but we're stoked about how it's turning out. That probably comes out in the spring.
"I'm also working on a documentary podcast. I can't say too much about it, but I'm working with a really talented team and an incredible host. It's her personal story, actually. And it's a story I deeply connect with because of what it's trying to say. We've been reporting it for a couple of years now, and we can't wait for people to hear it.
"Then there's this fiction podcast I've been working on since 2019. We're on maybe the 84th draft of the script? I wish I was joking. I spent all of lockdown working on this show with my writing partner, Julian Park. We just added another great writer to our team — Shelly Yo. It's ambitious. We've got a lot to say with it. I'm crossing my fingers that it comes out this year."
Shivani Dave
Dave is a journalist, broadcaster, and physicist based in the U.K. They left the British radio mothership in 2021, and have gone on to present for a number of audio programs, including The Guardian's Science Weekly, Virgin Radio's Pride Drive Show, and a podcast called She Said, They Said. They are also a producer for The Log Books, an award-winning, independent LGBTQ+ history podcast.
"For 2023, I have a few projects in the pipeline, and they are all new so there is not a whole load I can say about them at the moment. One is a project that hopes to empower and connect the LGBTQ+ community, sharing stories of our history and culture while unearthing experiences that are less documented. That should be out in the summer.
"Another, probably out in the autumn, is allowing me to flex my science muscles — I studied physics at university and miss being a part of the science world. This podcast will hopefully help others see how awe inspiring science can be and how it impacts all of us daily.
"The third podcast I am incredibly excited to launch in 2023, around spring, will be one in partnership with my local independent bookshop, BookBar, showcasing the wide variety of authors the store champions and hosts.
"I also like to keep busy outside of podcasts. Currently, I present the best tracks to kick back to on Virgin Radio Chilled, a national U.K. radio station, on Saturdays and Sundays. I've got a few stand-up gigs booked for later in the year, which I still need to write the sets for. And I can be found in the LGBTQ+ bars of London debuting my political-satire drag-king persona — Dishi Sumac — or making TikToks."
Ronald Young Jr.
Young is an audio producer, storyteller, and host based in Alexandria, Virginia. He most recently produced two seasons of Seizing Freedom for VPM, and hosted shows like Solvable, with Pushkin Industries, and HBO Docs Club, with Pineapple Street. He also featured as a storyteller on the third episode of True Story With Ed & Randall on Peacock.  
"As an avid pop-culture enthusiast, I started a television-and-film review podcast, Leaving the Theater, back in 2019 through my production company, ohitsBigRon Studios. The show saw tremendous growth in 2022 owing to my guest appearances on several popular pop-culture review shows like Crime Writers On … and Too Scary; Didn't Watch. I'm also a regular contributor to NPR's Pop Culture Happy Hour.
"This year, I will be hosting a live show for Leaving the Theater in Washington, D.C. I'll be featuring some locally and nationally acclaimed storytellers as well as moderating a panel discussion on love in film and television with panelists Daisy Rosario, Jonquilyn Hill, and Mark Pagan. I'll also be hosting this year's On Air Fest, which is coming up in February, and I'm currently working with producer Sarah Dealy on a new weight-centric show that will feature stories of people navigating life in a fatphobic world. That project will involve a crossover with Avery Trufelman and Articles of Interest.
"Other than that, I'm in the process of pitching a few new shows, including an always-on pop-culture show and a few fiction series. My plan is to keep producing and telling deeply relatable audio stories, whether true or allegorical, in 2023 and to keep having fun analyzing pop culture on Leaving the Theater and on whatever shows I get to guest on."
Mary Knauf
Knauf is a freelance audio producer based in Los Angeles. She came up through Southern California Public Radio and has gone on to work on podcasts like The Thing About Pam, Don't Ask Tig, and Radiolingo.
"I recently founded a small production company called Sleepy Time Productions with my partner, Jonathan Shifflett. We focus primarily on original audio fiction and have a handful of podcasts in development, with our first show set to launch this summer. It's a scripted series centered around a world of dolphin mysticism and alien conspiracies. We're loving the challenge of writing fiction for audio, which is an arguably pretty restrictive medium, and whenever we feel stuck, we usually just go for the wildest option.
"I've also been executive-producing several documentary series at Crooked Media that are going to be announced this year. A couple of my favorites are a show about a 1970s feminist erotic magazine and a show about a small town that tries to reinvent itself but then all hell breaks loose.
"When it comes to my 2023 goals, it's a few different things. I'm excited to make stuff that's tailored specifically for the medium itself. And in making this production company, I'm hoping to free up a lot of the industrywide pressure to make things a certain way and to collaborate with people who don't just have their sights on producing potential TV or film IP — people who are audio nerds itching to make something risky and a little out there."
More People to Watch
Other names that podcast people were excited about include Hannah Ajala, Kelsey Decker, Sam Mullins, Alexi Horowitz-Ghazi, Juliet Litman, James T. Green, Death by Online's Natalie Watson and Danika Harrod, Maya Lin Sugarman, Danny Brown, and Josh Gwynn.
Meanwhile …
➽ Sweet Bobby heads should take note: Its publisher, Tortoise Media, debuts a new series this week on yet another case of crypto shenanigans and probable financial malfeasance. It's called Real Money: The Hunt for Tether's Millions. Aleks Krotoski serves as the host, and it's produced by Joanna Humphreys.
➽ The second season of Bridgewater, the supernatural-thriller fiction pod created by Aaron Mahnke and written by Lauren Shippen, dropped last Friday.
➽ The Chapo Trap House crew has released a new history miniseries with a hefty title — Hell on Earth: The Thirty Years' War & the Violent Birth of Capitalism — that functions as a sequel of sorts to the team's 2021 Stitcher series Hell of Presidents. Hell on Earth appears to be a big swing for the House of Chapo, and note the paywalled-release approach: The first episode is available through the public Chapo Trap House feed, but the rest will come out via Patreon.
➽ Another intriguing miniseries to note: WTF With Marc Maron is doing a wrestling-centric stretch of episodes. Listen, I didn't know there were that many wrestling fans in my life, but now I do.
➽ I wasn't personally able to do a ton of new listening this week for various long-weekend-related reasons, but I have been dipping through the back catalogue of David Farrier's Flightless Bird, a weekly series distributed through the Armchair Expert feed. I'm not normally a patron of Dax Shepard's audio products, but I do tend to enjoy Farrier's work as a maker of offbeat docs. (See 2016's Tickled, about the underground tickling subculture, and Netflix's Dark Tourist.) Flightless Bird basically sees Farrier trying to understand America through a range of entry points, only some of which are explicable: burgers, religion, and soft drinks, sure, but also shower curtains, leaf blowers, and bottled water. It's pretty fun.
➽ And a quick plug for the fam: There's a new season of Land of the Giants, this time arising from a collaboration between the Verge and the Cut to tackle the rise of the dating-app biz. Speaking of which, have you read Allison P. Davis's look back at ten years of Tinder yet?