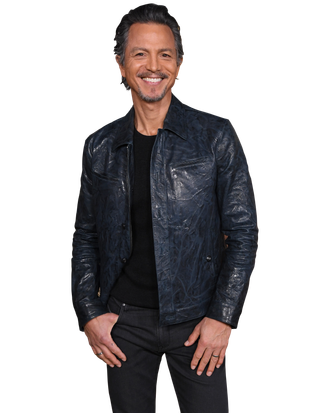 Photo: Steve Granitz/FilmMagic
With his lupine physicality and gift for navigating smirking humor alongside straight-and-narrow morality, Benjamin Bratt has spent 40-plus years playing characters on the right side of the law — not only in more than 90 episodes of Law and Order, but also in Demolition Man, Miss Congeniality, and Shot Caller. As for his forays into villainy including Traffic, 24: Live Another Day, and now, Peacock's Poker Face, he hones those skills into a chameleonic menace as sharp as his cheekbones.
As Cliff, an efficient casino enforcer and murderer who's served the powerful Frost family for years, Bratt is initially blank-faced and straight-backed, an unseen threat trailing Natasha Lyonne's bullshit-detecting Charlie Cale around the country at the behest of vengeful casino owner Sterling Frost Sr. (Ron Perlman). In finale "The Hook," though, Cliff gets his own spotlight with a story sketching out the resentment he built up after tracking Charlie for more than a year; his line delivery of "The things that I have eaten … I did not sign up for this" is a clinic in aggrievement. Bratt then unveils other facets of the character's personality — a fondness for reciting Blues Traveler lyrics; a desire for power and wealth of his own — as he tries to frame Charlie for his own murder of Frost Sr.
Unlike a significant number of people who cross Charlie's path, Cliff ends the season alive, but the man she describes as "the fucking worst" isn't unscathed: He's taken into custody by the FBI for a number of murders, seemingly abandoned by the Hasp family to whom he switched allegiance while betraying the Frosts, and injured by the penis-shaped bachelorette-party novelty toy with which Charlie punches him in the eye. Bratt calls it one of the best jobs he's ever had.
In the first episode, you ask Sterling Frost Jr., "Should we call your father?", reminding Sterling who's really in charge at the casino. But it isn't until the finale episode that viewers understand the full weight of your sarcasm. Were you trying to layer in Cliff's dislike of the Frosts in the earlier episodes? 
Cliff is not aware of the level of disrespect Sterling Sr. holds for him until he's deep into this hunt for Charlie. Cliff, with more than 25 years as an employee for Sterling Frost and his family, has become somewhat complacent — and maybe even immune — to the disregard. It's not until he's out on the road and expresses over and over again, "I should be there with you, helping you to run the business," that we realize he's got hurt feelings. He's seen as nothing less than a dog, an obedient servant to the needs and whims of Sterling Sr. It belies an emotional center that Cliff didn't necessarily display in the pilot. He feels emotionally betrayed and disregarded.
That was the fun part — finding the complexity within. Rian and I talked about this idea of Cliff being an apex predator. A shark is often mistakenly understood to mean there's evil intent. But whatever a shark does in his element is just being a shark: They kill and they eat. One of the scripted lines in the teleplay was that Cliff probably has a military background. I broke that idea down for myself: What is the first thing a soldier is taught in training? To obey orders, to respect the chain of command, and then, equally importantly, to be a proficient and effective killer. 
Cliff is very contained, very mannered, but in the finale, there's a great scene where he recites the lyrics to the Blues Traveler song "Hook" after finally catching Charlie. It's almost a monologue. This interaction is so unexpected and menacing, and it adds another layer to Cliff. What was your reaction to that scene? 
I was shocked and surprised when I first read it, only because of how perverse it is. But that's part of Rian's genius. He laid the groundwork for a character bend like that to be easily accepted by the audience in episode ten. How many villains do you learn have a favorite TV show? Cliff's obsessed with Burn Notice and reveals that he secretly fancies himself a real-life Michael Weston. Although he works in this low-rent casino, he probably thinks, "I could be on TV." We already understand and recognize there's a quirkiness to him.
Part of my early conversation with Rian was, "Look, I love the character in the pilot. I wish there was more to do throughout the body of the show. He really is this ticking-clock element that keeps her on the run. All of the guest stars get to have these great head-to-head battles with Natasha, and I would love that opportunity myself." He said, "Listen, I don't know what it's going to be yet, but I promise that opportunity will come your way."
I had no idea it was going to pay off on the level he gifted me with. It remains to this day one of my favorite roles on TV. We've seen this guy before, the movie tough guy: They don't really say much with words; they say a lot with their eyes. I was working off that idea and then was handed this 90-degree turn in the tenth episode — Cliff, if you get him going, is actually quite loquacious.
Also in this episode is the "man behind the man" speech you're seemingly giving into the camera before we learn it's a traitorous phone call with crime-family matriarch Beatrice Hasp. 
He's a poet! We learn about this other inner life going on; it makes him human. It reveals that his villainy is not born of evil intent — it's pragmatism. He's good at his job and he's very unemotional about it. But what's fun in this episode is the discovery that he actually is quite emotional, so much so that this betrayal is heartbreaking to him, to the point where he's like, Fuck it, I have loved and taken care of this family for more than a quarter-century and they do not love me back. I'm going to kill this man. As an actor, that really landed hard and gave me the perfect idea of where to go with this thing. There's no relish in the killing, but payback is a bitch.
How much fun was it to deliver the evil laugh at the end of Cliff's phone call with Beatrice? 
[Laughs] The laugh is not something you practice. You try to find something in the moment that's going to trigger it. In the middle of filming, we had a break where Natasha went off to the Venice Film Festival for one thing and I went off with another, a film with Walter Hill. She and I and Janicza Bravo, who directed episode ten, spent a lot of social time together. So when we returned to finish episode ten, we had to remind ourselves of the stakes; that in fact we don't like each other at all. But a lot of the humor, a lot of the laughter, is organic because we recognize how fun it is. My way to sourcing that comedy is to play it straight.
Did you actually get hit in the face with that penis ring?
All stage fights are blocked, right? They're choreographed, so there was no dick in the eye on any real level. No contact was made. I did, however, ask if I could have a double to bring home and keep as a fond remembrance of that scene. I didn't get it, though. That's so typically Rian, to find the weirdest thing to break the case wide open — a black light at the tip of a dick ring.
This interview has been edited and condensed for clarity.