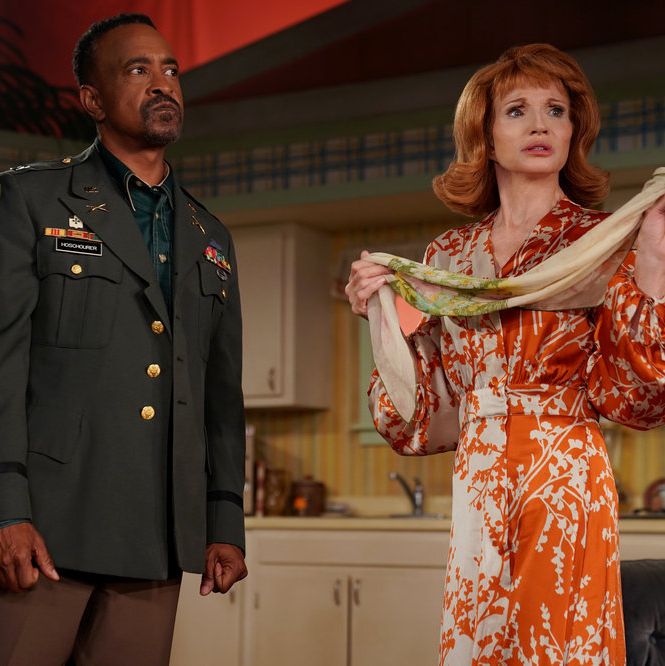 Photo: Peacock/Sara Shatz/Peacock
I thought last week's episode of Poker Face, where Judith Light and S. Epatha Merkerson do nursing home revenge, was a total gas. It was hilarious. It was audacious. The characters themselves — and not just the crimes — were tricky to figure out. The series took the time to develop the septuagenarian hell-raisers into people you could love then loathe, and the hour was better — wackier and more controversial — for it. Even if that project left comparatively little screen time for Natasha Lyonne.
To that end, "Exit Stage Death" feels like an experiment: Can you make a satisfying episode of Columbo that barely stars Columbo? There's a certain generosity to Poker Face, a show in which the central star is structurally excluded from at least the first third of every episode and, lately, feels like she's disappearing from the script altogether. This week, she's not even the first person to solve the crime! It's procedural TV that gives itself the flexibility to tweak the procedure, and the show is improving for it. For example, it's been weeks since Benjamin Bratt showed up hot on Charlie's tail in the closing sequence. And the episodes feel lighter to me and more dynamic because Rian Johnson jettisoned the trademark coda just as it was starting to feel stale and obligatory.
But if Charlie isn't the star of a show about Charlie's life on the run, who is? This week it's Ellen Barkin and Tim Meadows as the aging stars of an old network TV show, Spooky and the Cop — and oh, how I wish Johnson found space to show us a few grainy clips from it. Barkin, looking exquisite in head-to-toe white, plays Kathleen, and Meadows is her screen partner, Michael. They were co-stars on a well-loved, long-running buddy-cop show, but behind the scenes, it seems like they despised each other. They may have been artists once — and maybe even each other's muses — but that was a long time ago. The starring roles have dried up, along with their bank accounts.
The resourceful Michael has found a new line of credit in his much younger wife, Ava (Jameela Jamil), who earned herself a fortune with SheTrade, an online discount brokerage for women. This is, incidentally, the kind of giddy, Zeitgeist-y detail entirely ancillary to the plot that Johnson specializes in. Another example would be the reason for Michael and Kathleen's falling out. She told a glossy mag that Michael was illiterate, a rumor he's stomached with about as much humor as Lea Michele did (which is to say, none at all).
But Kathleen has an idea to jumpstart both their careers. A one-night-only revival of Ghosts of Pensacola, the indulgent Southern Gothic that won them accolades three decades ago. With Ava's support, an ailing Michael — there's something wrong with his blood pressure or something — agrees to star opposite his lifelong frenemy.
That this was a bad decision is immediately obvious. For one thing, it's not even theater; it's a regional dinner theater. Rebecca (Audrey Corsa), the third banana in the small production, isn't off book by the time the trio starts rehearsals. And Kathleen refuses to adapt to the fact 30 years have passed since the last time they performed Ghosts. She still wants to end the show with a 15-foot drop down a trapdoor, which Phil, the theater's overworked stage manager, eventually allows. To numb the pain of being bossed around by this fading doyenne, he mixes a li'l whisky into his thermos.
But it's the egos that are really killing the production. Michael and Kathleen are at each other's throats. She threatens to tell Ava that he's cheating on her. Michael threatens to write a tell-all memoir. Still, the show must go on (like, if it doesn't go on, Michael would be in the hole for a $200,000 kill fee). And opening night is the perfect time to take care of one's enemies. In the middle of the performance, Kathleen climbs the rafters and loosens a spotlight that hangs above the mark for Michael's big monologue. Michael replaces the bolt keeping the trapdoor in place with slow-melting dry ice, then removes the cushions Kathleen's meant to land on.
What looks like harried, if creative, vengeance turns out to be the perfect murder. The spotlight falls, missing Michael by a hair, but triggering a heart episode. His loyal wife, Ava, leaps from the audience to bring him his pills, a path that leads her directly over the trapdoor. It opens. She plummets. She dies. The supposed enemies reveal themselves to be lovers. It's been the performance of a lifetime. Now all Kathleen and Michael have to do is lay low for a while. A year from now, they can announce to the world how Ava's tragedy brought them together, and they can commence spending that SheTrade paper.
But money isn't enough for Kathleen, not anymore. Six months ago, she was a has-been; now, she's trending on Instagram. Michael agrees to do one more performance in memoriam for his late wife; perhaps if the world can watch as Kathleen helps Michael grieve through art, they won't need to go underground for a year.
It takes but one mislaid clue to catch them, but it's not Charlie who solves the case. Rebecca discovers the words to Kathleen and Michael's pre-scripted fight — the one they had mid-performance on "accidental" hot mics to convince the audience of their decades of enmity — in Michael's coat pocket. Unsurprisingly, she wants in on Ava's money, too. Five million by the end of this crummy play, or else Rebecca goes to the cops.
This is what I mean when I say that Charlie is vanishing. Here, she's not even the first person to get to the bottom of the dastardly deed. She's a waiter at the dinner theater where Kathleen is putting on Ghosts, where she mostly wears headphones to drown out the hideous rehearsals the cast is turning in. Bad acting triggers Charlie's Spidey sense, the same as lying, which offers up an intriguing corollary. Is really tremendous acting indistinguishable from lies?
What finally ropes Charlie into giving a shit about Ava's death is Phil's level of devastation. As stage manager, he was the last person to check the trapdoor; he's the one who was literally asleep at the desk when Ava went splat on the concrete foundation. (Kathleen slipped an Ambien into his boozy thermos.) Charlie knows that Phil drinks, but she also knows his love of the theater. He wouldn't let anything happen to his cast. And so she starts digging. If Kathleen was the only actor who was meant to traverse the trapdoor, she must have been the target.
In general, I'd say Charlie's crime-solving this week was played for laughs more than to convince us of her innate gift for gumshoeing. Unable to convince Kathleen to cancel the second performance for her own safety, Charlie attempts to find the killer while the show goes on, sometimes from the backstage side of the play's hollowed-out sets. After a videotape of opening night reveals dry ice billowing up from below the floorboards, Charlie ascertains the ice's burn marks on Michael's hand … while he's onstage, smoking out a fake stage window. Charlie warns an onstage Kathleen to watch out for Michael through the prop fridge, her face hanging out between the milk and the olives. It's only when she finds a red feather from Kathleen's mule slippers in the catwalk that she begins to seek a less obvious solution to the problem of how Ava died.
Which brings us to Chekhov's gun, or the principle that nothing extraneous to the story should happen onstage. If someone has a well-documented allergy to tree nuts and legumes, then someone better serve that girl a cashew. Initially, when Charlie alerts Rebecca that she's treading the boards with murderous lovers, she lies to keep her $5 million dream alive. But when Charlie finds Rebecca's blackmail demands on a slip of paper on Kathleen's vanity, she goes from crime-solver to crime-stopper. She runs on stage and swats the peanut-tainted prop Chex Mix from Rebecca's hand. And yet, Charlie has learned some reverence for the stage in her time refilling drinks at Seneca Lake Dinner Theater. When she breaks the sight-line barrier, she at least attempts to do it in character as a titular ghost of Pensacola. Brava!
During Rebecca's third-act soliloquy about her clubfoot — a delightfully under-explained detail in this week's episode — Michael and Kathleen huddle up backstage to figure out their next move. But having taken a page from the murder script Kathleen wrote, Charlie plants a stage mic in the dressing room. On opening night, Kathleen uses a hot mic to convince the audience that she and Michael were as far from lovers as two people can get. On closing night, Charlie uses it to capture their accidental confession for the police.
Still, the show must go on. Rather than rush the stage, the cops allow Kathleen to deliver her big monologue, her performance fueled by the anguish of her real life. Good acting is as invisible as the truth. When Kathleen crosses the stage and drops through the trapdoor that killed Ava, even Charlie, the Human Lie Detector, is moved to tears. Alas, her career is over. Where she and Michael are going, there are no small parts, only small prison cells.