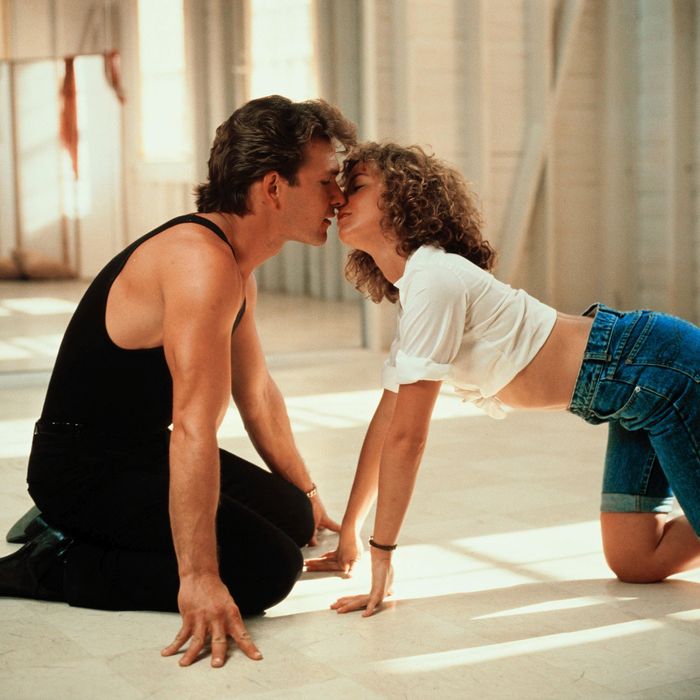 Nobody puts Baby's gifts in a corner.
Photo: Vestron/Kobal/Shutterstock
The holidays: They're here! Still looking for the perfect gift for your loved ones, co-workers, or — maybe most important — yourself? Vulture is here to help you get through Cyber Monday. Here's what our staff is gifting (or wanting) this holiday season.
I love a pop-culture T-shirt that costs way, way too much money, and this tasteful little number from Johny Be Good pulls off the dual tasks of telling people "I love movies" while prompting them to examine the breast area of your shirt so closely that it makes them uncomfortable when they realize what they're doing. A fashion statement and a prompt for situational comedy all in one! The "Summer Love" shirt has an embroidered design of Patrick Swayze and Jennifer Grey from the "Lover Boy" scene in Dirty Dancing, and a casual boxy drape for those of us that don't prefer a form-fitting cut. It also pairs nicely with a high-waisted jean — the objectively superior jean style of the people. (There's also a Thelma and Louise JBG x ARZ, and I own that already, so I'm speaking to you from experience.) Give the gift of tiny Swayze this holiday season! —Jordan Crucchiola
Every year, the Criterion Collection seems to come out with one massive, beautiful box set that reclaims and redefines an essential corner of cinema. Last year, it was Ingmar Bergman. This year, it's Godzilla: The Showa Era Films — which includes the 15 Godzilla films stretching from the original 1954 classic to 1975's Terror of Mechagodzilla, all here in high-definition digital transfers across eight Blu-rays. As always, there are tons of extras, including a whole book of essays. The Showa era, by the way, was a period of history that ended in 1989 … so you'll have to look elsewhere for the dreadful 1998 Roland Emmerich version, but you will find my personal favorite, 1968's Destroy All Monsters. —Bilge Ebiri
Peter Berlin starred in some entrancingly boring gay porn movies in the early seventies, including Nights in Black Leather (which is often called "seminal"). A German expat who made his own clothes and always knew his angles, he was for generations one of the most masturbated-over icons of gay liberation, thanks to his steadily taking and selling erotic selfies of himself — many of which are reproduced in this book, which seeks to elevate him to fine artist and pioneering "photosexual." And somehow he is still alive! —Carl Swanson
Look, are these Cats-inspired crossbody bags and coin purses especially cute? No. But are they practical? Also no. These handbags do, however, look kind of unsettling, and they cost a lot of money, which makes them exactly like the upcoming Universal Pictures musical Cats. And while purses resembling actual (if oddly mouthless) felines would seem to have little to do with the digital-fur technologied celebrities the movie is set to feature, you have to hand it to Kate Spade for creating a collaboration that is, spiritually, at least, incredibly on brand. —Alison Wilmore
The other day, a vegan I follow on Twitter was talking about America's bizarre obsession with eating just so much red meat, or something, and I thought, Don't Eat a Cow, Man. You know, like Bart, Homer's son on The Simpsons. I thought it was so funny, I started thinking about what the next steps would be to make my own Bootleg Bart T-shirt with the phrase on it, assuming if I could pull it off, I'd become so wildly rich it would be actually disgusting. Then I googled, and found that the Edinburgh-based Vegan High Five Club's Etsy shop was way ahead of me. "Don't Eat A Cow, Man" T-shirts, "Don't Eat A Cow, Man" totes, "Don't Eat A Cow, Man" stickers. This sticker. I love it. I am not vegan or vegetarian, but I fantasize about owning it. There I am, this sticker over the Apple of my laptop, and I'm at a coffee shop drinking a tall glass of warm oat milk — oooh, maybe I live in Portland! Anyway, I imagine it's hard to know what to buy your vegan sister or brother if you are not vegan but want to seem supportive of their lifestyle. I'd say buy this sticker. Do the Bart (sticker), man. —Jesse David Fox
I'm not planning to have children anytime soon, but I am very committed to making sure that whatever children my friends or relatives have are educated on what is important: famous Broadway divas. This is a cute little guide to everyone from Bernadette Peters to Kelli O'Hara — and of course the great six-time Tony-winning Audra McDonald — that will hopefully have any cousins, nieces, nephews, and godchildren demanding to listen to their cast recordings. I also feel like giving this to any children in my life will really help set the foundation for me to follow up a few years down the line and give them a copy of Patti LuPone's memoir, just to make sure they're fully in the know on all the Sunset Boulevard drama. Arts education is important! —Jackson McHenry
T-shirts that say things have become cool again, and what better thing to say than "Laguna Biotch"? My friends Matt Harkins and Viviana Olen, the curators of the THNK1994 Museum and the smartest and weirdest people I know, teamed up with Pop Culture Died in 2009 for a capsule collection celebrating all of the incredibly bizarre things that happened, well, before 2009. The collection pays simultaneous homage to Kristin Cavallari's inimitable Orange County round vowels and the concept of pool water itself. Pair either with your best Hollister choker, a shredded denim skirt, platform sandals, and an unrelenting death drive that expresses itself via reckless binge-drinking. Alternatively, if you're itching to get into a confrontation over Christmas dinner with your most Passion of the Christ-loving relative, you should go with the Sugar Tits shirt, a permanent reminder of the slurs that Mel Gibson denied screaming at a female police officer in 2006. Happy holidays! —Rachel Handler
Here is something I know to be true: Adam Driver is the size of my apartment. If you are an auteur director — say, Rian Johnson, Spike Lee, Martin Scorsese, or Noah Baumbach — or if you are just a regular human with eyes, you also probably know this to be true. Let's celebrate Hollywood's favorite big boy this holiday season! This mug is just hilarious enough and just kitschy enough to make the perfect inexpensive Secret Santa gift with four quadrant appeal: Maybe they love Star Wars, maybe they sobbed through Marriage Story, or maybe they just have something Adam can drive. —Hunter Harris
What better way to channel your fury at an indifferent capitalist system than through a $25 T-shirt? Seriously, though, this tee is a handy way to declare your excellent taste in South Korean cinema to the world, while also being just nifty looking in its use of the creepy-cool censor bar motif that runs through the marketing for Bong Joon Ho's hit. —Alison Wilmore
I love the movie Labyrinth with my whole heart, and my absolutely, no-contest favorite character is the tiny worm with the blue hair who greets Jennifer Connelly at the start of her journey through the maze and invites her in for tea. I would watch an entire alt-Labyrinth movie in which Sarah accepts that invitation instead of going to find her brother Toby and just sits down, meets the worm's wife, and relaxes with him in what is surely a very warm and cozy cavern somewhere inside that brick wall he's perched on. The little worm, with his little scarf and bouncy hair, is a great man and I love him, and he deserves for everyone to wear this small enamel pin of his likeness to honor his star turn. —Jordan Crucchiola
Overwhelmed by the sheer amount of a decent-to-good new TV shows out these days and unsure which ones are really worth my free time, I've lately decided to treat myself to something I already know I love: all six seasons of The Sopranos. It's been an incredibly pleasurable binge experience, made all the more enjoyable thanks to this book — an invaluable trove of essays, interviews, recaps, and more from Vulture's own Matt Zoller Seitz and Rolling Stone critic Alan Sepinwall. So stop trying to get to episode 7 of that one new show because you heard that's when it gets good-good, and instead revisit The Sopranos with these Bada Bing! know-it-alls. —Ray Rahman
I couldn't find a "Frasier underwear" section on Teepublic, so I may have to start my own business, but it would be a conflict of interest to promote that here and instead I'll leave you with this tasteful Frasier merch. Because what was never in style can never go out of style. —Rebecca Alter
A favorite of Reese Witherspoon's from her own fashion line, it's for your parent who loves book clubs or your best friend who loves Big Little Lies. —Tara Abell
Katharine Hepburn and Cary Grant's best-known collaboration was obviously The Philadelphia Story. But before that (and just as Hepburn was labeled "box-office poison"), they made a little movie called Holiday: It's a charming romantic comedy, one of my all-time favorites. Johnny (Grant) is a regular guy who returns from a vacation at Lake Placid with a new fiancé, only to discover that the fiancé is Succession-level rich. He's ambivalent about the money, but she has no intention of not being Succession-level rich. The fiancé's older sister Linda (Hepburn) is artistic, whereas her sister is bougie, and starts to think the family might need an influx of Johnny's humility just as everyone else grows bored of it. Buy this for someone you love! They will love it too. —Hunter Harris
Greed? She will cost you everything! And in case you forget it: A Billions stainless-steel wine tumbler is on hand to remind you. What better way to show that you love Wendy and Axe, Chuck and Dollar Bill, or just generally capitalism and wealth? The thing about Showtime's merch is that, generally, it's pretty good quality — and also the clowns at HBO haven't gotten Succession merch ready in time for the holidays. —Hunter Harris
Did you see the Broadway musical Come From Away? Did you cry? If the answer was yes to the first but no to second, you have no soul. For the rest of my fellow weepies, boy do I have a treat for you! This children's book tells the tale of one of the show's central characters, the real-life airplane pilot Beverley Bass. Bass gets one of the most-heart wrenching numbers in the show and this book tugs at the heartstrings just as tightly. Get this for someone you love to hug. —Tara Abell
My toddler has mercifully reached an age where he cares about Screen Time. While that has been a relief during car rides or on mornings when I'll gladly trade an iPad for more sleep, something I hadn't fully considered is that Screen Time also equals Sound Time. If he's in a Sesame Street mood, that's fine. It's something else altogether if he's melting his brain with psychedelic videos featuring colors and numbers and trucks and soccer balls and stoic Eastern European voiceover. Not wanting to strap any old Beats on him, I was relieved to find PuroQuiet's line of headphones. They marry lightness (good for a two-year-old) and durability (essential for a two-year-old), and have a volume limit of just 85 decibels, so I don't need to feel guilty about ruining his hearing. That frees me up to just feel guilty about having Elmo do the parenting for me, and I can live with that guilt. —Neil Janowitz
If you're the kind of person who can freely spend $450 on themed cookware, this Han roaster is cool as hell. If you're looking for something not as audaciously priced, the porg pie bird is cute, too. —Tara Abell
A little something for the person in your life that's "too" "cool" for Sony Pictures Classics or "too" "young" to remember Miramax's heyday (the Weinsteins, obviously, excluded): a heather-gray A24 hoodie. The people behind Moonlight, Lady Bird, and Hereditary are back with an ideal gift for the cold-blooded celluloid hypebeast in your life. (Oh? You claim to not have one? Congratulations, baby, I'm talking to you.) —Hunter Harris
The comic book The Wicked + The Divine, from co-creators Kieron Gillen and Jamie McKelvie, concluded its amazing five-year run in September, which means you can use the season of giving to get yourself or someone you think is very special the (almost) entire run in these gorgeous hardcover collections. Wicked is the story of a pantheon of gods who return to Earth every 90 years in an event called The Recurrence. Humans are selected to embody the gods by a powerful divine entity named Ananke, and once chosen, they transform into their hotter, cooler, semi-immortal new selves. They are worshipped and beloved and cannot be killed by humans, but the catch is, each cycle only lasts for two years, at which points the gods must leave again and their host bodies die. Since The Wicked + The Divine picks up in 2014, the beings take the form of our most exalted global totems: pop stars. The drama is sexy and sensational, and the work by artist McKelvie, letterer Clayton Cowles, and colorist Matt Wilson is simply stunning. (After you inhale the first three books, you can pre-order the fourth, which will be published next year.) —Jordan Crucchiola
What will the New Year bring for you: the energy of "Red Bull and Hennessy" or the joy of the "Party Clown"? Figure it out with this Jenny Lewis tarot-card set, with cards for each of her sublime On the Line tracks and past hits (solo and Rilo Kiley), all illustrated by her collaborator Sina Grace. To set the mood for a proper reading, drop the needle on your vinyl copy of On the Line and light a matching candle. As a certain oracle once said, "There's a little bit of magic / Everybody has it." —Justin Curto
There were, as I recall, a handful of mercifully nice, good days on Twitter this year. One was the fish tube. Another was the first Cats trailer mass hysteria. The third was when Peppa Pig's first album dropped. Everyone was mashing her up with "Good Form," remixing "Bing Bong Zoo," and identifying on a spiritual level with the titular "Expert Daddy Pig." Even Iggy Azalea couldn't deny she had been bested by the bad bitch Peppa. If someone in your life has internet brain rot and more than a touch of hypebeast in them, why not get them this chic Hunter x Peppa Pig camo backpack, in blue, pink, or yellow? Is it technically for kids? Sure. But is it fire? Yeah. —Rebecca Alter
On the last impeccable season of Below Deck: Mediterranean, a simple radio call became unavoidable, a rallying cry for anyone trying to escape their work. Commemorate third-stew June's supposed inability to recognize her own name (read: inability to be a third stew) by kicking back with a "June June Hannah" wine tumbler. It's the closest thing to killing time aboard Sirocco you can get short of paying its five-figure ticket price. For the true deckhead (go with it) in your life, there are also T-shirts, mugs, a Christmas ornament, or even a three-piece gift bundle. —Justin Curto
If you want to be an absolutely gorgeous gift-giver and find something that demonstrates that you're an active listener who doesn't at all tune out when your friend/coworker/SO is reenacting podcast bits to you, get them merch from their favorite pod! The more inside joke-y and obscure, the better (such as this beautiful Doughboys T-shirt). Then, when they drag you to a live show of that podcast, they can wear the shirt with pride. —Rebecca Alter
Every editorial product is independently selected. If you buy something through our links, New York may earn an affiliate commission.