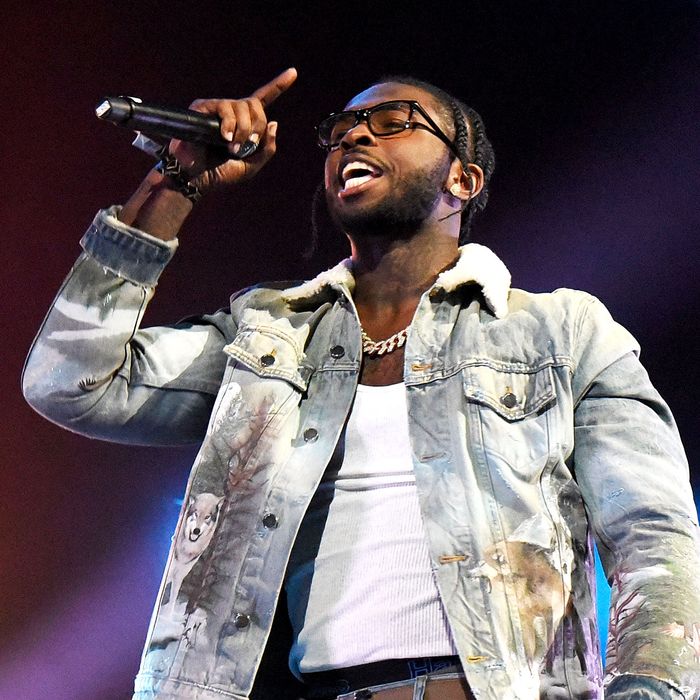 Pop Smoke was a pivotal figure in the Brooklyn drill movement.
Photo: Arik McArthur/Getty Images
Early in the morning on February 19, up-and-coming Brooklyn rapper Pop Smoke was shot and killed at the home he was renting in the Hollywood Hills. Real name Bashar Barakah Jackson, Pop Smoke was on the forefront of Brooklyn's exploding drill movement, paving the way with hits like "Welcome to the Party" and "Dior." His second mixtape, Meet the Woo 2, came out on February 7, less than two weeks before his death. On July 9, five suspects were arrested in connection with his death, but few details about the 20-year-old's murder have been released. While the Los Angeles Police Department investigates, internet sleuths are looking for their own theories, creating confusion around an already senseless loss. Here's everything we currently know about Pop Smoke's death.
How did Pop Smoke die?
On Wednesday, February 19, at around 4:30 a.m., the New York Times reports that four suspects in hoodies, including one wearing a mask and carrying a weapon, entered a Hollywood Hills house where Pop Smoke was staying and fatally shot the rapper. He was transported to Cedars-Sinai Medical Center in Los Angeles, where he died a few hours later.
How did the police respond to Pop Smoke's death?
Responding to a call from the East Coast saying that several people had entered their friend's home, the LAPD arrived to find Pop Smoke with gunshot wounds. There were other people in the home, but Pop Smoke was alone when the gunman found him, and he was the only person shot at. The police detained several people at the house, but all were let go. According to the authorities, at least four suspects fled the scene. There have been no arrests.
As of February 29, police struggled to find a motive, according to TMZ's law enforcement sources. Many witnesses are either uncooperative or unreliable. Per TMZ, there are no "neutral" witnesses who may have seen the suspects enter or leave the home.
On July 9, five suspects were arrested in connection with Pop Smoke's murder, according to the Los Angeles Police Department. No charges have been disclosed as of this publishing time. Two suspects are juvenile males, and three are adult males. TMZ reports the LAPD served several search warrants in L.A. on the morning of July 9 and arrested the five men on warrants.
Where was Pop Smoke when he died?
Pop Smoke was renting Real Housewives of Beverly Hills star Teddi Mellencamp and her husband Edwin Arroyave's home through a third-party agency. Mellencamp extended her condolences on Instagram: "Early this am we were informed by a 3rd party leasing and management company overseeing a rental home we own in Los Angeles that a shooting had taken place at the property," she wrote in the caption. "Foremost, we would like to extend our prayers and condolences to the family and loved ones affected by this tragic loss of life." According to the Los Angeles Times, investigators believe the house itself could have been a target for home invasion and robbery, following a string of robberies at homes rented by musicians, although Robbery Homicide Division Captain Jonathan Tippet also told the Times he was "not comfortable calling it a robbery right now."
Was Pop Smoke's address leaked online?
Fans and internet investigators initially believed Pop Smoke's death was the result of a robbery gone wrong. Earlier, Pop Smoke had posted photos on social media showing large amounts of money, designer goods, and a luxury car. His friend Mike Dee also posted images, including one in which the home's address can be partially seen in the background. The rapper also posted a story on Instagram and Facebook of designer bags, and the house's full address could be read on the packaging. Authorities are aware that the address was shared online, but are not drawing any conclusions about motive. "It's an angle we're looking at," Tippet said of Pop Smoke's Instagram posts. "It also extends the pool of people that would have known where he was at and could have targeted him for a variety of reasons."
Was Pop Smoke's death gang related?
Per the Times, Los Angeles investigators are considering the possibility that Pop Smoke's death was gang related. East Coast officials have tied the rapper to the Crips, and they suspect that the assailants may have been gang affiliated. Tippet noted that there is no indication that a rival East Coast gang traveled to the West Coast to target him.
What does surveillance footage show?
TMZ spoke to sources who have seen surveillance footage from Pop Smoke's rental home. According to those witnesses, four men went around to the back of house but only three returned to the front. The fourth suspect exited through the front door, presumably having entered through the back door. Multiple shots were heard inside the home. While TMZ's sources did not recall items being taken from the home, police told the New York Times there were items missing. "There were a couple of items that were taken, but some of the things you would think would be taken weren't even really looked for," Tippet said. "So that's why we're not really saying that it was a robbery or that he was the intended target."
After the news broke about Pop Smoke's death, many videos claiming to be related went viral, but ultimately the police found no connection, per TMZ.
Did Pop Smoke's friend Mike Dee set him up?
Fans were quick to accuse Mike Dee, who posted the photo with the address in the background, of setting Pop Smoke up. After deleting everything off of his Instagram page, Dee mourned his friend and cleared his name. "CANT NOTHING EXPRESS THE PAIN IM FEELING ….I JUST LOST MY FUCKING BROTHER, MY HEART MY DAWGZ 💙 YOU GUYS HAVE NO TYPE OF SENSE OR SYMPATHY!" he wrote underneath a photo of them as children. "YALL DONT KNO WHATS GOING ON YALL COME ON HERE PLAYING INVESTIGATOR AND BASHING ME ON THE INTERNET, I WOULD NEVER IN MY LIFE SET MY BROTHER UP, WE ATE TOGETHER , BROKE BREAD TOGETHER THIS REALLY MY MOTHER CHILD."
How has Pop Smoke's family reacted to the news?
Pop Smoke's family issued their first statement about his death on February 28. "The family of Bashar 'Pop Smoke' Jackson would like to express our sincere gratitude to everyone for your support," it reads. "Every prayer, call, and act of kindness is deeply appreciated as we mourn the loss of our son, brother, and friend."
"Brooklyn knew him as Bashar," they continued. "He was educated and nurtured in Brooklyn and his rise to fame all developed from the place he proudly represented. Within the last year, his extraordinary giftedness was revealed to the world, introducing Pop Smoke." The family asked for privacy and respect as there are no public details regarding the rapper's murder, adding, "Inaccurate reports only add unnecessary pain to a grieving family."
This post has been updated throughout.