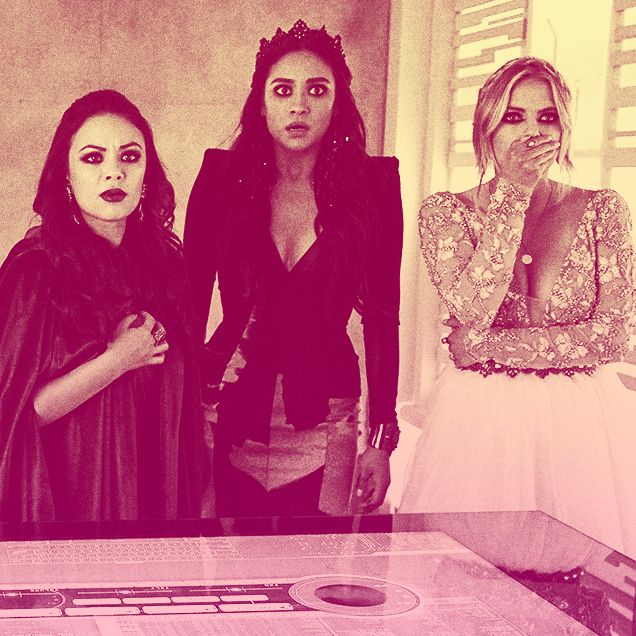 Photo-Illustration: Vulture and Photo by Freeform
Pretty Little Liars has experienced the highest of highs and the lowest of lows throughout its seven-season run on Freeform, which has managed to consistently wow audiences with scares and laughs alike. As the series finale sadly looms at the end of the month, Vulture gathered what we consider to be the show's most iconic moments — huge revelations, memorable bits of dialogue, and just damn good scenes — to celebrate its final hurrah. Viva la Rosewood, forever and always!
The First Group Text Message (season 1, episode 1)
"I'm still here bitches, and I know everything." Now that's how you open a series.
'A' Reveals That Alison Is Still Alive (season 2, episode 5)
A creepy graveyard movie is a very weird and appropriate setting to break the news, and it's at this moment when PLL started to take a noticeable turn to the macabre.
"Jenna Can't Hear Us, She's Blind." (season 2, episode 8)
If a quote can epitomize a character, this would be it for our girl Hanna.
Jenna's Eyesight Returns (season 2, episode 24)
This perfect soundtrack choice of Billie Holiday's "Them There Eyes" and that fly swat sent shivers down the spines of viewers for years to come.
Mona Gets Unmasked As the First 'A' (season 2, episode 25)
Hands down, the most plausible and most fulfilling reveal in PLL history.
"Bitch Can See!" (season 3, episode 2)
The Liars are completely flummoxed by the news of Jenna regaining her sight, none more so than Aria.
Emily Kills Lyndon (season 3, episode 12)
Hell hath no fury than a young woman traumatized by the unexpected death of her girlfriend, who discovers that a nice stranger wasn't actually her girlfriend's cousin, but a psychopathic stalker. Good knife skills, Em!
Toby Is Revealed to Be a Minion of 'A' (season 3, episode 12)
Sure, the emotional weight of this betrayal lessened a bit when we learned he was actually a "double agent" working in favor of the Liars, but damn. That reveal was cold. Plus, it led to Slap Heard Around the World.
Adam Lambert Leads Rosewood High in a Halloween Sing-along (season 3, episode 13)
Is there any logical explanation for Rosewood High, a public school, shelling out this kind of money for an ex–American Idol contestant dressed as a debonair vampire? No. Does it still go down in the books for being the best musical moment in the show? Absolutely.
Aria Gets Quality Face Time With Garrett's Corpse (season 3, episode 13)
In the tight constraints of a coffin about to be thrown off a train, no less!
Ashley Runs Down Detective Wilden With Her Car (season 3, episode 20)
What comes around goes around for dirty cops. In the case of Detective Wilden, Ashley hits the accelerator and sends him flying after he threatens her and her daughter.
Tippi, the Most Helpful Bird in TV History (season 4, episode 2)
Alison's grandmother's bird mimics a phone number, which starts to put the pieces in place about Alison's whereabouts. Even Spencer is impressed!
Alison Isn't Dead (season 4, episode 12)
Alison: "Did you miss me?" The world: "Yes, we most certainly did."
The Film Noir Extravaganza (season 4, episode 19)
Spencer's pill-induced, trancelike state led to a handful of exquisite sequences that were filmed to echo Hollywood's film noir era of the '40s. Lauren Bacall and Barbara Stanwyck would be proud.
Aria Kills Shana (season 5, episode 1)
Shana's plan to avenge Jenna's blindness didn't go so well, huh?
Hanna Loses Herself in Dance (season 5, episode 20)
You know you've taken your beauty-pageant prep too far when even Emily Fields gets a little bit concerned about your, uh, flailing Jesse J dancing.
Welcome to the Dollhouse (season 5, episode 25)
As the grandest scheme in a never-ending arsenal of torture, 'A' holds the four Liars and Mona captive in "the Dollhouse," which features perfect recreations of their bedrooms. It's pretty damn disturbing, and reveals that that 'A' has taken a walk on the sadistic side … and has way too much time and money on his or her hands.
The Wine Moms Are Born (season 6, episode 9)
In what might as well be called Pretty Little Liars: 25 Years Later, Ashley, Veronica, Ella, and Pam gather at the Hastings' house with a bottle of red and somehow end up drunkenly trapped in the DiLaurentis' basement. Spinoff idea: This.
CeCe Drake, a.k.a. Charlotte DiLaurentis, Gets Unmasked As the Second 'A' (season 6, episode 10)
A divisive reveal that needs to be acknowledged for the sake of ending a narrative that was three-and-a-half seasons in the making.
Radley Sanitarium Transforms Into a Poppin' Hotel and Bar (season 6, episode 11)
Leave it to Queen Ashley Marin to transform that dingy sanitarium into the chicest travel destination in the greater Philadelphia metropolitan area.
Hanna Strikes Elliott Dead With Her Car (season 7, episode 3)
Don't blame Hanna for accidentally killing the phony doctor who hospitalized Alison against her will to steal her money.
The Decapitation of Noel Kahn (season 7, episode 10)
What is this, Game of Thrones?
The Introduction of Liar's Lament (season 7, episode 11)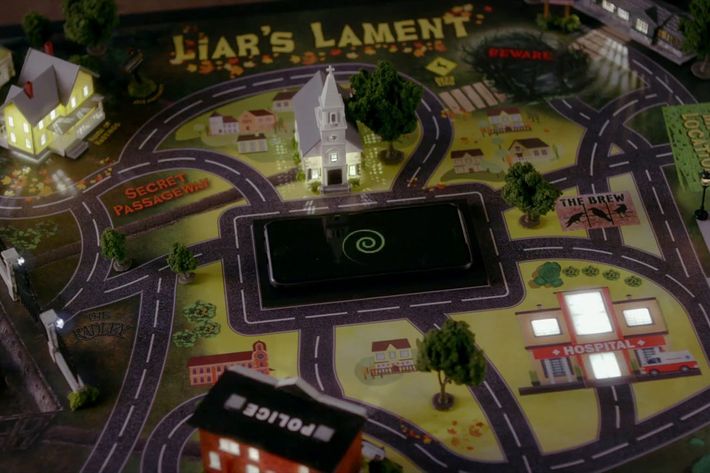 It's not the creepiest thing Uber A has ever concocted, but yeesh, is this one technological gaming marvel or what?