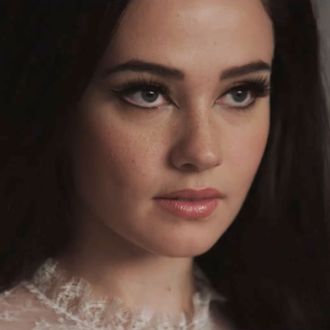 Sofia Coppola is back with another historical film about a yearning teenage girl. But this time, the subject is Priscilla Presley, played by Cailee Spaeny. Just one surprisingly short year after Austin Butler's voice changed forever, Coppola is focusing our attention on Elvis Presley's ex-wife and fashion icon Priscilla and her journey in marrying and divorcing the famous singer. Joining Spaeny as the King of Rock and Roll is Euphoria's Jacob Elordi, with Coppola seeing a resemblance stronger than just looks between the two stars. "All the girls in the room just turned to him, they gravitated," Coppola explained to The Hollywood Reporter. "I just felt like, 'Yeah, he has that kind of charisma that I imagine Elvis had.' " Below is everything you need to know about Priscilla Presley, both on and off the screen.
Okay but how hard is Priscilla going to slay?
Simply titled Priscilla, the trailer teases a movie that is very, deliciously Coppola-core — close-ups of sharp eyeliner and thick falsies, soft light diffused through a window's white curtains, spot-on costume design filled with lace and gingham. "When teenage Priscilla Beaulieu meets Elvis Presley at a party, the man who is already a meteoric rock-and-roll superstar becomes someone entirely unexpected in private moments: a thrilling crush, an ally in loneliness, a vulnerable best friend," the synopsis reads. We see the moment where Priscilla spots Elvis for the first time and subsequently daydreams about him as she walks through the halls of her high school, smitten like the 14-year-old that she is, even if Jacob Elordi's Elvis doesn't seem to be as possessed by the late rock-and-roller's spirit nearly as much as Austin Butler. The gates of Graceland open for Priscilla, but there's still an emptiness in her eyes. What are Coppola's characters if not a little unsatisfied?
Does the OG Priscilla approve?
She's actually executive producing the project and said she felt "emotional" watching the film. She has praised Coppola's direction, saying, "I think Sofia did an amazing job, she did her homework. We spoke a couple of times and I really put everything out for her that I could." As for any advice Priscilla had for Spaeny's character, she told her to "just be sensitive to" Elvis and it was important that the love and care was there between the two.
What about the music?
You'll either be excited or disappointed depending on what kind of Elvis fan you are. Coppola shared in an interview with The Hollywood Reporter that she asked Elvis Presley Enterprises, who owns the rocker's music, for permission to use Elvis's music in the film but was unable to get the rights to it. "They don't like projects that they haven't originated, and they're protective of their brand," Coppola explained. "But that made us be more creative." However, you're in luck if you're a fan of the band Phoenix. Instead, the film uses music from Sofia Coppola's husband including a few cover songs, like the 1980 Ramones cover of The Ronettes's "Baby, I Love You."
Is there any promotion for the film?
Surprisingly, yes. Amid the industry strikes, SAG AFTRA has granted Priscilla's actors permission to promote the film through an interim agreement, as A24 is not a part of the AMPTP. Coppola, Spaeny, Elordi, and Priscilla herself all attended the Venice Film Festival on September 4 to promote the film.
When does it come out?
The film, based on Priscilla Presley and Sandra Harmon's book Elvis and Me, was originally set to come to theaters on October 27. However, per Deadline, its release date has now moved to November 3.
This post has been updated.