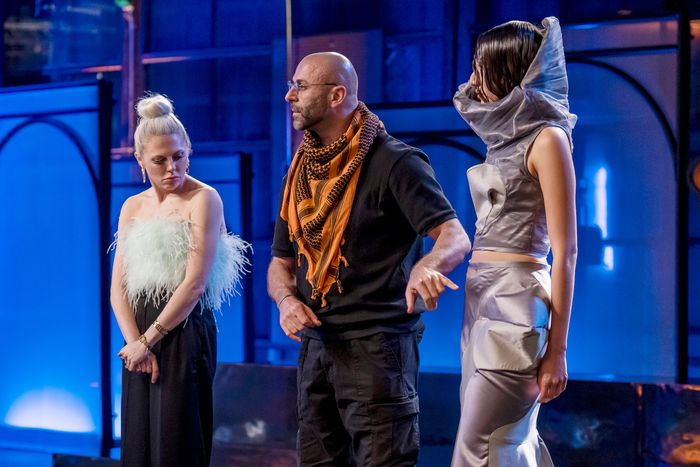 Photo: Zach Dilgard/Bravo
Third time wasn't the charm for Project Runway contestant Rami Kashoú. The Palestinian-born draping impresario was season four's runner-up to wunderkind Christian Siriano back in 2007, then saw his time in the inaugural run of Project Runway All Stars cut short in 2012. Now, the 20th season of the Bravo reality competition is airing in an All Stars–style format hosted by Siriano and bringing back contestants from 19 years of Project Runway. Kashoú had the bad luck of being eliminated twice; the "Siriano Save" allowed the mentor and host to rescue Kashoú from elimination after his episode-eight ejection, only for the contestant to go home for good during the penultimate episode on August 31.
Though Kashoú didn't secure the season's final victory, there's plenty he's proud of: his top looks, including a chic lingerie-inspired gown and perfectly fitted separates for a Below Deck uniform challenge showcased his skill in fabric manipulation and tailoring. And he stood his ground with a firm rejection of the judges' vaguer critiques. Calling his work "dated"? He won't let that stand. "It's very cliché, when you're describing someone's work who happens to be older," says Kashoú. "Having come back, I was able to break that mold I was placed in in the beginning, because I disagree with it highly. And I'm glad they showed me disagreeing with it in my interviews, because come on, it's ridiculous."
This season had very specific challenges, like the Below Deck uniform, and very abstract challenges, like the "what does freedom mean to you?" Is your creative process different when the challenge is more finite versus open-ended?
I start each time with the truth: my truth as an artist and my truth as a designer. There's no real strategy to how I start or finish. I made a vow going on the show this time that I'm not going to be afraid to share my story, to share my humanity, to share my personal moments.
There's often a specific Middle Eastern narrative on TV, and as an Iranian American, it touched me to hear you talk about your childhood, and it surprised me to hear you refer to living under occupation. I was curious if you got feedback about that from other contestants.
Being a part of a cast that is diverse, being a part of a cast that has — in this season in particular — supported people of color, I took that as a safe space to share and express my background, my history, and where I've come from and where I still go every summer to see my family. Some of my cast members' stories of struggles are different, and I think they deserve to have light shed on their experiences and their personal stories. I also think there are parallels in some areas, and I draw inspiration from that — from the Black struggle in America, from Black history. We only have history to refer to and learn from as humans, and art and design are reflections of the times. I also knew that at the end of the day, if somebody wanted to edit things out, they could. It's not fully in my hands. But what is in my hands is sharing my truth and my story. I'm just sharing the facts.
You've now presented to three different judging panels: Heidi Klum, Nina Garcia, and Michael Kors for your first appearance in the franchise; Isaac Mizrahi and Georgina Chapman for All Stars on Lifetime; and most recently Elaine Welteroth, Brandon Maxwell, and Nina again. Is there one judge over the various versions of the show who's giving you the most helpful or constructive feedback?
Nina wins this challenge for sure. Thank God for Nina, because she's the grounding force. I respect all the judges, but I don't agree with some things Elaine said. Nina was there to counterbalance things. I was always drawn to her, and to Brandon and his humor. When he would say he wanted to wear my designs in two separate challenges, that is the biggest compliment to a designer. What was key for me was to highlight the positive moments and leave the rest. If something did not apply, in my view, I just let that go. I didn't even want to discuss it or debate it, because at the end of the day they are filming a show, and I'll just leave it at that.
There was a lot of reliance on adjectives like dated as a criticism, and I wanted more. Tell me what else the outfit is doing.
It's very cliché, when you're just describing someone's work who happens to be older. If my journey ended when I was eliminated the first time and I did not come back, those words could have become a thing. That's why I always say, in the words of Maya Angelou, words really matter. People sometimes underestimate that they matter. That's why it's important to have constructive criticism. Having come back, I was able to break that mold that I was forcibly placed in in the beginning, because I disagree with it highly. And I'm glad that they showed me in my interviews disagreeing with it, because come on, it's ridiculous.
Calling something "dated" without explaining the reasons why is just not enough. Korto has brought that up; I think it was even discussed between the designers at one point. It doesn't mean that older designers cannot create hip, cool, fashion-forward things. Of course we do, and of course we can. Eventually the dialogue shifted into finally appreciating the experience and the skill, the imagination and the talent we have, because we are all talented at the end of the day. I don't think our talent is measured by how much time we spent on the show. Everybody, including the first person who may have left, Nora, they all come with a whole set of talents. I don't think that Nora's any less talented than anybody else, including anybody who's in the finale right now.
During "Like Totally '90s," you shared that Aaliyah had worn one of your designs. How did that come about?
My background is retail. When I first moved to Los Angeles, I was in my early, early 20s, and I worked in a popular shop on Melrose at the time Melrose was at its height. I'll never forget: Destiny's Child filmed one of their first music videos across the street from us. It was a very bustling time and that store sold to a lot of stylists and celebrities. A few years into doing retail, I talked to the owner and made a deal with him. I said, "I'd love to sell consignment pieces here," and I did, and it started doing well. At the time, Daniel Caudill was Aaliyah's personal stylist. He was pulling clothes and he pulled several of my tops. He came back and told me, "She's wearing it on the cover." She ended up buying it. At the time I was young, slightly green, I didn't know who Aaliyah was until I started hearing that song in every car in L.A.: "Dust yourself off and try again." Tori Spelling also shopped there and bought some of my pieces, so did J.Lo, Jada Pinkett Smith. Those were the most special times, in the beginning.
I did not finish design school. I went to school in Long Beach. It's now closed. The classroom was overcrowded. The teachers couldn't get to all the students. I thought, I want to enter the industry and learn my way through it, which was the harder road, but that's how it all started. I used to shop for vintage pieces and take them apart, and that's how I learned construction, what a sleeve looked like flat, what a collar looked like. I started draping because I didn't necessarily have the know-how of the ABCs of pattern construction — which now, looking back, I'm grateful for, because sometimes knowing less, you play more freely. That's where the wrapping around the fabric to create silhouettes happened, because I wasn't drafting on paper the way a pattern maker would start. I started on the mannequin and on the dress form, and I found much beauty in that. As a child, I used to drape my young sister with bedsheets and we would do fashion shows.
I went back to the first episode of season four, and you talk about your style as "new," "modern," and "romantic." In the first episode of this season, you use "romantic" again to describe your aesthetic. What does that mean to you?
If I see the sunlight in the morning hitting a certain part of the room, that to me is romantic. Romantic doesn't necessarily mean an exchange between two people attracted to each other. There's romance beyond what the heart feels towards another human; romance is something that brings out and draws emotion. When I say "romantic" and "poetry" in terms of describing my work, I think of movement and the way the fabric may sway and come to life on the wearer, and the way there's a flow between the model and the clothes.
You mentioned you go back every summer to Palestine. I know you've mentored young designers there. What was that experience like?
The A. M. Qattan Foundation focuses on education and arts for the Arab world and they invited me to create a program that echoes Project Runway. It's not a TV show, it's more of a workshop. I was very thrilled. I went for a month and we worked in Al-Bireh, which is a town near Ramallah, where I grew up. We were in a center that is called the Inash Al Usra Society. They support women who do beautiful Palestinian cross-stitch embroidery, tatreez, and they train them. I mentored five designers of different ages — the youngest was 21 and the oldest was 45. One was a business person, one was a tailor, one was a design student who was newly graduated from a Bethlehem design school. I was very impressed with their talent. The one limitation they may have had is they didn't know they had it in them.
I designed a series of six challenges: one was at the Palestinian Museum, one went downtown to Ramallah City Center, one was a retail space where they sold their own designs and spoke to the general public on the street. It was very interactive, very hands-on. It took a lot of energy and time, but it really was amazing. It ended with a final fashion show and the winner received $10,000 to boost their business. It was just as rewarding for me as it was for them. There is talent. It just needs more space for playfulness and imagination, which I think is sometimes very limited due to the occupation.
We didn't get a final Rami collection. Did you have an idea in mind?
I saw a lot of beauty and inspiration in the lithium plants in Chile. It's visually stunning. I never knew that lithium, when it is extracted from the earth and rises to the top and separates the salt from the actual fluid itself, makes the most breathtaking jewel tone colors. I've done extensive research about renewable energy; there's major currency in the actual recycling of phones and gadgets, because the future is a circular economy — using what's already accessible, not further extracting from the earth. There was a group — with women leading the movement — of indigenous people in Chile whose lives are being jeopardized as a result of the mining. As the big business moguls are trying to heal the planet and profit through the process, there are indigenous people paying the actual price: losing natural resources, losing clean drinking water. I wanted to highlight that. These collections need major funding to put together; I hope to work on that in the near future.
This interview has been edited and condensed for clarity.