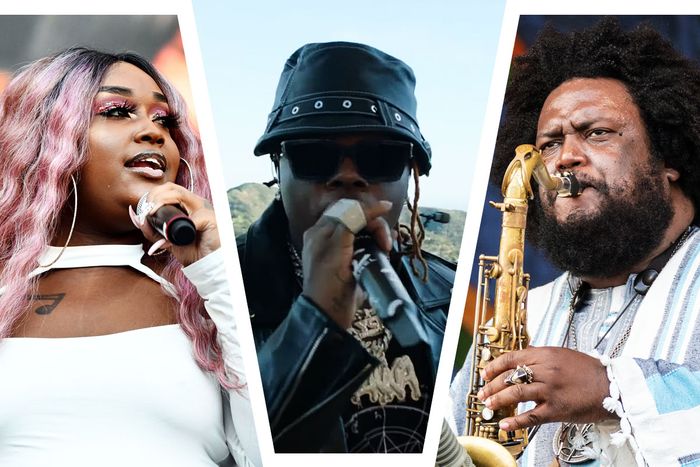 cupcakKe, Gunna, and Kamasi Washington.
Photo-Illustration: Vulture,YouTube and Getty Images
Throughout American history, protest has been channeled through music, from the folk of the '60s to the hip-hop of the '80s and '90s. While the nation continues to protest the police killings of unarmed black people — including George Floyd in Minneapolis, who formerly rapped with Houston's DJ Screw in the '90s, along with Breonna Taylor, Ahmaud Arbery, Tony McDade, and countless others — musicians have turned to their form to express grief and rage. Others have used the moment to fundraise, dropping new releases and directing proceeds toward various memorial and bail funds while also encouraging fans to donate directly. (Additionally, Bandcamp will donate all of its profits on June 19 to the NAACP Legal Defense Fund, as well as $30,000 every year to various orgs that "fight for racial justice and create opportunities for people of color.") Here's a current list of songs, albums, and performances protesting police brutality in the U.S. and benefiting important fundraisers.
Conway the Machine, "Front Lines"
Griselda Records rapper Conway the Machine paused work on his upcoming album From King to a God to release "Front Lines" on June 1 in response to the national protests against police killings. "The Amaud situation and Breonna situation and now George Floyd has brought me so much pain and anger because I'm a black man: a father, a brother, I have 2 sons," he told Complex for the song's premiere. "I wanted to give you the mindset from the protesters point of view, and I was able to paint that picture perfectly over this Beat Butcha production." Along with rapping about Floyd and other police killings, Conway also calls out 6ix9ine fans in the song.
cupcakKe, "Lemon Pepper"
After she quit music last year, Chicago rapper cupcakKe has returned with her second new song of 2020, called "Lemon Pepper." Half the proceeds from the song will go to the Minnesota Freedom Fund, which is raising bail money for Minneapolis protesters and other Minnesotans in custody. The song is another classic raunchy cupcakKe track — "I need some lemon pepper and mild sauce on that dick," she raps in the chorus. She also references the coronavirus pandemic, rapping, "Legs 'bout to spread like corona."
DJ Suede the Remix God and DJ iMarkkeyz, "Lose Yo Job"
An already-viral video turned to an internet-ready protest song when DJ Suede the Remix God and DJ iMarkkeyz (responsible for Cardi B's "Coronavirus" remix) remixed a clip of Johnniqua Charles talking to a South Carolina security guard who detained her in February. "You about to lose yo job," she told officers in a video she posted to Instagram. "Get this dance! You about to lose yo job 'cause you are detaining me for nothing!" The producers posted their remix on June 9, while Charles' sister Andrea raised $50,000 for her sister — who is currently homeless and working to get royalties from the song — in a since-closed GoFundMe.
Dre, "Captured on a iPhone"
Dre, one half of production duo Cool & Dre, released his song "Captured on a iPhone" on May 30, dedicated to the black people whose police killings weren't documented. The song samples a news report and audio from the video of George Floyd's police killing. "It's wild, because I can remember growing up and in the beatings captured on tape, the people survived," Dre told HipHopDX of the song. "Now, they're just straight up killing you on tape. And it's like, 'Damn, things are supposed to get better.'"
D Smoke and SiR, "Let Go"
Rhythm & Flow season one winner D Smoke teamed up with his brother, Top Dawg–signed singer SiR, for the song "Let Go," written the day of George Floyd's killing on May 25 and released on May 29. "But in this life some wars we can't avoid," D Smoke raps. "I wrote this the day they killed George Floyd / We won't forget your story."
DaBaby and Roddy Ricch, "Rockstar (BLM Remix)"
The same week he netted his first No. 1 hit, DaBaby released a Black Lives Matter remix to his song "Rockstar," featuring Roddy Ricch. The song keeps its chorus of "Brand-new Lamborghini, fuck a cop car," but adds a new opening verse on police brutality from DaBaby. "As a juvenile, police pulled their guns like they scared of me," he raps. "And we're used to how crackers treat us, now that's the scary thing."
Dua Saleh, "body cast"
Minneapolis musician, artist, and activist Dua Saleh released the song "body cast" on May 30, directing proceeds to Minnesota's Black Visions Collective. The song, produced by Psymun and originally intended for a later project, features audio from a police confrontation, while the cover lists names of unarmed black people killed by police. "We must take action to ensure the safety of our community. We demand justice for the family of George Floyd and countless others who have had their lives stolen by the police," Saleh said in a statement. "We no longer can rely on the Minneapolis Police Department, or the local, state and federal government to protect us. They have ordered military personnel armed with lethal weapons to provoke violence at our assemblies of peaceful protests. This is terrifying for us as we mourn a member of the community. 'body cast' is a song about police brutality and injustice." Saleh also encourages donations to Reclaim the Block, the Minnesota Freedom Fund, MPD150, and the Sudani American Collective. Their EP ROSETTA is out in June.
Gunna
Atlanta rapper Gunna, who released his second album Wunna on May 22, used his livestream release concert to raise money for the George Floyd Memorial Fund. "the police have been killing us for years and still are and we should come together around that cause! 🙏🏽this live performance is for all the black lives lost to the hands of police murders," Gunna wrote on Instagram. He streamed on YouTube from Los Angeles, performing with a full band. Gunna dedicated his performance to Floyd and ended by dancing to "Fuck the Police" by N.W.A.
H.E.R., "I Can't Breathe"
Singer-songwriter H.E.R. performed a new song, "I Can't Breathe," at the iHeartRadio Living Room Concert Series on June 11. "These lyrics were kind of easy to write because it came from a conversation with what's happening right now, what's been happening, and the change that we need to see," she said, introducing the song. "I think music is powerful when it comes to change and when it comes to healing, and that's why I wrote this song, to make a mark in history. And I hope this song does that."
Jim Jones, "The People"
Former Diplomats rapper and record exec Jim Jones lended his voice to the protests with "The People," which dropped June 3. He cites many details from the week of George Floyd's death in the short song, including the burning of Minneapolis' 3rd Precinct, Donald Trump's "when the looting starts, the shooting starts" tweet, along with the SpaceX launch and COVID-19 pandemic. "Tell that motherfucker we already started lootin'," he raps. "Shit get any worse, we gon' be ready to start shootin'."
Juicy J, "Hella Fuckin' Trauma"
Three 6 Mafia icon Juicy J released a song on June 7, "Hella Fuckin' Trauma," responding to ongoing police brutality and racism in America. "They been lynchin' shit for a hundred years, we still endin' up," he raps. Juicy J also references the coronavirus ("I just drank a Corona, is it a virus or what?") and his disagreement with Columbia Records ("Labels wanna own my masters, enough is enough").
Leon Bridges and Terrace Martin, "Sweeter"
Following Terrace Martin's song "PIG FEET" with a cast including Denzel Curry and Kamasi Washington, the producer worked with soul singer Leon Bridges on another protest song, "Sweeter," released June 8. "I have been numb for too long, calloused when it came to the issues of police brutality," Bridges said in a statement. "The death of George Floyd was the straw that broke the camel's back for me. It was the first time I wept for a man I never met. I am George Floyd, my brothers are George Floyd, and my sisters are George Floyd. I cannot and will not be silent any longer." Martin added, "I truly believe that eyes have been deceiving us for so long, but the heart always tells the truth. The heart needs to be repaired. Black folk have been deceived so many years, the only thing that can turn it around is a heart full of love."
Lil B, "I Am George Floyd"
Lil B released his song "I Am George Floyd" on June 6, listing the names of dozens of black people killed by police and in racist incidents. "I know I could do more than post a tweet and cry," he raps. "You in this song now, immortalized." Lil B also shouts out George Floyd's Houston hip-hop collaborators DJ Screw and Trae Tha Truth and teases "new Lil B music coming soon."
Lil Baby, "The Bigger Picture"
Atlanta rapper Lil Baby dropped the song "The Bigger Picture" on June 12, addressing police brutality and featuring audio from news reports about George Floyd's killing. "They trainin' officers to kill us / They shootin' protestors with these rubber bullets," he raps. "They regular people I know that they feel it / These scars too deep to heal us."
LL Cool J
LL Cool J posted an emotional rap to Instagram on May 31, grappling with police killings of black Americans and showing support for Black Lives Matter. "I'm telling it to those with melanin, you're not alone," LL raps. "The new Malcolm, Martin, and Marcuses are now grown. America's a graveyard full of black men's bones. And I ain't got to tell you that Breonna Taylor got slayed in her own home."
Meek Mill, "Otherside of America"
Meek Mill addresses both his childhood and his time in prison on new track "Otherside of America," released June 6. The song opens with audio of President Donald Trump making disparaging comments about the black community and closes with audio from Mill's CNN appearance with Michael Smerconish. "You see murder. You see seven people die a week. I think you would probably carry a gun yourself. Would you?" Mill asks Smerconish, who replies, "Uh, yeah, I probably would," as the song ends.
Mr. Muthafuckin' eXquire, "Bootlicker (Burn Baby Burn)"
Brooklyn's Mr. Muthafuckin' eXquire, fresh off an appearance on Run the Jewels' RTJ4, released the song "Bootlicker (Burn Baby Burn)" on June 3 in tribute to black victims of police brutality. All proceeds from the song on Bandcamp go to The Bail Project. "As a black male I have been impacted by the judicial system both personally and spiritually," he wrote in a note with the song. "My aim in launching this campaign is to assist those disproportionately effected by unfair sentencing guidelines, poverty and prejudice. As an artist I feel it is my DUTY to speak for the unspoken for and use my platform to produce healing, understanding and most importantly impartial justice."
NNAMDÏ, Black Plight and "Impatient"
Chicago experimental pop singer NNAMDÏ released both the single "Impatient" and the EP Black Plight to benefit the Chicago Community Bond Fund and Chicago racial justice organizations Assata's Daughters and EAT Chicago, respectively. He recorded all of Black Plight the week of June 1 before releasing it on June 5. "You can fix a Target, but you can't bring a person back to life," he says on track "My Life," referencing the ongoing protests of George Floyd's police killing in Minneapolis.
Papoose, "Tribute"
Underground rapper Papoose remembers 27 black people beaten and killed by police officers and in acts of racism with the song "Tribute," released June 1. He lists victims for each letter of the alphabet, from Emmett Till to Rodney King to George Floyd, with U recognizing the unknown victims of racial violence. The video, meanwhile, features graphic news and bystander footage of many of the attacks.
Pussy Riot, Parcas, Dillom, and Muerejoven, "1312"
Russian protest punks Pussy Riot released their new song "1312" with Argentinian musicians Parcas, Dillom, and Muerejoven on May 29, along with an animated music video. The song takes aim at sexist hate crimes and police brutality in Latin America, more specifically inspired by 2019 protests in Chile. Pussy Riot also released an accompanying manifesto on Medium and performed it on YouTube.
Run the Jewels, RTJ4
The duo of Killer Mike and El-P pushed up their fourth album, RTJ4, from June 5 to June 3, writing in a note, "The world is infested with bullshit so here's something raw to listen to while you deal with it all." The song "walking in the snow" got particular attention for Killer Mike's lines, "And you so numb you watch the cops choke out a man like me / And till my voice goes from a shriek to whisper, 'I can't breathe,'" referencing the 2014 police killing of Eric Garner. The album is available for free online, with the option to donate to the National Lawyers Guild Mass Defense Fund.
Tee Grizzley, Queen Naija and Detroit Youth Choir, "Mr. Officer"
Detroit's Tee Grizzley addresses police violence on new song "Mr. Officer," featuring fellow Detroit musician Queen Naija and members of the Detroit Youth Choir. "I got a million experiences I can touch on in my music, but I couldn't make another song without speaking on what's going on 💔," he wrote of the song, which dropped June 4. "I'm not a politician or activist but right now it's everybody's job to speak up because the pain, the struggle for equality and the brutality is real. ✊🏾✊🏿✊🏽"
Teejayx6 and TM88, "BLACK LIVES MATTER"
Detroit rapper Teejayx6 teamed up with Lil Uzi Vert producer TM88 for a protest song simply titled "BLACK LIVES MATTER," out June 2. "Why you have to put your knee on his neck / R.I.P. to George Floyd," Teejayx6 raps. "He was just an innocent man / Trying to raise his little boys." The video for the song features graphic footage of police killing black people and injuring protestors, alongside clips of protests and looting.
Terrace Martin, Denzel Curry, Kamasi Washington, Daylyt, and G Perico, "PIG FEET"
Producer Terrace Martin teamed up with rappers Denzel Curry, Daylyt, and G Perico, along with saxophonist Kamasi Washington, for the song "PIG FEET" on June 1. "Someone asked, how do I feel? I told them hurt, fearless, angry, aware and fully ready to protect me, my family & my people at all cost," Martin wrote in a note with the video. "I got together with Black men that felt the same way and created a work of truth." "This video is happening right outside your window," a message reads at the beginning of the song's video. Between rap verses, the song enacts a police shooting of a black man, while clips and images from protests appear. Once the song ends, a list of black people killed by police scrolls on the video in silence for two minutes and 45 seconds.
T.I. and Nasty C, "They Don't"
T.I. joined South African rapper Nasty C for the new song "They Don't," on which the two confront systemic racism, on June 5. "How you supposed to serve and protect / With your knee on my neck?" T.I. raps, addressing George Floyd's killing. Proceeds from the track go to Until Freedom and the Solidarity Fund.
T-Pain, "Get Up"
T-Pain released his new song "Get Up" on June 12, after originally intending it for the end of March. The anthem opens with a speech by Malcolm X. "It's very ironic because it all has so much more meaning to it now with everything going on in the world," he said in a statement. "I thought it was silly to hold this song. I want people to be motivated, inspired, and to continue to get up and push forward."
Trey Songz, "2020 Riots: How Many Times"
Trey Songz released the song "2020 Riots: How Many Times" on June 5, asking, "How many mothers have to cry? / How many brothers have to die? / How many more times?" The gospel-tinged song specifically references the killings of Tamir Rice, Ahmaud Arbery, and Breonna Taylor. "Three or four nights ago, I woke up in the middle of my sleep … I couldn't sleep. My chest was hurting," Songz said in a statement. "I got up and called my producer, Troy Taylor, and I said, 'We've got to make music that really touches the soul, that really addresses what the world is feeling right now. Especially our people.'" Proceeds go to Black Lives Matter and the National Bail Fund Network.
Ty Dolla $ign, Ant Clemons, Nia Miranda, Skrillex, and Virtual Riot, "You See It"
Singers Ty Dolla $ign, Ant Clemons, and Nia Miranda teamed up with producers Skrillex and Virtual Riot for the minute-long song "You See It," with the refrain, "I know you see it / But we need change."
YG, "FTP (Fuck the Police)"
Compton rapper YG released a new protest song called "FTP," a followup to his 2016 song "FDT (Fuck Donald Trump)" that shares a name with N.W.A's 1988 anthem. "Fuck the police, that's how I feel," he raps. "Buy a Glock, break down the block, that's how I feel / Murder after murder after all these years." YG previously shared details of a protest in Los Angeles but canceled the event. "I'm not trying to get none of my people hurt or shot," he said in an Instagram video on June 2, also announcing the song. "It's fucked up but I'm gonna come back bigger and better. I'm partnering with Black Lives Matter and we gonna do this shit the right way — for the people, for the city, and for all the artists that wanna pop out and participate."
Bob Mould, "American Crisis"
The founder of Saint Paul underground band Hüsker Dü, Bob Mould released "American Crisis," the lead single from his album Blue Hearts, on June 3. The song touches on Trump-era politics, the AIDS epidemic of the 1980s, and the current COVID-19 pandemic. Proceeds will be split between two Minnesota organizations, the Black Visions Collective and OutFront Minnesota, through June 7.
The Menzingers, "America Pt. 2"
Pennsylvania punks The Menzingers released a sequel to their 2019 song "America (You're Freaking Me Out)," with the chorus of "America, I love ya, but you're freaking me out." The song cites George Floyd's killing and President Trump's church photo op amid protests. Proceeds go to Campaign Zero and ActBlue's Community Bail Fund.