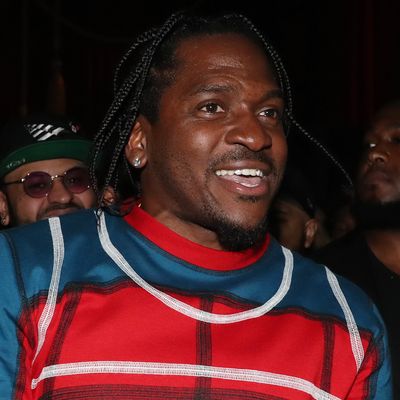 Yikes.
Photo: Johnny Nunez/WireImage
Rap beefs are a lawless land, and the one currently catching a second wind between Pusha-T and Drake is shaping up to be all-out anarchy. On Pusha's new album, he reignited a dormant feud with Drake, dredging up Drake's alleged use of a ghostwriter. Within one business day, Drake responded on the searing diss track, "Duppy Freestyle" in which he slandered Pusha's longtime reputation as a drug kingpin, dragged Pusha's fiancée into the fight, and claimed that GOOD Music should be paying him. Pusha told Vulture just prior to his album that he plans to "deal in truths all summer long" — already, he's made good on his word. On Tuesday night, Push fired back with a new song, "The Story of Adidon," lacing his words with pure venom. Let's (cautiously) wade into the most lethal shots.
The Artwork
Without saying a word, Push deals his first blow. The artwork for his freestyle is an unearthed photo of Drake wearing blackface. According to Push, it's a photo taken by David Leyes that hasn't been doctored. Responding to comments on his since-privated Instagram, Leyes claims the photos were Drake's idea and that Leyes is "proud to be part of a strong statement made by a black man about the fucked up culture he is living in." (They are potentially from a 2008 clothing-line campaign from hip-hop brand Too Black Guys that was themed "Jim Crow Couture.") That explanation aside, Push has paired the image with a song that borrows No I.D.'s beat for Jay-Z's "The Story of O.J.," whose video heavily featured minstrel images not unlike the Drake photo.
"You are hiding a child, let that boy come home"
In what will go down as not only this song's biggest bombshell, but one of the biggest airings of dirty laundry of the decade, Push reveals that Drake has been secretly hiding a child he allegedly had with former adult-film star Sophie Brussaux, whom Push mentions by name. It's a rumor that has dogged Drake for months, now seemingly confirmed by Pusha. Even worse, Push alleges that Drake is a deadbeat father to his own son. Here's the scathing verse in full:
Since you name-dropped my fiancée

Let 'em know who you chose as your Beyoncé

Sophie knows better, ask your baby mother

Cleaned her up for IG, but the stench is on her

A baby's involved, it's deeper than rap

We talkin' character, let me keep with the facts

You are hiding a child, let that boy come home

Deadbeat mothafucka playin' border patrol, ooh

Adonis is your son

And he deserves more than an Adidas press run, that's real

Love that baby, respect that girl

Forget she's a pornstar, let her be your world (yuugh)
"Marriage is somethin' Sandi never had"
No one is off limits in this song, not even Drake's own mother, Sandi Graham. Before Push calls out Drake's own apparently bad parenting, he lets it be known just where Drake learned it from: "Dennis Graham stay off the gram, bitch I'm on one / You mention wedding ring like it's a bad thing / Your father walked away at 5, hell of a dad thing." Push is referencing Drake's father's absence when he was a child — though they have since reunited — further digging the knife into Drake's heart by bringing up the fact that Drake's parents' marriage was short-lived.
"OVO 40, hunched over like he 80, tick, tick, tick"
Here, Push goes for the jugular. Since Drake dissed Push's producer, Kanye West, Push has put a target on Drake's producer Noah "40" Shebib's back. He continues, "How much time he got? That man is sick, sick, sick." In 2005, Shebib was diagnosed with multiple sclerosis and has been an ambassador for the National Multiple Sclerosis Society for years, making Push's dig here particularly callous. (It could be viewed as retaliation for Drake's insults about Kid Cudi's mental health.) Shebib has since pointed out another sad layer to the diss:
"Confused, always thought you weren't black enough"
As if the album artwork didn't get the message across in full, Push questions Drake's blackness with jokes about him being biracial: "Afraid to grow it 'cause your 'fro wouldn't nap enough." In Drake's episode of MTV's When I Was 17, which he first referenced in his "Duppy Freestyle," Drake reflected on his difficultly growing out an afro when he was younger. So, if nothing else, we know that because of this beef, Push has seen that episode. Always do your research, kids!
"The M's count different when Baby divides the pie"
The fissure between Lil Wayne and Cash Money head Birdman has long been chronicled. Push brings up that feud here to insinuate that, just as Wayne has allegedly been cheated out of millions of dollars because of Birdman, so too has Drake. Think Push crossed one line too many? He'll be the first to tell you, they've both sinned: "If we all go to Hell it'll be worth it."