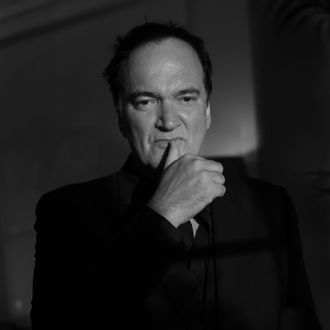 Photo: Jacopo M. Raule/Getty Images for Belles Rives Group
Quentin Tarantino has announced that his tenth (or 11th, depending on how you count the Kill[s] Bill) film, The Movie Critic, will be his last. "Directors don't get better as they get older," Tarantino told Playboy in 2012. "Usually the worst films in their filmography are those last four at the end. I am all about my filmography, and one bad film f—s up three good ones. I don't want that bad, out-of-touch comedy in my filmography, the movie that makes people think, 'Oh man, he still thinks it's 20 years ago.' When directors get out-of-date, it's not pretty." Tarantino said the movie went into "pre-pre-production" in June 2023, though not a lot can happen while SAG-AFTRA remains on strike. Here's everything we know about The Movie Critic — including plot hints from Tarantino, casting rumors, and location details.
The Titular Movie Critic Works at a "Porno Rag"
Tarantino told Deadline that the lead in his tenth story is based on a real guy. One of Tarantino's jobs as a teen was restocking a pornography-magazine vending machine. Sidestepping the legality of that as a job for a teen, Tarantino says he came to really appreciate the writing of the film critic for a "porno rag" he doesn't want to name. "He wrote about mainstream movies and he was the second-string critic. I think he was a very good critic. He was as cynical as hell. His reviews were a cross between early Howard Stern and what Travis Bickle might be if he were a film critic," he said. "He wrote like he was 55 but he was only in his early to mid-30s. He died in his late 30s. It wasn't clear for a while but now I've done some more research and I think it was it was complications due to alcoholism."
Tarantino Can't Go the Brad/Leo Route for the Lead
Tarantino says he wants to stay at least somewhat faithful to the life of this anonymous movie critic. That means he can't offer the lead to Brad Pitt or Leonardo DiCaprio, as they're both older than this guy ever got. "I haven't decided yet but it's going to be somebody in the 35 year-old ball park. It'll definitely be a new leading man for me," Tarantino said at Cannes. He also said he'd rather not cast a Brit in the role, but other than that he's keeping mum. Rumors are pointing to Paul Walter Hauser, but those remain unconfirmed.
Tarantino Is Filming in California
Variety reported that The Movie Critic (under the working title #10) got a $20 million tax credit from the state of California. This is hardly surprising, as Tarantino loves L.A. "I started directing movies here and it is only fitting that I shoot my final motion picture in the cinema capital of the world," he said in a statement. "There is nothing like shooting in my hometown; the crews are the best I've ever worked with, and the locations are amazing. The producers and I are thrilled to be making #10 in Los Angeles." When Once Upon a Time in Hollywood shot in L.A., entire stretches of Hollywood Boulevard were sent back in time to 1969. So when the Valley starts looking like the '70s, you'll know The Movie Critic is about 18 months away from being out.