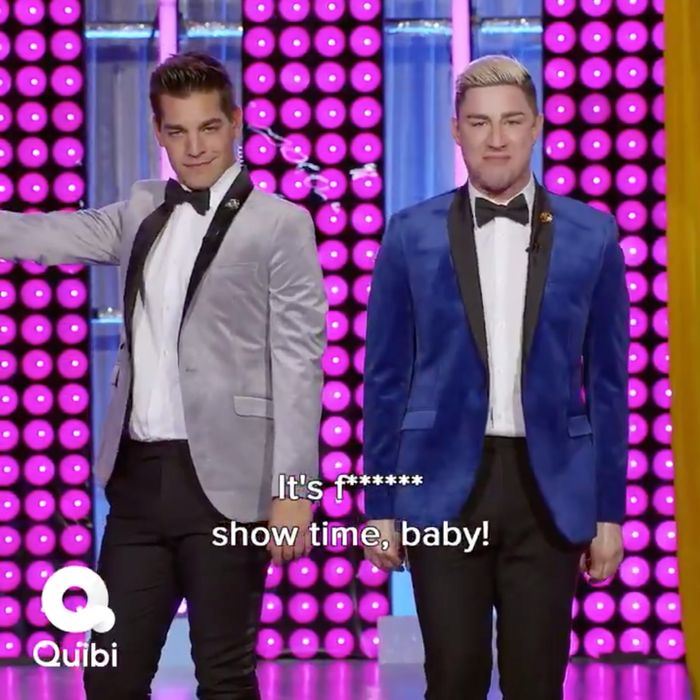 Gayme
Show
.
Photo: Courtesy of @Quibi/Twitter
This article has been updated with new titles.
A new challenger has entered the streaming wars — it's Quibi, a mobile-only service that promises content in "quick bites" of eight to ten minutes, whether that's series that are essentially movies in chapters, episodic shows, or news doses that are being labeled Daily Essentials. All of the programs have been specifically shot for viewing in either portrait or landscape mode, however you want to hold your phone.
But will people who already have dozens of quality streaming options want to snack on Quibis with their cracked phone screens and in between frantic group-chat notifications? Founder Jeffrey Katzenberg, CEO Meg Whitman, and their Hollywood–Silicon Valley hybrid raised more than a billion dollars in investments, including $150 million raised in advertising, believing that the answer is yes.
As part of its free 90-day trial that starts the day of launch, Quibi is going to use its huge slate of star power to get viewers' attention with tried-and-true thrillers, wacky reality TV, and educational documentaries, giving the sense that Quibi is trying to take on all of its competitors at once — from Netflix Originals to YouTube channels. With the world on the brink of Quibi mania, let's look at all of the 50 projects the streaming service is debuting as part of its launch. Keep in mind this is just the start of the 175-show roster Quibi hopes to have by the end of the year. But let's start with what's on the service right now.
Longform Narrative
Flipped 
The gist: The most promising part about this series is that it pairs Will Forte and Kaitlin Olson together; the worrying part is that the premise has some mold on it, as they play two new TV house-flippers hired by a Mexican drug cartel to renovate their mansions.
Stars and creators: Along with Forte and Olson, the story also includes Eva Longoria, Arturo Castro, and Andy Garcia. The project is directed by Ryan Case (previously of Modern Family and Atypical) and written by Steve Mallory and Damon Jones.
Most Dangerous Game
The gist: Liam Hemsworth plays a guy named Dodge Maynard at the center of yet another version of predator-versus-prey story The Most Dangerous Game. The predator in question? A slimy and powerful guy in a suit (played by Christoph Waltz, natch). This premise has worked over numerous different iterations, and the teaser trailer gives some hope that its thrills will have visual oomph on the small screen.
Stars and creators: Along with Hemsworth and Waltz, this title (directed by Phil Abraham) includes Sarah Gadon, Zach Cherry, and Aaron Poole.
Survive 
The gist: One of the more narratively ambitious offerings from Quibi is Survive, which has Sophie Turner and Corey Hawkins as two people trying to stay alive in the wilderness after a plane crash.
Stars and creators: Based on the novel by Alex Morel, Survive is directed by Mark Pellington; from a look at the trailer, it seems to be mostly Turner and Hawkins's time to shine.
When the Street Lights Go On 
The gist: Color us intrigued by this one, which mixes a coming-of-age story with the murder investigation of a girl. It sounds like last year's indie horror Knives and Skin without the '80s soundtrack, but we're always open to another Twin Peaks.
Stars and creators: Directed by Rebecca Thomas (who previously helmed an episode of Stranger Things and the Facebook series Limetown), the cast for this enticing murder mystery includes Chosen Jacobs, Sophie Thatcher, Sam Strike, Mark Duplass, Tony Hale, and Queen Latifah.
Episodic and Reality Shows
Chrissy's Court 
The gist: What it sounds like: Chrissy Teigen acts as a courtroom judge to real-life disputes.
Stars and creators: So far, we only know of Teigen and her mother's involvement, but we're sure some more star talent will pop up.
Fierce Queens 
The gist: Reese Witherspoon hosts this nature series that gives a close-up look at different females from the animal kingdom, including royal ants and quick cheetahs. Like a few other Quibi titles, this too sounds like something we'd want to have the option of viewing on a large TV, but maybe a phone will do?
Stars and creators: Witherspoon is acting as sole host for this series, and the show is made by BBC Studios' Natural History Unit.
Gayme Show!
The gist: Comedians Matt Rogers and Dave Mizzoni will host this game show that has an exciting approach: It seeks to uplift and celebrate the LGBTQ+ community and its allies. Celebrity "life partners" like Ilana Glazer, D'Arcy Carden, Trixie Mattel, and Jon Lovett are paired with straight contestants for a series of challenges. The winner earns the title of "Queen of the Straights."
Stars and creators: Other "life partners" include Nicole Byer, Rachel Bloom, Guy Branum, and more.
I Promise
The gist: When Lebron James opened his I Promise School in Akron, Ohio in 2018, Quibi's cameras were there. This docuseries will focus on different students, staff, and parents from the inspiring school who are working toward a brighter future, while also closing the achievement gap in Akron.
Stars and creators: James is listed as an executive producer, and the series is directed by Marc Levin.
Memory Hole
The gist: Like an I Love the '80s for cringe-worthy pop culture, this new show promises to look into historical events in pop culture that we either forgot or never knew happened. The first season's focus? Comedy in Canada, hosted by golden Canuck Will Arnett.
Stars and creators: Aside from Arnett, Jason Bateman, Patton Oswald and John Bradley are scheduled to appear.
Murder House Flip 
The gist: This home-renovation series seeks to put a polish on places where people were previously killed, or, in the words of Quibi, "from morbid to marvelous." No one would blame you for thinking this is actually that Safdie brothers–Nathan Fielder pilot that was just announced, as that project and Murder House Flip share a similar premise.
Stars and creators: Hosted by Mikel Welch and Joelle Uzyel, the series boasts producers from CSI (Josh Berman), Penny Dreadful (Chris King), and Extreme Makeover: Home Edition (Star Price).
NightGowns 
The gist: Sasha Velour (2017 winner of RuPaul's Drag Race) gets her own Quibi show, and it sounds like it could be one of the best: NightGowns will follow Velour as she adapts her drag revue into a stage production, which includes working with different members of her ensemble on their lip-sync performances. Each of the eight episodes will focus on a different person and their own story, leading to performances that will be phone-ready.
Stars and creators: Velour is listed as executive producer, and we can't wait to see who will be joining her.
Prodigy 
The gist: Megan Rapinoe hosts this series that highlights the life stories behind different young athletes, a roster that includes Regan Smith, the fastest woman in swimming history, Jalen Green (the No. 1 ranked high-school-basketball player in the country), Sha'Carri Richardson (the fastest woman in NCAA track-and-field history), and more. The inspirational factor for this show sounds pure and ready, and likely beneficial for the bite-size proportions.
Stars and creators: Directed by Lukas Korver and Rand Getlin, Prodigy lists Rapinoe as the sole host; other members of the "2020 Prodigy Class" include Red Gerard, Smith, Matthew Boling, Tyler Adams, Korey Foreman, and Chantel Navarro.
Punk'd
The gist: From the small glimpse that we've been given by Quibi, it looks like this version of Punk'd will take directly after the '00s version that starred Ashton Kutcher. If you've seen new host Chance the Rapper in front of any camera (like this Lyft-driver-prank video, the midnight-movie Slice, or the Netflix reality series Rhythm + Flow), you know that he has a charisma that TV has gradually been taking full advantage of.
Stars and creators: We know from the teaser that Megan Thee Stallion is one of Chance's targets, but the rest remain to be seen.
Run This City
The gist: Jasiel Correia II is the youngest man to ever be elected mayor of Fall River, Massachusetts, and at the same time is fighting charges from the FBI related to his previous company, SnoOwl. Run This City follows Correia as he faces a recall election and an unsuccessful attempt at a third term; it's a fascinating true story that we hope Quibi gives the proper coverage.
Stars and creators: From executive producer Mark Wahlberg, this series is directed by Brent Hodge.
The Sauce
The gist: Ann Arbor's Ayo & Teo have incredible dance moves, and this new series will follow them across America as they look for more dancers to compete head-to-head for a cash prize. A good deal of Quibi shows coming out on April 6 have an educational sense to their reality, and The Sauce looks like it will provide that — along with some healthy competition and assuredly unbelievable dance moves.
Stars and creators: The judge of the series will be none other than Usher Raymond IV.
Skrrt With Offset
The gist: Of the many exclusives that Quibi is offering, the service will also have a look at all the cars that Offset owns, and a peek into his car fanaticism. In the words of the Migos member: "[My fans] don't know how much I know about cars for real. This platform will let them see there is more to me than just buying cars."
Stars and creators: Aside from Offset's garage of over 30 sports and luxury cars, the series will feature appearances from Cardi B, Chance the Rapper, Dapper Dan, Lil Yachty, T-Pain, and Quavo and Takeoff from Migos. And as if marking a type of torch passing when it comes to garage shows, Jay Leno (of Jay Leno's Garage) will make an appearance too.
&Music 
The gist: In Quibi's bid to lead with star power, and also offer viewers some stuff they don't know, &Music will show viewers different creative processes between successful musicians and their unsung collaborators. It's an intriguing idea for a series, and the bite-size episode length could be just right when peeking into how Ariana Grande works with Scott and Brian Nicholson for her dance moves, or how Anderson .Paak shapes his style with Jasmine Benjamin.
Stars and creators: This Quibi series is offering up a wide variety of talent, adding to its appeal. So if you aren't as excited about the episodes with DJ Martin Garrix (about light) or rapper YG (about audio), there's also an episode with reggaeton singer J Balvin (about mind), or one with Ozzy Osbourne (about writing).
Gone Mental With Lior 
The gist: Quibi seems to have noticed all of those Netflix magic- and mentalism-related shows and has recruited mentalist Lior Suchard to lead its own. In a fashion that's very Quibi, its mind-reader series, Gone Mental With Lior, throws a bunch of celebrities in the mix.
Stars and creators: Suchard will be picking the brains of the following: Kate Hudson, the Miz, Big E, Sasha Banks, Bayley, Ben Stiller, Rob Gronkowski, James Corden, David Dobrik, and Zooey Deschanel.
Shape of Pasta 
The gist: Hosted by Chef Evan Funke, Shape of Pasta is a food adventure in search of pasta masters. When Quibi was introduced during an hour-long presentation at CES 2020, this pasta adventure series was one of the shows it used to demonstrate Quibi's cinematic potential in both portrait and landscape mode.
Stars and creators: Hosted by Funke, this series comes from executive producers Tim Duffy, Mike Duffy, and April Jones.
Singled Out
The gist: Quibi is rebooting the chaotic MTV dating show where dozens of audience members have a chance of winning a date with one person. This version, which promises to be more inclusive, comes with a modern twist — the main dater will interact with the people through social media.
Stars and creators: Following in the footsteps of '90s hosts Jenny McCarthy and Chris Hardwick, Singled Out will now be hosted by Keke Palmer and Joel Kim Booster.
Thanks a Million
The gist: A good deal of Quibi content appears to be inspired by the most successful forms of YouTube videos. Case in point: the unscripted series Thanks a Million, which in YouTube title–speak would be called "Gave $100,000 to Random Person (Crying)!" Whether this series from executive producer Jennifer Lopez turns out to be more than that — with celebrities paying it forward to everyday people — we expect a whole lot of crying faces and swelling music. Charity is a beautiful thing, but this series sounds like it's trying to turn its emotional payoff into bite-size science.
Stars and creators: Lopez is just one face in the list of celebrities who will be passing around a total of $1 million — she'll also be joined by Kristen Bell, Nick Jonas, Tracy Morgan, Aaron Rodgers, Yara Shahidi, Gabriel Iglesias, Anthony Davis, Kevin Hart, and Karlie Kloss.
You Ain't Got These 
The gist: Quibi is going to highlight sneaker culture with You Ain't Got These, which prominently features Lena Waithe. Though we don't know much more than that, it sounds like this could be a great example of Quibi uniting big names and education. Plus, we'll get to see featured guest Hasan Minhaj talk even more about being a sneakerhead.
Stars and creators: With Waithe acting as executive producer, episodes will feature Carmelo Anthony, Billie Jean King, Candace Parker, Questlove, Nas, Jazerai Allen-Lord, Kerby Jean-Raymond, Mike Epps, Jemele Hill, Josh Luber, and Eric Koston.
Dishmantled 
The gist: Quibi is bidding for day-one attention with some far-out reality shows that hook you in with their ridiculousness, and Dishmantled goes to the top of that list. Check the premise: At the beginning of an episode, two blindfolded chefs will have food blasted at their faces via cannon and then have to work to create the original dish.
Stars and creators: Maybe host Tituss Burgess will help this show make more sense, or at least it will be funny when he hosts guest judges like Wolfgang Puck, Jane Krakowski, Antoni Porowski, Rachel Dratch, Dany Levy, Roy Choi, and more.
Nikki Fre$h 
The gist: For years, Nicole Richie has been dabbling with a hip-hop alter ego named Nikki Fre$h. If you didn't know that, here's a glimpse at what you've been missing.
Stars and creators: Richie is the only person. But as with other Quibi ventures, you never know who will pop up.
Daily Essentials
Quibi's bid for viewers' eyeball time comes with a sense of also giving them the news, culture, and wellness insight they crave. Behold their "Daily Essentials": an impressive roster of different, mostly daily news shows that seek to keep people informed but also entertained.
News, News, and More News
Quibi's news coverage will come from various sources. For example, 60 in 6 will take CBS's 60 Minutes into bite-size form, and NBC News will offer four different shows made exclusively for Quibi: Morning Report, Evening Report, Saturday Report, and Sunday Report. Then there's the BBC's Around the World, which will focus on international stories. Telemundo will have Pulso News, anchored by Andrea Martinez. For weather news, Quibi will have Weather Today, a three-to-five-minute show from the Weather Channel that offers national forecasts. And don't forget Canada, as CTV News has two new shows coming to Quibi, NewsDay and NewsNight.
Culture
From day one, Quibi has an exciting approach to offer many different perspectives about the world as a whole. Telemundo's For the Cultura celebrates Latinidad and all things pop culture; Fashion's a Drag, hosted by Willam Belli and Denise Bidot, will have drag queens breaking down celebrity fashion; The Nod With Brittany & Eric will take after the acclaimed podcast hosted by Brittany Luse and Eric Eddings, with five episodes a week that highlight the creators and thinkers of black culture.
Sports Stuff
The options for sports are down to two for now, but we can't imagine that will be the case for long if Quibi proves to be a success. ESPN will keep Quibi fans up-to-date on American sports with The Replay; Canada will also have its own untitled sports show, which will stream every morning, seven days a week.
Pop Culture
Quibi is going to boast some expansive coverage of TV, celebrity news, fashion, and more right from the start. Their pop-culture series include roundup approaches like Last Night's Late Night, a recap of the best interviews and sketches from yesterday's talk shows. If TMZ is your thing, Quibi has two shows from the publication under the title of No Filter, one for the morning and one for nighttime. Close Up, from E! News, will focus on Hollywood and celebrity culture. Then there's Pop5, hosted by Tim Kash, which is geared toward pop music; Polygon's Speedrun will highlight gaming news; Fresh Daily comes courtesy of Rotten Tomatoes for recommendations in streaming, TV, and film. Quibi will even have its own showcase for emerging comedians, with daily series Hot off the Mic getting deep into the world of comedy while being filmed at comedy clubs across America. And for your trailer needs, the service will have a full series dedicated to previews, courtesy of Fandango.
Wellness
The service's brief, episodic approach is hoping to reach viewers in means of making their lives a little better, too: Rachel Hollis will host The Rachel Hollis Show, Quibi's unique take on the daily talk show, with moments of motivations and inspiration. For matters concerning a Quibi user's sex life, renowned sexologist Shan Boodram will host Sexology with Shan Boodram. And we think it counts to put All the Feels on this list too, a show from the Dodo that will likely take after its numerous viral videos of cute, sweet, non-stressful things that provide a different type of entertainment. Last but not least, Quibi even has its own ASMR series, The Daily Chill, which promises to combine "guided meditation and awe-inspiring visuals" which are scientifically proven to help you relax. Touting it as part of the CES keynote speech that helped bring Quibi to where it is today, Katzenberg said, "Trust me; it worked on me. I'm pretty sure it's going to work on all of you."