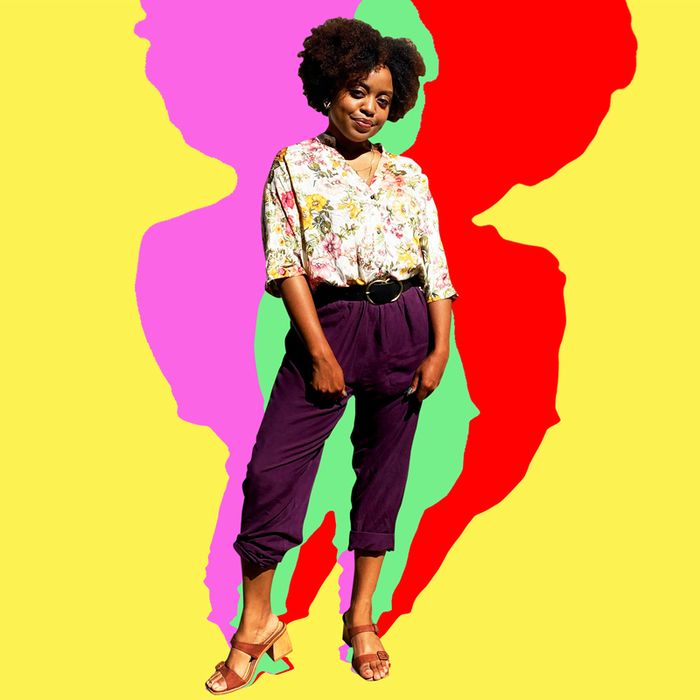 Quinta Brunson.
Photo-Illustration: Vulture and Photo courtesy of comedian
This week, we're highlighting 20 talented writers and performers for Vulture's annual "Comedians You Should and Will Know." Our goal with the list is to introduce a wider audience to the talent that has the comedy community and industry buzzing. (You can read more about the methodology at the link above.) This year, for the first time, we also asked the comedians on the list to answer a series of questions about their work and comedy under quarantine. Next up is Quinta Brunson.
When did you feel that you were funny enough to make a legitimate go at comedy?
In high school I had an obsession with comedy no matter what form. From Martin to Anchorman to Chaplin, I was obsessed — that was the first sign that I wanted to be in the arena. I could make my boyfriend and friends laugh, but the real testament was when I took an improv class, was effortlessly good and happy, and the teacher pulled me aside and gave me money out of her own pocket to keep doing it. Someone giving you free money to do something is very motivating.
Describe your comedy in five words.
Subtle, objective, enjoyable, comforting, caring.
If you weren't a comedian, what would you be doing?
I'd probably be teaching. I love working with kids, and I miss it often. It's good for the soul. I used to teach dance to kids, and I do miss having that kind of connection with younger people.
What of your work do you think you're best known for?
Tough question. Quite frankly, I don't know the answer. I've learned that there are people that don't know "the girl from BuzzFeed," "the girl from Black Lady Sketch Show," and the "he got money girl" are all the same person. So I can't really gauge that.
What's some of your work that you're most proud of?
I think that I'm most proud of my old sketches with my friends Justin and Zack. We synced up on what we thought was funny, and successfully turned it into good product. I still see those sketches shared to this day. The three of us supported one another to fulfill our little visions just as we saw them, and that's not easy: See a project, no matter how big or small, all the way through as you envisioned it. I'm proud we were able to do that.
How has quarantine affected the way you approach your comedy and your audience?
I'm motivated to champion the stories of everyday people more now. I always wanted to, but I think it was exciting, prior to this pandemic, to talk about my cutesy pseudo-privileged problems. People eat that stuff up. And I don't think there's anything wrong with that. Problems are problems and truth is truth. But now, I want to help create stories based around people who make communities work: teachers, nurses, neighbors, carpenters, etc. People who I feel aren't appreciated enough.
What have you done in quarantine for comedy that you thought you would never do? 
Zoom shows.
Who are some of your favorite comedians right now? Who is putting out work that excites and inspires you?
Taylor Garron is incredible, exciting, and nuanced. I genuinely love reading her work and getting her takes. I also enjoy getting drunk with her in New York. I think Sam Jay is a revelation. Karlous Miller cracks me up, even though he shouldn't because he's highly inappropriate. What can I say, he's funny. Zack Fox and Jak Knight make me laugh so much that I have to turn off group texts. Ayo Edebiri is special. Anthony Moore is uniquely Philadelphian and I love that. I can go on and on and on.
What is the best comedy advice, and then the worst comedy advice, you've ever received, either when you were starting out or more recently?
When I was starting out, someone gave me the advice to just stay in the box I was in to succeed rapidly. I'm glad I didn't take that advice, because I got to grow into who I am now. I may not be as rich, but I'm proud of myself and happy with myself and not a lunatic stuck in one phase.
Tell us one story from your childhood that is a good representation of your life.
On my sister's wedding day, I was the 10-year-old flower girl. When the bridal party was getting out of the Ford Expedition to go into the venue, the person who got out before me didn't realize I was behind them and slammed the huge door on my hand. I refused to scream, because I didn't want to take away from my sister's big day. I sucked it up, went inside, and held back tears as my hand turned red. The wedding started, and as I was passing out flowers, my mom spotted my cherry-red hand and lost it. She asked me why I didn't say anything. I told her "I wanted to be a G!" That's me.
Assuming quarantine ends at some point, is there anything about the way that comedy or the industry in general has changed that you hope continues post-quarantine?
More on the writing/development side, I just hope meetings can continue being on Zoom if they don't need to happen in real life. I think that's good for everyone, especially me.