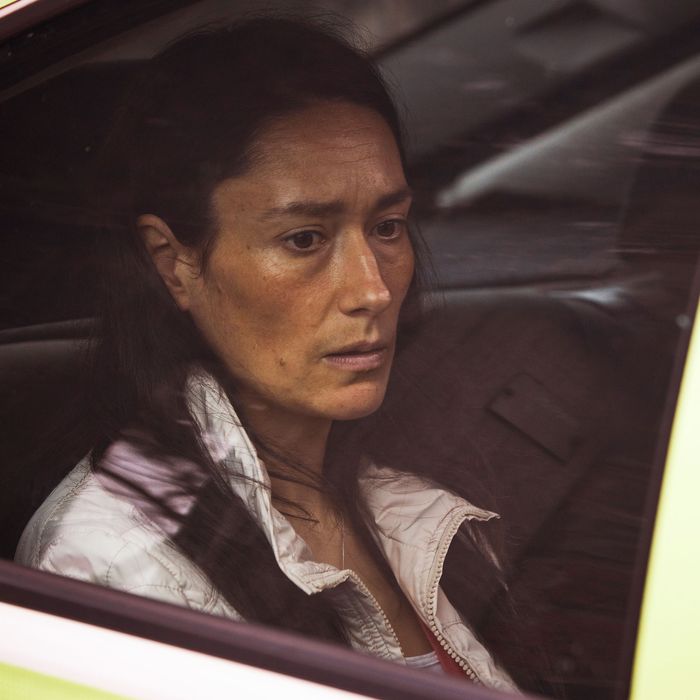 Photo: Matt Frost/AMC/ITV
In trying to describe the uniquely weird experience of watching Quiz, I keep coming back to George Orwell's idea of doublethink — the act of holding two contradictory beliefs in your mind simultaneously, and accepting them both to be true. Creator James Graham told the New York Times this week that the show required an unusual number of takes, because Matthew Macfadyen was essentially asked to give two performances: one in which Charles Ingram is guilty of cheating, and one in which he's innocent. And rather than picking one version, Graham and director Stephen Frears instead let uncertainty reign by using pieces of both, and creating moments within a single episode in which both scenarios seem equally plausible.
The opening moments of episode two seem to be laying the groundwork for a clear narrative in which the Ingrams did cheat. Diana and Adrian are shown testing an elaborate system of vibrating pagers, which is a reference to an aborted plan that was alleged by the prosecution at trial, but never proven. Charles is also shown to have a truly dismal level of general knowledge (at least when it comes to British soap operas), suggesting he doesn't stand a chance of winning fairly, and this is borne out once he actually gets onto the show. His first night of taping goes so badly that although he's still in the running by nightfall, nobody is expecting him to last much longer. After watching Charles's dismal performance with an expression that's right on the precipice between murderous and suicidal, Diana takes another step that looks highly suspicious at best, and calls up Tecwen Whittock — who's scheduled to be a Faster Finger First the following day — "for a chat." That's all we see, but the next day, Tecwen's strategically timed coughs become a smoking gun.
Okay, but let's backtrack: Charles Ingram, both in real life and as played by Macfadyen, is an extremely entertaining contestant, right from the moment he starts proudly declaring his strategies and sub-strategies. The things that made his behavior suspicious — the out-loud thought processes, the zig-zagging between answers, the self-deprecating acknowledgment that he's bad at quizzes — are also the things that plainly delight both the studio audience and a bemused Chris Tarrant, who's having a whale of a time making gentle fun of him throughout. When the producers make the decision not to air the segment, it's painful not only because of the potential cheating, but also because they know it's such good television. (The episode never did air in real life, but segments of it were made available as part of a 2003 Trevor McDonald special, and much of the episode has now been reconstructed on YouTube.)
As Charles bumbles his way higher and higher up the proverbial cash mountain, flip-flopping back and forth before finally landing on the winning answer to questions he openly admits he doesn't know anything about, producer David Briggs is visibly sweating. He knows something is happening, but he doesn't have evidence, until a sound engineer identifies a pattern of coughing coming from the Fastest Finger First seats, which seems to clearly coincide with Charles saying the correct answer out loud.
Or… does it? Graham does a nice job of using the various senior figures at Celador as a kind of Greek chorus to illustrate just how ambiguous this whole situation is. Some producers, like Briggs, are absolutely convinced that the Ingrams cheated, while others like Ruth Settle, the head of PR, think the whole theory is absurd. And this is where the doublethink of it all comes in, because there are scenes in the back half of this episode that make basically no sense if the Ingrams are guilty. They seem genuinely bewildered, and indignant, when Celador accuses them of cheating, and share private conversations that don't sound at all like what two guilty people would say to each other if they'd been found out.
Charles's initial reaction to being accused of lying is the closest he comes to seeming guilty; he's unnervingly and strangely calm, as though he knew this was coming. But confusingly, he's also not shown taking part in any of Diana's string-pulling — not the pager caper, and not the call to Tecwen — and the couple aren't shown conspiring together in any way. There's no way for either plan to work unless Charles, the actual contestant, is in on it, so this feels like the show trying to have it both ways and making its characters borderline incomprehensible in the process.
The episode closes out on the Ingrams's defense lawyer (Helen McCrory) positing that the Millionaire producers were so worried about the possibility of cheating that they fell prey to confirmation bias. "These supposedly significant coughs are only 19 out of 192 recorded," she points out, before promising to prove that Diana and Charles are merely the victims of "a series of horrible coincidences." We know she didn't manage to convince the jury, but will Quiz manage to convince us?
Bonus Round:
• The fact that Charles Ingram appeared on Millionaire the day before 9/11, and that the fallout at Celador was interrupted by that breaking news, is another one of those real-life details that you'd never buy if it were written into a fictional story.
• The fictional Chris Tarrant seems dismissive of the possibility that Charles might have cheated. ("That terribly nice major, a criminal mastermind? Bollocks.") In real life, though, he's absolutely sure the couple are guilty, and recently called Charles "a rotter and a cad and a bandit."
• "Celebrity Crime Squad? Sounds like a shit detective show." "Sounds like something we'd make." With deep affection, as someone whose British childhood was heavily shaped by ITV content … this is not inaccurate.
• "Morning, Major." "Morning, Fawlty." A Fawlty Towers reference? I love to see it!
• So let me get this straight: the glitter man's job is to sit in his van eating pastries and jamming out to '80s hits all day, on the off-chance that somebody gets close enough to the big prize for his glittery services to be required? Where do I sign up for that gig?