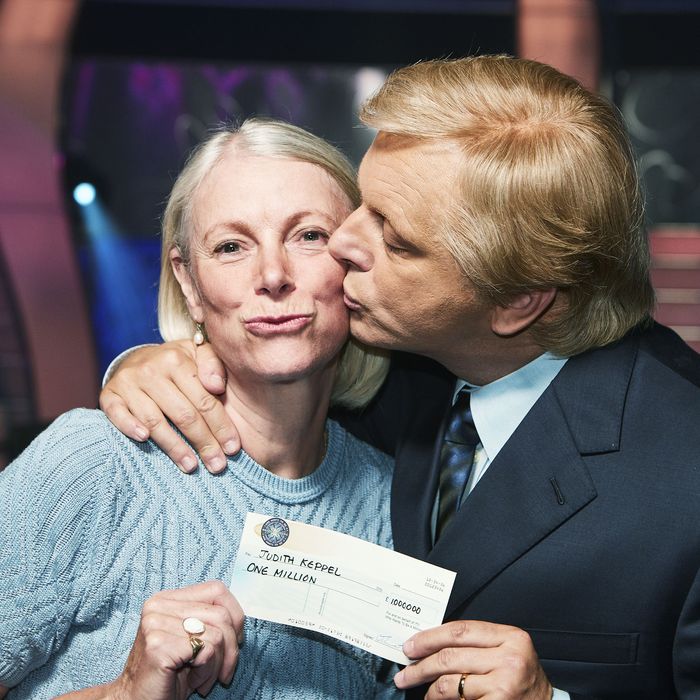 Photo: Matt Frost/AMC/ITV Matt_Frost/B) 2019 AMC Film Holdings LLC and ITV. All Rights Reserved.
The timing of Quiz, an ITV-via-AMC dramatization of an early-aughts British caper so wacky you couldn't make it up, is either impeccable or disastrous. This is a show whose entire storyline hinges on the act of coughing in public, which in the age of the coronavirus has gone from a minor faux pas to an unthinkable sin tantamount to assault. I'm personally so hyperaware of every cough I hear now, both from myself and from others, that certain scenes in this show are triggering in ways they wouldn't have been three months ago.
A primer, in case you're unfamiliar with the coughing scandal that rocked the U.K. to its core back in 2001: Army Major Charles Ingram, now widely known to Brits as "the Coughing Major," allegedly cheated his way to the £1 million prize on Who Wants to Be a Millionaire by conspiring with both his wife, Diana Ingram, and with an accomplice in the audience, who coughed to indicate when the correct answer had been said. Ingram is played here by Matthew Macfadyen in a Tom Wambsgans–adjacent performance that conveys dopiness in some moments, intelligence in others, and thus preserves much of the real-life ambiguity around the man.
The Ingrams maintain their innocence to this day, and the lack of conclusive proof one way or the other leaves Quiz in a tricky position that it doesn't always navigate smoothly. Writer James Graham, adapting his own West End play of the same name, has to straddle several possible narratives at once: Did the couple conspire together to steal a million pounds? Was Charles a patsy led to slaughter by his Lady Macbethian wife? Or were they both completely innocent victims of a deeply unlikely series of coincidences?
This pacy first episode doesn't have to worry much about these unanswerable questions, instead taking us on a rip-roaring rollercoaster ride through the origin story of the Who Wants to Be a Millionaire? franchise, how it shook up TV on both sides of the pond, and how an unlikely underground faction of fans made it their mission to hack the show.
In October of 1997, newly installed ITV boss David Liddiment (Risteard Cooper) has one goal in mind: Beat the BBC. ITV has been getting trounced in the ratings by its esteemed rival, especially on big national events like the recent funeral of Princess Diana ("tragic as that was, goes without saying," Liddiment quickly adds). Rather than competing for eyeballs on national events, he wants ITV to create event television of its own, and along with a few colleagues he dreams up the idea of a quiz show with an unusually high-stakes prize: one million pounds. After a few early stumbles and the quickly abandoned title Cash Mountain, the show becomes a hit, riding high on the tension of watching people making life-changing decisions on the spot.
As the show gradually becomes a phenomenon drawing 16 million viewers, a.k.a. almost a third of the UK population at the time, Charles, Diana (Fleabag's Sian Clifford), and her brother Adrian (Trystan Gravelle) are watching at home. Diana and Adrian are mutually obsessed with quizzes and can't get enough of the show — they're even working on a book about it together — while Charles is nonplussed by the whole thing. He's a military man who likes the Army because it's "wholly away from the limelight, the uniform anonymizes you,", and after a term in Bosnia, he's made a voluntary move to desk work in the English countryside, seeking a quieter life for his family. Good luck, sir, I foresee no issues with this endeavor.
Adrian, though, is not about that quiet life. He's calling the Millionaire hotline day and night trying to get on the show, and here's where we learn his love of quizzes isn't entirely pure. He's also deeply in debt, apparently thanks to the dreaded Dot-Com Bubble, and could really use a cool one mil. When he finally makes it into the pool of potential contestants, he meets a kindred spirit, a tightly wound blonde who's part of a network of super-fans. They share information to boost each other's odds of being chosen, but "you have to be serious," she tells him, with a bright-eyed intensity that suggests she will absolutely cut him if he's not.
At her urging, Adrian enlists the services of Paddy Spooner (Jerry Killick), a mysterious ponytailed biker who's reached the status of a demi-god in Millionaire fan circles, having appeared on no fewer than three different versions of the show. In theory, that's against the rules, but "they don't check," Spooner says with quiet glee. "There's a lot they don't check." A subset of upper-middle-class quizzers have figured out how to game the system, he explains, and for a modest fee he'll let Adrian in on the secrets. This scene is the show at its most joyously and knowingly absurd, with Spooner casually murmuring gems like, "We call ourselves The Syndicate." Of course you do. (This, like so many of Quiz's wilder details, is absolutely true, although in real life it was The Consortium.)
Adrian, balking at the price of Spooner's services, decides he's more than capable of concocting his own deranged scheme, thankyouverymuch. In order to get into the coveted Hot Seat, potential contestants must take part in a qualifying round called "Fastest Finger First" (yes, I have notes on this name also), where they're given a question with answers that must be placed in a particular order, and the fastest respondent is chosen. Adrian crafts his own Faster Finger First machine to practice on, and those newly nimble fingers finally get him into the chair opposite Millionaire host Chris Tarrant (Michael Sheen, clearly having a ball with this impersonation of a British TV legend). Neither Tarrant nor the producers are thrilled to discover that this is Adrian's fourth attempt to get in the chair, but they don't worry for long since he's knocked out after winning just £32,000. Not too shabby, but also not enough to climb out of the financial hole he's in.
And so the Ingrams are activated. Adrian brings them in on his quiz bunker, which is filled up with Carrie Mathison-esque walls showing optimal call times and studio diagrams. While Charles is fittingly creeped out, Diana is intrigued, and only too happy to accept Adrian's Fastest Finger First machine to practice on herself.
After Diana's turn on the show ends with another £32k disappointment, Adrian dramatically announces that he has to skip town to escape his mountain of debt, and solemnly bequeaths Diana his little black book of quizhead contacts. She accepts this passing of the torch enthusiastically, and ropes in a much less enthusiastic Charles for his turn in the chair. A couple of brief flash-forwards to the criminal trial in 2003 let us know exactly how this is going to turn out, but for now, Charles "I don't even like quizzes!" Ingram is this family's one shot at Millionaire glory.
Meanwhile, the show's producers have sniffed out something fishy in the selection process. "Is it me, or have they all started to look a bit … the same?" co-creator David Briggs (Elliot Levey) asks nervously, looking out at the assembly of white, middle-class potential contestants. This is a problem not only because the show is getting boring, but because Liddiment suspects foul play. He absolutely doesn't know the half of it.
Bonus Round:
• Diana's barely concealed irritation at having to feign interest in her daughter's piano recital right in the middle of a vitally important pub quiz … a mood.
• Chris Tarrant's barely concealed irritation at seeing good ol' Adrian back in the studio for a fifth time … also a mood.
• Charles and Diana's co-conspirator Tecwen Whittock, who we'll see a lot more of going forward, is played by Michael Jibson, best known to musical fans as King George III from the original London production of Hamilton. This knowledge really brought a welcome extra edge of mania to his performance for me.
• "People love a good pub quiz. A uniquely British invention combining our two greatest loves: drinking and being right."
• I am highly invested in the mystery of why Charles told his commanding officer that the family has a cat, when they appear to only have a dog. What is the truth, Charles?!?!
• "Adrian … that's really bad form." The most British response to the news that your brother-in-law's about to go into hiding because he can't afford to repay his debts to your family.