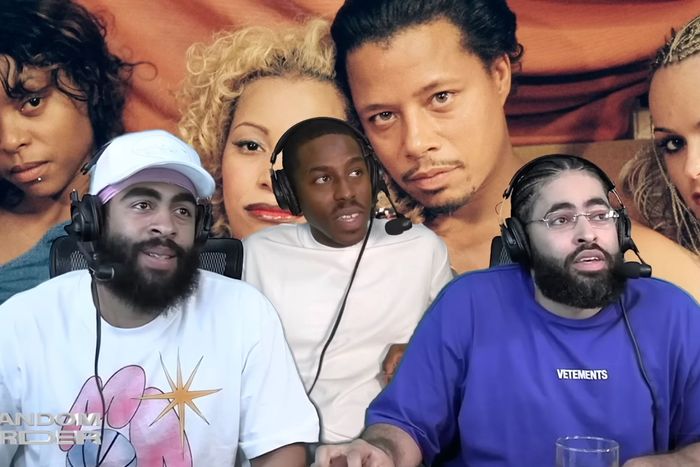 Are you new to comedy podcasts, overwhelmed by the array of options, and wondering where to begin? Then welcome to "Start Here," a recurring guide to the best comedy podcasts available — and our recommendations for which episodes are the best entry points into your next auditory obsession.
If the enduring success of the Ur-show about nothing proves anything, it's that a bunch of best friends trading dumbass opinions is the third-purest form of comedy (after slipping on a banana peel and farting). After all, why spend money on research or producing some big narrative when you can simply talk nonsense with your buds and make content that's just as fire? Brothers Trevaunn "Trey" and Jermaine "Jae" Richards and Sheldon "Shellz" Sabastian, the Toronto-based hosts of the Headgum podcast Random Order, understand this inherently, having turned their gentle, free-flowing thought salons into a veritable media empire in less than five years. Each week since January 25, 2019 (the same day the Richards ended their previous YouTube talk show, GroupChat), Trey, Jae, and Shellz have dropped conversations about hot sauces, missed flights, Theraguns, Canadian race relations, Ikea arguments, or some other total nonsense in a cross-platform barrage of downloadable audio and video. Their fan base — encompassing 14 million views on TikTok, hundreds of thousands of YouTube and Instagram followers, and a rare five-star rating over more than 1,500 reviews on Apple Podcasts — quickly grew ravenous and now regularly sends clips from the latest episode viral across one or more of those platforms. Picture Vulture writers on the day after a new Saturday Night Live airs but everywhere.
Despite its title, Random Order is not totally without structure. Like many comedy podcasts, it has developed a bevy of in-jokes familiar only to those devoted listeners, like sound drops confirming the hosts are "locked in" or the refrains "Yes ma'am" and "Amen" after a tight joke. Jae and his fellow editors Roji Meza, Sahil Kumar, Yilmar, Tia Pia Bia, and Bogdan also divide each "swell episode" into discrete segments for YouTube, then punch the jokes up with spastic Ebaum's World-inspired green-screen edits for maximum social-media appeal. Most recordings then end with a "Ring Cam Moment of the Week," which is exactly what it sounds like.
It's the ineffable, Thoreauvian chill among the hosts — their weekly recapturing of it, the miraculous distilling of it — that makes the podcast soar as high as its bald-eagle mascot. Though the subject of conversation shifts rapidly from minute to minute, Trey, Jae, and Shellz always chat together like Ian McKellen recites Shakespeare: effortlessly. Without exception, one can expect their conversations to be both stubbornly formless and hysterically funny.
Should that inspire in you an unquenched curiosity, dip your toe into "When Vacation Turns Into Bootcamp," the 126th episode of the series from February 11, 2023. With 54 minutes cut into 19 time-stamped topics, it serves as a bravura showcase for the trio's breezy, relatable comedy.
The first 23 minutes and 35 seconds center around Shellz's recent journey towards swoleness. In a segment titled "Sheldon has had ENOUGH with bootcamp," Sabastian reveals that he's been pumping iron at the gym all week and is exhausted to the bone. Trey suggests he find the right tunes to keep himself "activated" during his workouts so he doesn't feel like he's "in the Gulag," then his brother chimes in that Sheldon needs to find "the right joint" to get that mental right first. "I've never been sitting down fucking bumping 50 Cent with a boner," Jae warns as the cover of Young Thug's mixtape Slime Season pops onscreen behind him. "Asterisk: You gotta have them jamz."
It isn't just a lack of psychic toughness hurting his gains, Sabastian admits. In Meza's next segment, "other people in the gym," Shellz complains about the various jerks interrupting his workouts, including some yoked 65-year-old stranger who has taken to randomly jumping onto his machines if he takes a 30-second break. Jae, again the voice of wisdom, cautions him not to spend too much time staring angrily at anyone, lest he wind up in one of those "dirtbag at the gym" videos. "You're just looking around the gym at people," he says, "scrolling TikTok, and there's you — the fucking dirtbag!"
But Sabastian is unintimidated by Jae's threat. Flexing his still-slender biceps like Terminator-era Arnold Schwarzenegger, he offers his own warning: "I'm clapping back, you feel me? I'm excited for my future in fitness. Ima see y'all in a year, man, and Ima be fuckin …" Trey's eyes go wide in terror. "Oooh, shit, shit. Shel is here!" Jae taps the soundboard approvingly: "Locked in."
The next 30 minutes of topics are, by comparison, complete non sequiturs. At 27:57, Jae shows footage from a break-in at Ontario's Vaughan Mills shopping center (Trey: "He fucked up by driving through those front doors instead of the Calvin Klein doors. I'd've got some boxers"). A minute later, editor Yilmar fills the green screen behind them with kaleidoscopic images of wedgies, Fortnite-branded undies, and "crunchy" Dickensian socks. The hosts follow Yilmar's lead, turning their talk to the time Trey's shoes were soaked after he fell into a four-foot-deep sewage hole: "You never want to be in mysterious waters," Jermaine jokes, looking queasy. "I just be thinking of my organs. It's touching my meat!" Sabastian closes his eyes in sympathy: "What locks in my mind is: I piss shit out, but shit can go in there too."
Kumar takes over the editing in the following section, but it's no less distractible than Yilmar's. "Where do tuba players practice?" the hosts suddenly ask after 38 minutes and 27 minutes. (Their conclusion? The closet, of course.) That quickly makes Trey wonder if he should invest in his own instrument, perhaps a "secret harmonica," which in turn sends Shellz down an etymological spiral about who actually invented the instrument. As YouTube commenter Kwan Don puts it, "'You think Monica was named after Harmonica?' might be the funniest thing Sheldon ever said 😂😂😂😂."
Only in the end segment, a devastating installment of "Ring Cam Moment of the Week," does this stream of consciousness finally break. In the video, a woman leaves her house in the dead of night, only to immediately slip legs-first off her icy porch. It's easily the most horrifying Ring footage in the show's history (watch it here at your own peril), and she looks so hurt at first that no one knows whether to laugh or cry. Finally, she stands up, and the room breaks:
Shellz: "I wouldn't wish that on my worst enemy."




Jae: "That's that Home Alone shit."




Trey: "What pisses me off about that whole video is: Why is my bag perfectly upside down? Now I've gotta lift it up?"




Shellz: "The pain ain't over."




Jae: "My soul would fast-forward through time."




Trey: "OB, man. Out-of-body."
With his team falling completely to bits, Jae barely manages to sputter, "We out, man!" as the RO logo swings into view. It feels like a perfectly swell conclusion, as promised. But would it be better if we actually knew whether or not that woman was all right? Yes, ma'am, it would.