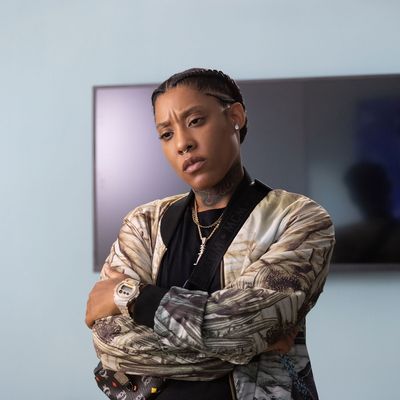 The puzzle pieces of Mia and Shawna's burgeoning rap career fall into place as they find a manager and producer to help them along. Lamont and Mia go from co-parents to co-collaborators when she asks him to produce "Seduce and Scheme." The win comes after Lamont has a particularly frustrating day that involves his car getting repossessed and a months-long unpaid invoice. With his money tied up, he resorts to selling his AP to scramble for cash. He asks Mia to bring a car seat to the studio since his is in possession of the bank. When she arrives, she senses his frustration and offers to give him the money for the car in exchange for commissioning him to produce her song, admitting to respecting his work ethic.
Lamont is the type of guy I imagine relates to clips of alpha-male podcasts featuring men sitting around in front of a microphone spouting rhetoric about "females" and who knows what else with red solo cups in their hands. The kind of guy who likes Acne jeans and might have a sizable collection of Bape and Billionaire Boys Club T-shirts; he drinks Hennessy or Casamigos and is fiercely focused on his grind. So far, we've only seen him in the context of being Melissa's father and Mia's less than supportive baby daddy. This week, we follow Lamont on the day he's supposed to be watching Melissa, getting a better glimpse of his character.
His definition of "daddy duty" includes watching Scarface with his daughter before passing responsibility off to his mother so he can go to the studio. This is when he realizes his car has been repossessed and heads off to the pawnshop to secure cash. His mother, knowing his line of work as a producer is not stable, reminds him of a job opportunity at a local church. Not exactly where I picture Lamont, but I know his church suits would be fire. At first, when Mia offers to give him money for the car, he sneers at the idea, not wanting to take what he perceives as a handout, but accepts under the condition of producing "Seduce and Scheme." Mia and Lamont head to Shawna's apartment so he can work his magic on the track. He's impressed by what they have so far and then adds a lil ass-shaking funk to it, which Shawna and Mia immediately approve of.
The theme of the entire episode is scheming and seducing; everyone is about their hustle, and everyone has a motive. The slickest, and maybe most desperate, hustler is Chastity, the self-anointed Duke of Miami, or Duke for short. Played by previous Bad Girls Club cast member (yes, you read that right) Jonica "Blu" Booth, Duke is desperate to climb the Miami social ladder as a club promoter. Her main source of income comes from being a pimp — sorry, I mean "sex-work manager," as she likes to put it — starkly contrasting her namesake. She's a thirsty hanger-on, using any glimmer of clout to try and make a name for herself; we see one of her targets is Guapdad 4000, who appears again in this episode. She tries to take a cut directly from the rapper but gets brushed off by his manager. Her eyes are set on being the main promoter at the Office, the strip club Mia used to work at, but, like Lamont, she quickly encounters a speed bump deterring her from her goals.
Duke lives with her uncle, a man with perennial couch sitter energy, who also "manages sex workers," though I doubt he would use such terminology. They share a home with a few of their employees (I loved the Lil' Kim "you're in the hood now, baby" reference). Business for her uncle has been slow, and he requests Duke cover the rent. Or I should say demands since, as he tells his hoes, he "doesn't negotiate with bitches." At the end of her patience after getting a less than sufficient cut of last night's bottle service from her boss at the Office, Duke ventures to the dancers' dressing room to recruit more employees. There, one of the dancers shows Duke the viral video Shawna and Mia made, planting the seeds of an idea in her head.
As she's leaving the Office, one of the sex workers Chastity manages calls her to inform her that she got robbed while on the job. In an attempt to reenact the situation, we get an amazing pantomime of fellatio on a curved penis. They lost their entire earnings for the week, with the only indication of the robber's identity being his vehicle, a black Nissan with a Miami Heat logo. After picking up her bossiest employee, who is thoroughly disappointed in the rookie mistake made by the other girls, Duke decides to officially shoot her shot with Mia. She convinces Mia to help promote them, pro bono, as long as she can be their manager.
Shawna isn't exempt from some scheming of her own: She's still scamming credit cards, sending the card numbers to an anonymous source, who is now revealed to be Maurice. Maurice is a scammer with a diversified portfolio; in addition to credit card fraud, he's also involved with fake IDs. Along with his cousin, Maurice uses the stolen money to rack up a large purchase from a local superstore, with a Good Girls–esque scene of Maurice cunningly circumventing the cashier's request for identification.
Later, Maurice and his cousin pack up the loot, preparing to ship it back to Haiti, where they have extended family. But, before that, Maurice visits Shawna's apartment to give her another deposit for her participation in the credit card scheme. He asks her why she needed the money so urgently, and she brushes it off, citing student loans, rent, and new studio equipment. Even Lamont notices the new, high-priced equipment, getting a slightly shifty response from Shawna, who claims she would be selling the equipment back, covering up suspicions about her cash flow. Even though things are coming together for our rap duo, one wrong step could burn it to the ground.
Bad Bitch Banter
• Another recognizable face from Insecure this week! Maurice's cousin is played by Jean Elie, who also played Issa's brother in Insecure. The Haitian representation added even more culture to the series and is a joy to watch. However, I'm concerned by the recklessness of their scams; buying over $5,000 worth of merchandise in one setting is not at all discrete.
• I'm sensing a lot of chemistry between Maurice and Shawna, which I don't think I'm mad at. The scamming pair is more interesting than Cliff's uptight ass in New York.
• Naturally, the soundtrack to Rap Sh!t is pristine thanks to the people at Issa Rae's label, Raedio, who were brought in as music supervisors. Featuring a great mix of female rappers and Miami rappers — and of course, female rappers native to Miami, like Trina — the music choices make a great soundtrack and playlist.