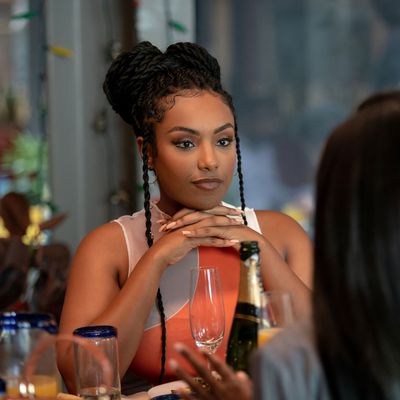 Mia and Shawna fly from Miami to New York City on two different sojourns with two different goals: one to seduce and one to scheme. Shawna surprises Cliff after a months-long separation that was nearing the one-year mark. Though she is interested in rekindling the flame in her relationship, "seducing" may be a misnomer for her actions. Before even touching down on the East Coast, Shawna restricts Cliff from being able to view her Instagram story. She shows up unexpectedly at his doorstep and immediately guides him into the bedroom for a highly anticipated intimate reunion.
After properly greeting each other, Cliff takes in Shawna, noting the changes to her appearance, including lashes and a full beat. At first, he says he likes it, but as the episode proceeds, he becomes increasingly put off by her evolution. Rap Sh!t continues to subvert the male gaze through Shawna's motivations behind her progression into a new persona. So much of gender is a performance and what's interesting about this episode is that it shows how much of the performance is more for each other or even ourselves than it is for the opposite sex. During another night of intercourse with Cliff, Shawna is liberated and dominant, eventually recording the moment, emphasizing how much of her new personality is a performance for herself and the invisible audience of her peers, not for Cliff.
Unknowingly to the rap duo, someone at Spotify pitches "Seduce and Scheme" to be a part of one of the music streamer's curated playlists. Jill, Shawna's friend from college, is surprised her coworker found the song but quickly attaches herself to the pitch by announcing in the meeting that the artists are her friends. She's on shaky standing at work pitching a mediocre SoundCloud-sounding rap song, so she gets in contact with Shawna despite writing her off. Later, at brunch with Cliff's friends, Shawna receives a text from Jill inviting her to a party hosted by Spotify so they can meet her bosses and mingle with people in the industry. Cliff is disappointed in the news, as it takes another day away from them as a couple, plus he's disapproving of the group's direction. The previous night he tried to bring up Shawna's eventual move to New York, but she dodged the question. The topic comes up again at brunch, surprising Mia, who was fully unaware that moving was even an option.
The news of Shawna possibly moving to New York to be with Cliff is an additional stressor to Mia's already awful trip. Before she arrives at brunch, Mia is prematurely evicted from the hotel suite her sponsor put her up at. When they first landed at the airport, Mia told Shawna he was basically harmless, "just a rich white man" whose dick probably didn't work. Unfortunately, she finds out that rich white men are probably the most harmful people on the planet. Her time being flown out begins like every sugar baby's dream: Moet Champagne waiting for her on ice, chocolate-covered strawberries, and a pricey view of the city. The man takes her out to dinner, of course footing the bill while she documents it all on her IG story. They drive back to her hotel, where he initiates a sexual exchange in the car, but Mia ultimately declines his offer to come up, citing being too inebriated. He drops her off, proposing they go shopping around the city the next day.
Shopping was an empty promise, most likely due to Mia not having sex with her sugar daddy, and Mia is abruptly kicked out of the room, mid-bubble bath. With nowhere to go, Mia is forced to join Shawna at brunch with Cliff and his law school friends. The brunch is awkward enough before Mia eventually gets there by subway; Cliff's friends are beyond pretentious, and the presence of Fatima, Cliff's too-close-for-comfort female friend, creates unavoidable tension. Mia's personality starkly contrasts with the rest of the group and the incongruous energy is extremely apparent. Mia vents about her hatred for NYC, to which Fatima assures her that her distaste for the city will wane with familiarity. Confused about why she would gain familiarity with the city she hates, Fatima spills Shawna's apparent plan to join Cliff. Saved by the bell, the tension is somewhat broken by Jill's text with an invitation to the Spotify party. Back at his apartment, Cliff and Shawna argue about going to the event, but she eventually wins, and the trio heads off.
Decked out in their bad bitch attire, Shawna has Cliff chronicle the entire night, much to his annoyance. They pose in front of the step and repeat, then meet up with Jill, who is eager to introduce them to the higher-ups. Jill hands out wristbands to Shawna and Mia while Cliff gets a press pass reminding him once again that he's merely the cameraman for the evening (Shawna even has him recording B-roll of the party-goers). The meeting with Crystal, one of the editors at Spotify, is successful and lands "Seduce and Scheme" on one of the playlists. Elated from the achievement, they're ready to enter VIP. Wristband-less Cliff can't get in, so he waits for Shawna and Mia at the bar. While inside, the ladies run into real-life up-and-coming female rapper Maliibu Miitch before spotting a prominent music video director in the crowd, vowing to try and talk to him.
Shawna feels guilty for leaving Cliff behind and goes to check on him. Cliff is getting steadily drunker, his irritation with Shawna rising along with his blood alcohol level. Adding insult to injury, Shawna begins talking to none other than Brent Faiyaz, an R&B artist the pair listens to together. The more attention Brent pays Shawna, the more uncomfortable the interaction gets, especially since Shawna took her time before introducing Cliff into the conversation (after he snapped some pictures, obviously). Completely entranced by Brent Faiyaz, Shawna doesn't notice Cliff leaving the function. She goes back into VIP to find Mia, who, clearly already aggravated, slaps someone who bumps into her. Mia is disappointed that Shawna doesn't stand up for her and is disheartened by Shawna's selfishness the entire weekend, reminding her friend that she didn't even ask how Mia got kicked out of the hotel room.
Defeated by the night, Mia escapes to the airport, and Shawna returns to Cliff's apartment. Cliff is wasted, to say the least, recording Shawna on IG live while he fights with her about her new lifestyle. He refuses to stop recording, tauntingly telling Shawna that she can't survive without documenting every moment. He says she's acting like a "hood porn star" and tells the 20+ people watching the story that she played him about moving in together and dick rode Brent Faiyaz. They break up, the ultimate final nail in the coffin of their relationship documented via social media. Shawna flees to the airport and finds Mia, who consoles her friend after Shawna brings the perfect airport peace offering: Cinnabon.
Bad Bitch Banter
• KaMillion was born to be on television. So much of Mia's charm comes from the charisma KaMillion exudes. Her recreation of Nicki Minaj's "you bitches can't even spell Prague" gets a chef's kiss from me.
• Shawna asking Mia to do her makeup was hilarious (it's hard to master lashes!) but also representative of her taking on Mia's traits, which is even more obvious now that we're seeing Shawna through Cliff's eyes.
• In addition to Brent Faiyaz and Maliibu Miitch, comedian Kid Fury guest starred as Cliff's roommate, who tries to get him to stop airing his dirty laundry on IG live. Issa Rae gives a platform to so much Black talent; it's nice seeing who pops up each week.