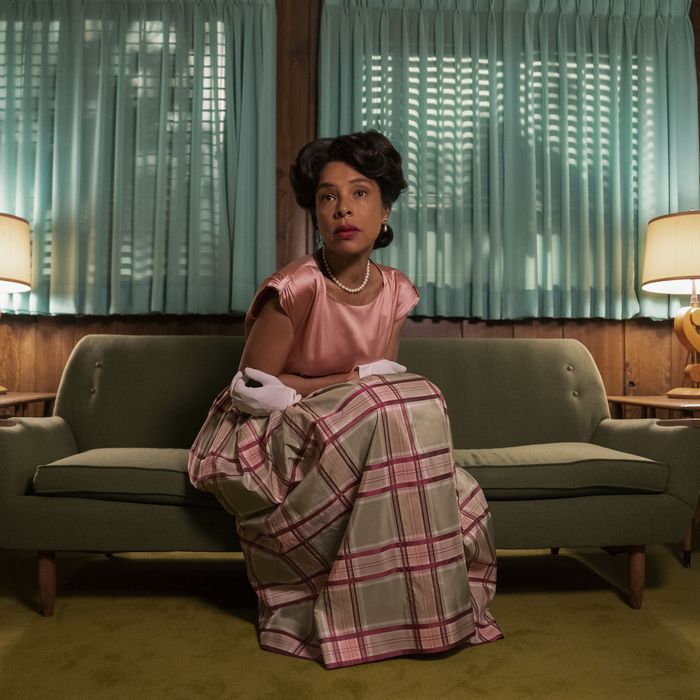 Photo: SAEED ADYANI/NETFLIX
Let's be honest: This show has almost nothing to do with Ken Kesey's character of Mildred Ratched other than a name and a profession. The news that Evan Romansky's spec script basically chose the IP for name recognition to get a young writer's foot in the door isn't too surprising, but further efforts to tie what people know about One Flew Over the Cuckoo's Nest to this origin story feel increasingly superficial. Most of all, the Ratched of the book and film follows every order; the Ratched of this show breaks every single rule. And she somehow talks other people into breaking them, too. It's not necessarily a fatal flaw, but one wonders if the show would have worked just as well as an AHS installment instead of a thin connection to a classic.
Which brings us to "The Dance," the most ridiculous episode of the show so far in terms of realistic plotting. Yes, Mildred Ratched became a power player at Lucia State Hospital in short order, basically getting Dr. Hanover and even the governor's assistant Gwendolyn Briggs under her thumb in an effort to save her brother Edmund Tolleson, but does anyone buy the concept of a dance at a hospital with dangerous patients? And not just a dance but one where the most famous mass murderer in the world will be able to take off his shackles and boogie in the name of something actually called by a screenwriter a "vanguard insanity experiment"?!?
Listen, Ryan Murphy shows always require a study suspension of disbelief, but they also usually have consistent rules. And consistency has been the biggest problem with Ratched. None of these characters are consistent. Ratched goes from ice-cold to warm with Briggs, who feels more and more like a plot device herself. Perhaps the most aggravating thing about "The Dance" is that it reflects another common problem of Murphy shows wherein adults act like dumb teenagers. Sometimes it's fun, but not so much here.
On the positive side, Jon Jon Briones and Judy Davis are very good at portraying the defiantly silly characters that have been written for them. Nurse Betsy Bucket's crush on Dr. Hanover is a reminder of how much Ryan Murphy tends to treat adult characters like emotional teenagers. Davis is doing a lot with very little here, elevating the subplot about how much her nurse loves the bad doctor into something genuine, while also verging just enough into camp to make it fun.
The bulk of this episode is about a dance at Lucia and what happens there, but Murphy and his writers decide to unleash their worst idea of the season so far into this Glee-esque set-up: a woman with multiple personality disorder (now referred to as dissociative identity disorder). Sophie Okonedo comes screaming into the show, harassing someone playing violin on a bench. She is growling and prowling fury, the Murphy-verse vision of someone with mental issues. To be fair, Okonedo devours each and every word, but it's pretty hard to sell lines like, "Beethoven would fuck you in the face!" She claims to be Ondine Duquette, but her real name is Charlotte Wells, and she's a flashy, showy supporting character on a show that arguably needed a little jolt of energy right now, but this character edges the show into exploitation of the mentally ill, and feels like a distraction when there's not really a lot of time left to get distracted this season.
Back in the real world, Ratched tells Briggs she has feelings for her. Okay. She could be manipulating her, or it could be true. It's really hard to tell how Paulson and the writers want us to read it. Nixon is playing Briggs's feelings as 100 percent genuine, but Ratched is harder to read. Importantly, the enigmatic nurse invites Briggs to be her date to the mental hospital version of the prom.
Lenore Osgood and her monkey arrive at the motel. Sharon Stone is just wonderful here, playing a different register of camp than anyone else. Again, she's got the Jessica Lange role, the part that stole multiple seasons of AHS, and she knows it. She has a great scene in a lobby of a high-priced hotel with Ratched, who asks for $1 million to kill Hanover. Later in the episode, she'll be offered $100k and take it. But will she really kill Hanover?
"The Dance" meanders its way to the title event. Hanover tries hypnotherapy on Bucket to break her of her crush, which doesn't work, and on Ms. Wells to cure her disorder, which seems to actually take. He cries at the thought he's done something successful. It's revealed that Bucket and Louise, Amanda Plummer's motel manager, are buddies, celebrating Bucket's date to the dance with Hanover. And the plan becomes clearer: Edmund will cause a scene at the dance and flee into the night with Dolly.
The dance is the kind silly fever dream one would expect, with Briones looking like he was directed to have an active nervous breakdown while doing the Charleston. Everything suddenly goes quiet as a shackled Edmund is led into the room, and allowed his freedom, which goes just about as well as expected. Before the violence, Hanover goes off on Bucket, sending her broken heart to cry in the bathroom, where Ratched and Briggs follow. This is just a set-up so they're not in the room at first when Edmund slits the throat of poor Harold the guard. Dolly grabs a gun, which ends up aimed at Briggs, who has rushed into the room after the noise. She gets shot in the chest, and Ed and Dolly flee the scene, ditching their car under a tree, heading off on foot. How far can they possibly get?
Extra Dosage
• I couldn't stop laughing at the serious-faced use of the phrase "vanguard insanity experiment." It's such a ridiculous line that I almost wish more of Ratched leaned into that campy tone. Honestly, the biggest problem with the midsection of this season has been boredom. Eight episodes at a mental hospital from the creator of Asylum promises a degree of insanity that this show hasn't really delivered. So much of it makes no sense in terms of logical plotting (like the existence of the dance) that one wishes it would just push the throttle and really go off the rails. Maybe it will in the final three.
• But then we might get more Charlotte Wells. And is one of her personalities Jesse Owens? She talks about winning five Gold medals in front of Hitler but Owens only won four. Still, it feels like that's who it's supposed to be. This character makes me very nervous, and not in a good way.
• Sharon Stone is everything so far. I could watch her sneak into a diner to scare Hanover or talk to her pet monkey all episode. She's keeping things interesting.
• To be fair, no one is bad this season in terms of performance (except maybe Wittrock, but that's because his character is so inconsistent). Murphy has always worked well with performers—it's why so many return time and time again to him—but let's hope they get more interesting things to do in the final three episodes.