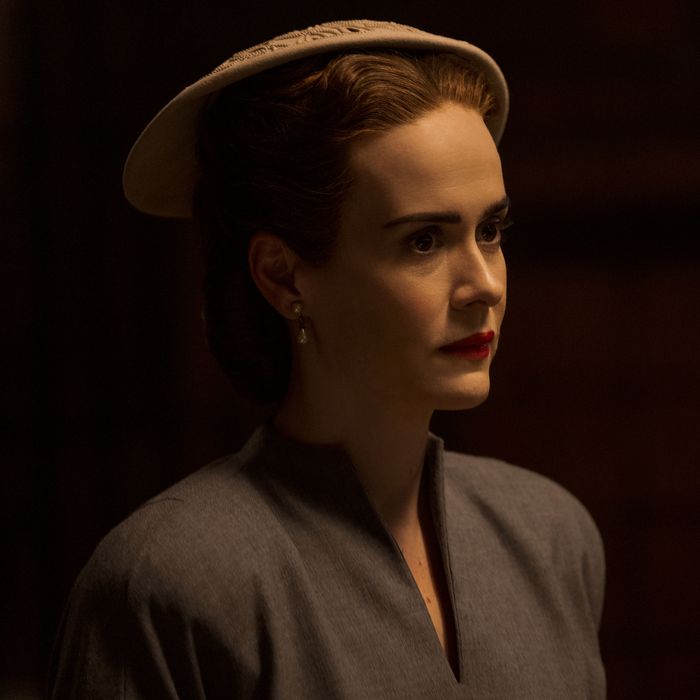 Photo: SAEED ADYANI/NETFLIX
Let's take a look at the entire arc of Ratched over eight episodes. It's the story of an orphaned child named Mildred Ratched, abused by multiple sets of foster parents in horrible ways, until her brother Edmund Tolleson kills the cruelest ones in what will be deemed a justifiable homicide. Years later, Mildred, for reasons that aren't clear, decides to pretend to be a medic in World War II, choosing to put injured soldiers out of their misery instead of saving or comforting them. Is her childhood trauma impacting her role as an angel of mercy? Maybe.
After being discharged, she discovers that her brother Edmund has viciously murdered several priests, including one he believes to be his father. Believing only she can save him, Mildred goes to Lucia to find Edmund, pretending to be a licensed nurse and working her way into a state-of-the-art mental facility run by a man who has a dark past of his own, Dr. Hanover. She wants to save Edmund from the electric chair and falls in love with a politician named Gwendolyn Briggs while she's in California. In the end, she realizes she can't save Edmund, and decides to kill him herself, but he escapes, leaving her always looking over her shoulder, while she also cares for her cancer-stricken girlfriend.
Does it sound to anyone else like a story that's being made up as it goes along? The biggest problem with Ratched, and the inert season finale really makes this clear, is that there is absolutely no consistency to its central character. She is a black hole of emotion and character depth, pushed and pulled by the writers in ways that often don't make sense and don't register emotionally or thematically at all. Yes, one could say Ratched shouldn't be some intense character study, but then it needs to be campier or sillier to be pure escapist entertainment. Ratched feels like a campfire storytelling exercise wherein a different person picks up the narrative before passing on to someone else to continue. By the end, it barely resembles where it started.
For example, who would have guessed that the thrust of the final episode would be a debate over humane manners of capital punishment? Governor Willburn decides that lethal injection won't be good enough for The Clergy Killer, and that he should be put to death with "Old Sparky," the electric chair, despite the fact that the last usage of said device literally lit a man on fire.
Before then, the cancer subplot gets some melodrama with hair loss and vomiting. Briggs just wants to slip away while the sun sets over the ocean. Can Mildred give her that and save her brother from pain before he dies?
While that's happening, Edmund is given the most bizarre treatment over the final days of his life, allowed to commune with animals in a barn because Hanover thought that horses could help a man find his true character. And they leave Edmund in a barn for an hour to commune with a horse. While Willburn is pushing the spectacle of Edmund frying in a chair, he's finding his strength via equine telecommunication.
The important twist to the episode and season really is that Mildred decides that she's going to kill her brother herself before the state can torture him to death. This is how she'll "save him," by being an angel of mercy yet again. She'll do so in the barn where he's found recent peace. There's some poorly written dialogue between Edmund and Mildred designed to close their arc a bit. She wants him to know she was grateful that he saved her.
And then all hell breaks loose, in much the same way this show went off the rails midseason, with the arrival of Charlotte Wells. The woman who killed Dr. Hanover comes raging back to Lucia, claiming to BE Dr. Hanover because that's how dissociative identity disorder works on a show like this one. (Did Charlotte kill Ondine too? Makes you wonder.) Of course, Betsy Bucket doesn't freak out and actually plays into the moment, letting Charlotte into Hanover's office and leaving her at the desk, where she finds a gun in a drawer.
Instead of calling the police — did they ever replace Harold the guard? — Betsy brings in Huck to convince Charlotte to leave, and, well, the one truly kind, giving character on Ratched gets shot and killed, like everyone knew he would. Huck spoke last episode about finding his purpose, and the writers of this show were too cruel to even give him one before he died. It's shameful, really, how this show treats its kindest characters.
Suddenly, Charlotte/Hanover has become Ondine again and she's rampaging through Lucia. The show gets dumber than ever as she makes her way downstairs, kills a guard, and breaks out Edmund, who learns that his sister was going to kill him. Edmund and Charlotte flee the scene, slowly driving past Mildred on her way to the hospital.
Cut to Mexico in 1950. Briggs is still alive, two years after her diagnosis, which means the cancer subplot was even more perfunctory than it seemed, and Betsy is visiting the happy couple on a trip. They're all worried about Charlotte and Edmund finding them in Mexico, which appears to have happened when Wells is at Mildred's door, speaking of washing herself in the blood of her victims. Edmund is now finally going to kill his sister and then himself. He stabs Mildred in a truly shocking moment … that's just a dream. A season of cheap narrative fake-outs ends with the cheapest trick in the book.
In the final scene, Briggs reads a story about seven nurses being murdered in Chicago, an apparent signal from Edmund to Mildred. A better signal? A phone call, which Edmund makes to his sister. He basically threatens her, and then it's revealed that he's on the road with not only Charlotte but Louise too, because why not? The second season will theoretically be about this trio of lunatics tracking down Briggs, Mildred, and maybe Betsy, but given the inconsistent plotting in year one, who knows? They could forget everything that happened in this year's epilogue. Only time will tell.
Extra Dosage
• There were three credited writers on this episode, which feels right, as no one could figure out how to bring this season in for a landing.
• Who are your season one MVPs? My favorite performances were from Sharon Stone, Judy Davis, and Jon Jon Briones. Sarah Paulson and Cynthia Nixon are phenomenal actresses in general, but they were forced into inconsistent characters and couldn't quite overcome them. Same for Finn Wittrock, who never seemed well-cast. Although the real MVP of the season is the design team. Even as the show became increasingly annoying, it always looked amazing.
• What are you looking for in season two? I need more consistency of tone or just a willingness to lean into the AHS origins and go off the rails. The problem is this middle ground that wants us to take this seriously as drama but has no depth of character. Give me camp or give me truth — don't ride the middle line to nowhere.