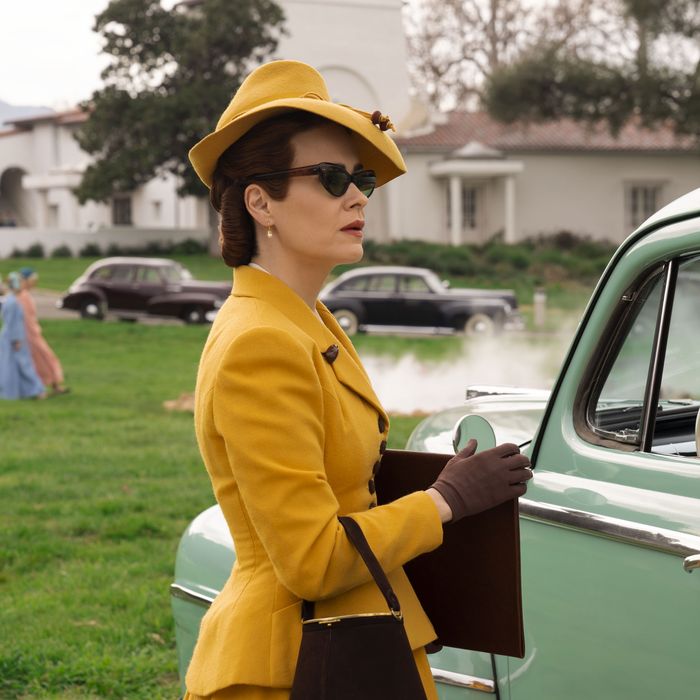 Photo: SAEED ADYANI/NETFLIX
What is Ratched? On paper, it feels like the distillation of everything that fascinates creator Ryan Murphy. It combines elements of film and American history à la Feud or even American Crime Story and promises genre elements like the creator's beloved American Horror Story. (Heck, there's even a bit of Nip/Tuck in the medical horror here.) Led by his favorite collaborator in the title role, Ratched feels like something that Murphy has been building to for years: the gore of AHS attached to a landmark character from film history, featuring, of course, many of his regular performers. There are times in the series premiere, which Murphy directs, where Ratched really joins all of the Murphy themes and visual language into what looks like his most promising Netflix series yet. After the disappointment of The Politician and Hollywood, is this the series that can finally bring Murphy's glorious but often elusive blend of camp, melodrama, and passionate performance under the Netflix umbrella? It's way too soon to tell after one episode, but there are plenty of reasons to believe it can.
Ratched starts with a sequence that sets a tone of violence. A church in 1947 is filmed like an old monster movie, the rain pounding down outside of it as a shadowy figure watches from the street. While most of the fathers head out to a screening of Miracle on 34th Street, which was released in May 1947, one of them stays behind to, well, have some alone time. He's just pulled out the Vaseline and bra catalogue when there's a knock on the door. Edmund Tolleson (Finn Wittrock) comes in from the cold, telling the priest that his car broke down. Everything about the visual language here plays like a horror movie, and the violence breaks out quickly. The other priests come home to find their catalogue-loving colleague butchered and then Edmund attacks them in quick succession. The scene is bloody and brutal, revealing (right before he's stabbed and killed) that the monsignor was the deadbeat dad who turned Edmund's mother on to drugs and prostitution. One survivor remains, hiding under the bed.
It's a striking sequence to launch the show, not only in how well made it is but in how much it pulls in the viewer with questions as to how this character and event will relate to the one we know from Ken Kesey's book and Miloš Forman's film One Flew Over the Cuckoo's Nest. Will it just be that the now-named "Clergy Killer" will be at Nurse Ratched's facility? The character who won Louise Fletcher an Oscar has been reimagined here significantly, leaning into the icy, threatening intelligence that Sarah Paulson can do so well more than her characterization as a blunt instrument of the machine from the adaptation of Kesey's novel. Paulson's Ratched is introduced in the premiere as a manipulator. She works her way to the city of Lucia, California, arriving at an oceanside motel, where she catches the eye of a neighbor named Charles Wainwright (Corey Stoll) and hears the orders of the motel owner, Louise (Amanda Plummer).
Mildred Ratched isn't in California for a vacation. She needs to get a nursing job at the lavish facility that will soon house the nation's most notorious murderer. She introduces herself as "the new night-shift nurse," and spends the bulk of the episode making sure that statement becomes a reality. Murphy and Paulson's early take on Ratched seems to be someone of extreme commitment to getting what she wants, no matter the cost. She blackmails a nurse into leaving her position so it's open for her. She takes no guff from Nurse Bucket (Judy Davis), and seizes an opportunity to instantly make herself an essential part of the organization.
She does that latter part by basically manipulating the vulnerabilities and desires of Dr. Hanover (Jon Jon Briones), who is trying to get the governor (Vincent D'Onofrio) to invest in his breakthrough treatment ideas. Unable to even get into a meeting with the governor, he stumbles into the politician at a bar with his assistant, Gwendolyn Briggs (Cynthia Nixon), who realizes the political potential in Hanover. With a campaign coming up, Briggs thinks they can use Hanover politically, painting the governor as a man who believes in science, progress, and getting the mentally ill back to work. Murphy has been increasingly interested in politics, and it seems like that interest may work its way into Ratched.
With the governor finally willing to back Hanover, a press opportunity takes place at the hospital, and Ratched uses it to strengthen her position. First, she poisons a Father Murphy (reference to McMurphy from Cuckoo's Nest?), saving his life in front of everyone, making her the star of the place in the eyes of the press and governor. When Hanover discovers the poisoning, Ratched goes a step much further, convincing a patient to kill himself in the doctor's office and then offering to be her new boss' cleanup woman. She whispers in the ear of a patient who is grieving, telling him about how she lost a brother too earlier in her life, someone who meant everything to her. And the connection to Edmund starts to feel a little more defined.
Fully entrenched where she needs to be, Mildred Ratched ends the episode finding Edmund in a cell in the basement of the hospital. The two have an emotional moment about finding each other but don't explicitly reveal that they're siblings. Maybe they're not. But there's something about what Ratched says to the suicidal Salvatore, her odd behavior with Charles in a scene that at first looks like it's going to be intimate, and the emotion of that final scene that makes it clear they have a past. Now what will that mean for Nurse Ratched's future? She tells him, "You're not going to die, Edmund. I promise." Can she keep that promise? And how far will she go to do so?
Murphy shoots this pilot episode as what is sometimes called a "bright noir," echoing films of the era about femmes fatales who sometimes unfold their evil plans in broad daylight. It has the energy of a film like 1945's amazing Leave Her to Heaven in its costumes, sets, and tone. Paulson's style feels like a descendant of Gene Tierney's wonderfully icy sociopath, another character whose own needs were all that mattered. She doesn't directly murder anyone in the series premiere, manipulating people she meets in a different way, but one gets the feeling that taking a life is not out of the question. After all, she has a promise to keep.
Higher Dosage
• I always like it when a creator uses color wash-outs to indicate a character's instability. Twice in this episode, in moments of high stress, the picture is overwhelmed by green, not often a color associated with rage or anger, but it works here as another bright tone in a show filled with striking colors and design.
• On that note, Ratched is Murphy's best-looking show in a long time. The design of Hanover's office, the motel, even the hospital lobby — the program's art direction is consistently captivating.
• It's fun for Murphy fans to play the familiar-faces game, spotting regulars like Wittrock and Davis, but also new people just seem to fit so well in the Murphy milieu, like Nixon and Stoll, two great performers who can do the Murphy brand of camp and melodrama with ease. One of the joys of Ratched will just be watching great, underused performers get the kind of juicy roles that Murphy often delivers. Let's hope he gives his talented cast something worthy of their pedigree.