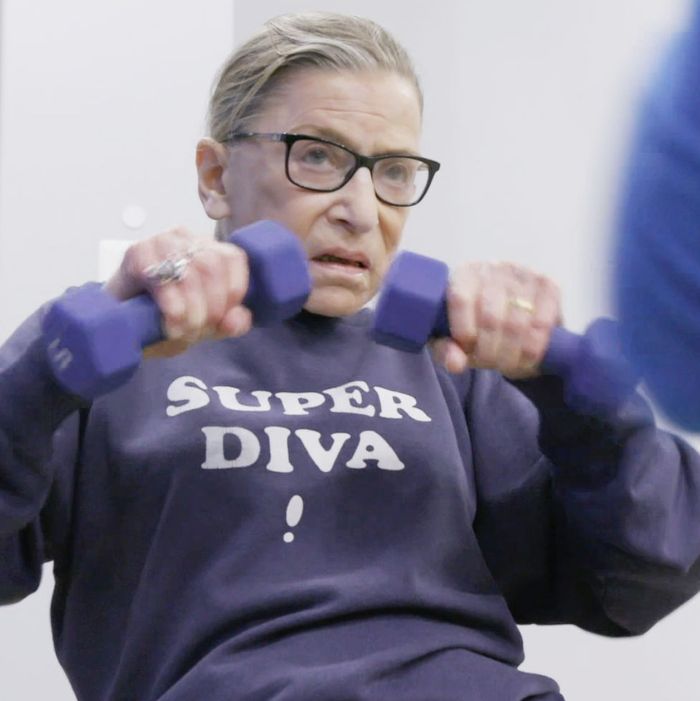 The Notorious RBG.
Photo: The Notorious RBG.
As we all mourn the passing of Ruth Bader Ginsburg, we strongly encourage you to watch the wonderful, Oscar-nominated 2018 documentary RBG, which is available to subscribers of Hulu and to rent on such platforms as Amazon and Apple TV+. Below is our review of the film, which was originally published on May 7, 2018.
Ruth Bader Ginsburg is the tiny, monkish, soft-spoken, octogenarian Supreme Court justice who bestrides the world like a colossus; in their documentary RBG, directors Julie Cohen and Betsy West stride right behind her with a camera and a microphone. It is only right, only prudent to shut up and listen. Both the film and the "notorious" figure at its center are the best imaginable retaliation to mansplaining.
The movie opens with Ginsburg's confirmation hearings before Joe Biden and his hair transplants. He does better with her than he did a few years earlier with Anita Hill. But then, even Utah Republican Orrin Hatch finds Ginsburg impressive. As she tells her story, Cohen and West show us pictures of the young, radiant, blue-eyed Ruth Bader growing up, heading off to Cornell, and meeting Marty Ginsburg, who'd spend 56 by all accounts joyous years at her side. There are few downbeats to this story.
Yes, RGB is a hagiography, but it has its cheeky aspect. It begins with a montage of government landmarks, many in the shadow of the Washington Monument. Sometimes a Washington Monument is just a Washington Monument, but one could be forgiven for watching the film and thinking that our nation's capitol operated for 200 years under a sort of penile code. Ginsburg's victories over that code took a lot of hard preparation. She was one of nine women in her Harvard Law School class of 500. After graduation, no New York law firm would hire her — or any other woman. But she didn't go, shall we say, balls out to attack the system's sexist underpinnings. Her mode was and is less brash, her maxim, "Be a lady and be independent."
Cohen and West make clear that those things were once mutually exclusive. A true lady wouldn't speak up, says Sharron Frontiero, a lieutenant in the Air Force who in the early '70s found out she didn't qualify for certain military benefits given automatically to men. Beginning in 1973 with Frontiero v. Richardson, Ginsberg (representing the ACLU) took a chisel to centuries of encrusted male privilege. It was her first argument before the U.S. Supreme Court — a "captive audience," she recalls, with delight. The movie has the audio. It's thrilling.
RBG's talking heads — with the exception of Donald Trump (and what an exception) — are affectionate bordering on worshipful. When Ginsburg is shown being interviewed onstage, audiences (particularly young women) are visibly overwhelmed, seeming to lean back in awe even as they lean forward to hear their superhero (Gloria Steinem's word) answer questions and read from her momentous arguments, majority opinions, and dissents.
NPR legal correspondent Nina Totenberg does some of the onstage interviewing and much of the movie's expository heavy lifting, but the young Notorious RBG co-authors Irin Carmon and Shana Knizhnik provide vivid color; the professor Arthur Miller recalls the early lives of Ginsburg and the gregarious, supportive Marty, who would sometimes drag her away from the office for dinner; and Brenda Feigen — a differently styled feminist — adds wonderfully tart details. I especially liked her comments about the late reactionary firebrand Antonin Scalia, with whom Ginsberg bonded over their passion for opera. Ginsburg, says Feigen, has the ability to compartmentalize; "I don't have close friends who are right-wing nutcases." I commend right-winger Ted Olson for agreeing to be interviewed along with his formidable hair about a case in which he went up against Ginsburg and lost. Not all men in his position would face a largely female documentary crew under such circumstances. Perhaps he's feeling more confident with liberals these days, having had too many principles to be on the wrong side of history re: gay marriage. Scalia's dark suggestions that it could lead to bestiality didn't sway him, somehow.
Even with such rich material, the movie can be a tad prosaic. But as you listen to Ginsburg reads her words, you begin to perceive the secret of her power. As someone in the film puts it, she mounted her attack on gender inequality case by case, a little at a time: "It was like knitting a sweater." Ginsburg says that in the '70s she saw herself as "a kindergarten teacher … [the male justices] didn't get gender laws." Those are stereotypically feminine roles — the sweater-knitter and the kindergarten teacher — but they left justices (and frequently, her opponents) speechless. Every revolution needs someone hitting the books until 4 a.m. while others march in the streets.
Apart from Scalia and their mutual opera fandom, Ginsburg follows Supreme Court etiquette and doesn't speak about her colleagues. Too bad. Having styled her legal activism on the young Thurgood Marshall's, it must be doubly depressing to sit beside George H.W. Bush's replacement for Marshall, Clarence Thomas. But opposite such smug reactionaries, she found her voice a second time as perhaps the most eloquent dissenter in the court's history. When it gutted the voting rights act by 5-4 on the grounds that its protections were no longer needed, Ginsburg wrote, "It is like taking away your umbrella in a rainstorm because you're not getting wet." Words like that inspired the Notorious RBG meme and T-shirts in which her head sits atop the body of Wonder Woman. Felicity Jones — last seen delivering Death Star specs to R2D2 and dying a hero's death — will play her in an upcoming biopic.
Although Marty is gone, Ginsburg is shown having fun with her granddaughter (a Harvard Law School grad in a class that was 50-50 men and women), surveying her collection of collars, and appearing live onstage in an opera. One watches RBG and hopes that a composer and librettist will create a Notorious RBG opera and that she will be there opening night. One can imagine playful but scorching duets with the tenor playing Nino Scalia. And one could imagine her dissents set to music. They already ring in our ears.
RBG was nominated for two Oscars in 2019, including Best Documentary Feature and Best Original Song.