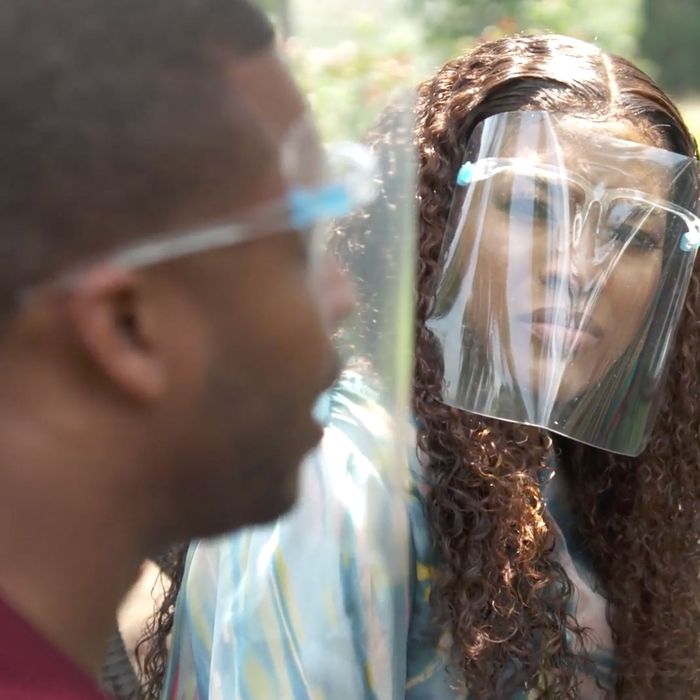 Happy New Year denizens of Hotlanta! After a week off to celebrate the holidays and to bid farewell to Potomac's binder queen Monique Samuels, we're back in ATL and still very much in the year 2020, whether we like it or not. Porsha and PJ are having a playdate with Porsha's BFF Shamea, where Porsha reveals that she had to eat "mystery meat" while in jail, which can and should be illegal. Speaking of meat, Drew's daughter Nai Nai is very cutely confusing duck and chicken, leading to a rare moment of parental bliss between Drew and Ralph. And Riley is dragging her mother for not being an "academic scholar" like herself, claiming that Kandi is more street smart than book smart. All is right in the world!
Or is it? We ended last year with a pretty epic meltdown from 10, 10, 20s on yo bride-to-be, Cynthia, regarding her dream pandemic wedding. The new year sees Cynthia trying to recenter herself by engaging in some restorative yoga with her sister Mal and a creaky Kenya. After approximately seven minutes of yoga, Kenya presses Cynthia about why she's hemming and hawing over whether or not she'll marry Mike Hill on their chosen date of 10/10/20. Whatever thin thread of logic Cynthia had to justify not marrying Mike Hill on their perfect date completely unravels, as Kenya — who apparently had time that day — has no issue fully exposing Cynthia as wanting a big wedding for television-related reasons. "You want to make it about a show instead of just marrying," Kenya says to Cynthia, all the while filming a television show while having this conversation. That's some meta shit.
Cynthia fully picks up what Kenya's putting down. "Let's just break that fourth wall all the way down," she says before claiming that her desire for a big wedding has nothing to do with the show. Okay, now Stanislavski is fully shaking. While her candor is appreciated, Cynthia is getting pretty exhausting. She keeps demanding that her friends and family support her while being completely unwilling to admit that having a big wedding during a deadly pandemic is at the very least morally questionable if not full-tilt unethical. Cynthia didn't have one coherent answer when Kenya asked why she couldn't just marry Mike Hill on the 10th of October in the year of our lord 2020 (I'm so, so tired of writing 10/10/20) and eventually she had to concede. Leave it to Kenya Moore, attorney-at-law, to bring Cynthia to her senses (sort of).
In a major surprise, Kenya doesn't gloat about getting Cynthia to (somewhat) see the light, but rather takes responsibility for almost ruining Cynthia's engagement last season. Yes. You read that right. Kenya Moore taking responsibility for her (depraved) actions! Either hell has frozen over or maybe we really are in store for some positive change in 2021. Kenya takes this newfound energy of repentance and brings it to lunch with Kandi, who seems like she'd rather be doing quite literally anything else than filming this season. But she does make a great joke about Cynthia getting married to Peter "in the midst of brokeness," so she's allowed to keep collecting these Bravo checks even though she's putting in minimal effort these days. Kenya says the producers want her she wants to throw a surprise party for Cynthia, but wants Kandi to invite everybody because most of the girls don't fuck with Kenya no more (see: Marlo, Canadian Tanya, and Porsha). Kandi feels weird about being the face of Kenya's party, but she doesn't have a story line yet this season, so contractually she has to say yes.
When Porsha's name comes up, Kenya makes some very rude comments about Porsha's protesting-related arrests, insinuating that Porsha isn't "fighting in the right way," due to her lack of a mask in some of the viral footage from the protests. Look, I don't want to get too COVID-protocols-shame-y because the bounty on the head of the Instagram account @gaysovercovid has shown it's a pretty sensitive topic, but there is something a little, well, ironic about Kenya shaming Porsha for not being appropriately masked while outdoors protesting the murder of Breonna Taylor as she sits outdoors at a public restaurant, completely mask-less, filming a reality show. Obviously, it's more complex than that, re: safety and exposure, and I'm not saying that protesting injustice is more important than filming a reality-TV show, but also that's exactly what I'm saying. Anyway, it seems like Kenya is up to her old shady tricks. Sigh, so much for 2021 being different.
You know what else hasn't changed much? The state of Drew and Ralph's relationship after one (1) therapy session. Drew and Running Man Ralph have their first couples therapy session outdoors with Love McPherson (whose name I thought was Love Simon for like half the episode), and it's just as stilted and uncomfortable as you'd expect. When asked what she wants from their relationship, Drew says she wants things you'd generally expect from a marriage, like transparency and peace. She adds that she wants Ralph to have "love for Josiah," her son from a previous relationship, and that genuinely broke my heart. Randomly, Drew also wants to know where Ralph is, saying that she wants him to communicate when he's going somewhere. "I'm going to the store. I'm going to work out. I'm going to … Tampa," Drew gives as examples. Ah yes, of course, the store, the gym, and Tampa, Florida. The holy trinity of places people casually go.
Ralph, who is definitely the type of guy who feels emasculated by being given a folding chair instead of a real chair, says that all he wants from Drew is respect and sex. That's it. Not love or peace or companionship or trust or laughter or long walks on the beach. Just subservience to his will and intercourse at minimum three (3) times a week. Given the painfully awkward way he patted Drew on the shoulder during their session, I think Running Man Ralph needs to work his way up the physical intimacy scale with Drew and start at a lower level, like maybe … hugging? Or perfecting a really satisfying high-five, perhaps? Or maybe he should skip the physical intimacy stuff entirely and just sort of focus on communication? IDK I'm not Love Simon. Elsewhere in the therapy session, we learn that Ralph had a difficult upbringing that involved his family suffering from homelessness his senior year of high school and an unhealthy, codependent relationship with his mother. While his backstory provides some insight into why Ralph is the way that he is, it doesn't excuse his behavior. Ralph's desire that Drew be barefoot and pregnant in the kitchen is antiquated, sexist, and low-key scary, and judging by Ralph and Drew's final embrace, I am unconvinced that Love Simon/McPherson got through to him. Also, I think Drew's "Love" and "Faith" signs that are in her confessional are cursed.
Cynthia already got her one batshit bride moment of the episode so we're just going to breeze past the unfortunate flashback of her practicing her wedding vows on a mannequin and launch directly into why Lauren deserves a peach for casually inviting and then uninviting Kenya Moore to the surprise party she's throwing for her sister Porsha in honor of her work with BLM. Lauren — whose number is saved in Kandi's phone as "Lauren Porsha's Sister 2019" — calls up Cynthia and Kandi to invite them to the event, and when Cynthia says she'll come with Kenya, Lauren demurely replies, "I didn't extend an invite to her." A class act. Ultimately, Kenya earns a soft invite as Cynthia's plus-one, but only if she "comes with good intentions," which a quick flashback shows is not something that Kenya Moore is really capable of doing. Asking Kenya Moore to come to a party with good intentions is like asking a 9-year-old girl to open a can of baked beans without any instructions. Yeah, there's a chance she'll figure it out after six hours, but it's most likely not going to happen.
When the day of the party arrives, it seems Lauren has very reasonably had a change of heart and decided that Kenya's presence is more harm than benefit. After a sad scene about Ralph's father passing away of a heart attack, we touch down with Kenya, who is getting glammed up for Porsha's big event. She seems genuinely excited to be included and is even arriving with a thematically appropriate gift for lil' PJ, a Rosa Parks doll, which is genuinely sweet. So, when Cynthia calls and breaks the news mid-hair-and-makeup that Kenya is no longer invited to the party, it truly sends a shockwave through her system. Something snaps inside of her. She sees red. If you don't believe me then look no further:
This is a woman on the verge. I know that I said I was sick of Ken at the beginning of the season, but there was waaaaaaaay too much (ya) and not enough Ken in this scene. Her immediate reaction to break the fourth wall again(!), yell at the producers and tell them they were paying for her hair and makeup, and call the event a "self-serving, fake, and clearly just a photo op" kind of proves exactly why Lauren thought it best that Kenya not attend the event. When Kenya feels disrespected or humiliated or embarrassed, a switch flips in her brain that takes her from standard mean girl to something much darker and much more diabolical. It's admittedly thrilling to watch on TV but ultimately not something you probably want at a party celebrating your sister's political activism. While I feel for Kenya a bit from a sheer embarrassment angle, it's hard to feel bad for her given what she said this episode (and on social media) about Porsha. Sorry, Ken(ya). Karma's a bitch.
Without Kenya there, the surprise party goes off relatively without a hitch. While I don't totally love the idea of a BLM-themed potential superspreader event occurring amid a pandemic, I do appreciate that Lauren was putting some shine on Porsha, and that it was outdoors, and that there weren't too many people there. Also, I've never seen an all-black bouncy castle, so that was pretty cool too. As the saying goes, there must be joy in activism.
Anyway, the party is a great way to get the Old Guard (Cynthia and Kandi) to interact with the New Guard (LaToya and Falynn) for the first time this season. This may be an unpopular opinion but, as it stands, I wouldn't mind if next season we sent Cynthia and Kandi to the Great Housewives Farm Upstate and just fully replaced them with Falynn and LaToya. Let's be honest, this season of Atlanta has been a bit of a slog. Right now, it feels like the whole franchise could use a fresh coat of paint, and that Cynthia and Kandi's best content-producing days are behind them. And what incredible days those were.
That being said, it's nice to watch these women wear cute black outfits (Marlo's hat!) and learn that Falynn has eight (8) children — her (old) husband Simon has five of his own and they have three together. Tired: Jon and Kate Plus Eight. Wired: Falynn and Simon Plus Nine Minus One. Eventually, Porsha shows up in a colorful outfit, bubbly and effervescent as ever, and is moved to tears by Lauren's party. Toward the end of the night, she gives a simple yet stirring speech, demonstrating why everyone gathered there to celebrate her in the first place. "Complacency is not something we have the right to live in no more," Porsha says. "The tears that I cry at night — the tears that I know all y'all cry at night — wipe them in the morning and do something about it." Wow, Kenya probably really needed to hear that.