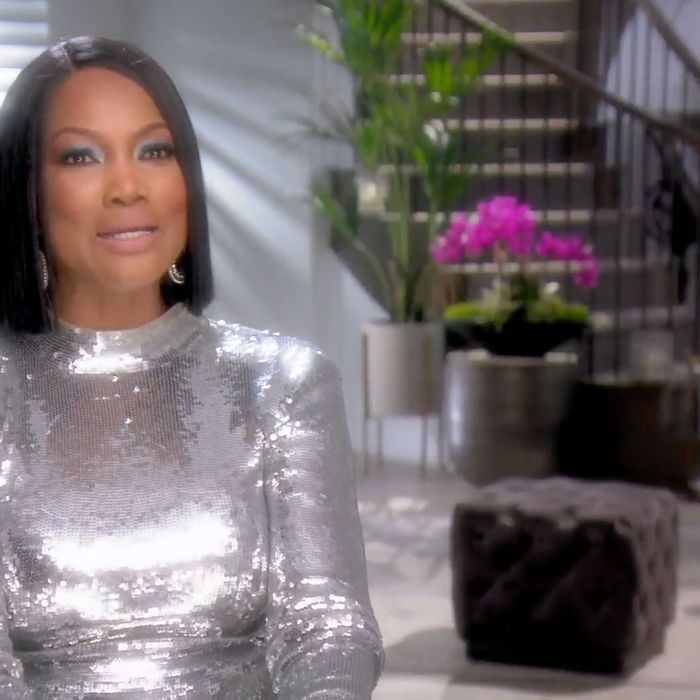 Well, it seems like someone said Brandi Glanville's name in a mirror three times, because she's appeared on our television screens. She is not alone. This episode is full of ghosts of Real Housewives past at Kyle's Black and White charity party that was not at all inspired by Truman Capote, even though it should have been. We have Kim Richards in a black velvet jumpsuit, who Kyle greets by saying, "Kim you totally pulled it together," and Kim grins a dog-biting grin as if everyone is amazed that she put clothes on. Eileen Davidson plays the returning champion in a black jumpsuit of her own, with hair she just dyed brown for an "independent movie" that is a Christmas movie that is not a Hallmark movie, and I didn't even know that those things exist.
Then there's Adrienne, queen of the Maloofs, a race of mole people that live under a mountain. You might not have recognized her because she arrives with a totally new head, like Mombi from Return to Oz. Also in attendance is Paul, former Queen Regent of the Maloofs, but he's there with his new wife who may or may not be a Maloof, but certainly looks like one. We also get to see a cast of recurring characters who have been absent for a while, like the morally corrupt Faye Resnick, and Glen, Kyle's overworked party planner who we haven't seen all season and whose health and well-being I was starting to worry about. Glen, if we need to send help, wear black in the next episode you appear in.
But there's no more disruptive figure at the party than the excommunicated St. Camille of Grammer, with her sole remaining acolyte Kimber carrying her tarnished crown in a hand-me-down Louis Vuitton purse. What exactly are Camille and the rest of them doing there? I'm not sure. It's clear that Kyle pulled out all the stops and cashed in all of her favors for this party. It's not every day that Kris Jenner is going to show up on someone else's show and drop $25,000 for charity without even bidding on an auction item. She even arrives with Kathy Hilton, Kyle and Kim's older (half-)sister who I didn't think Kyle was even on good terms with at the moment.
Was it Kyle's idea to say, "I'm going to call up every former cast member of the show whose last name doesn't rhyme with Sander Hump and invite them to my party because I want to raise as much money as possible"? I don't know. It might have been production who arranged this little get-together for the cameras in order to bring some Denise-honed drama to the show and to get Camille back in the mix.
It also seems odd that Camille would call Kyle out of the blue and say she wants to squash the drama between her and the rest of the women. Kyle puts on her chunkiest knit and heads out to Camille's for a little tete-a-tete while Kimber makes bellinis in the kitchen. Kyle basically tells Camille that she could forgive her for everything that happened last season, which was really just Camille taking Lisa Vanderpump's side in the argument that caused her to pick up her toys and take them all back to Villa Rosa. (All of her toys are little dogs with dermatological problems.) Kyle says all that is forgivable but she was really a jerk on Twitter, not just to Kyle but to "all the girls," which is Kyle's slang for "employees on this here reality television program." They conspire how to make things better between all of them. "Let me see how I can make that happen," she says. Apparently what she decided on was inviting her to the gala and not telling anyone else she was coming until they arrived.
What's funny is that Camille is there to make amends but doesn't seem that intent on really doing it. Dorit, while making kissy faces with Kimber, is actively avoiding Camille and says she refuses to be friends with her again because she brought up Dorit's money problems on camera. When Lisa Rinna approaches her at the party she says, "I don't have any beef with you, but you're an asshole on Twitter." Camille can't laugh at herself and say, "Yeah, sorry about that. I'm glad we're good." Instead when Lisa says that they're good, Camille says, "We're not good. You just called me an asshole. I think I'll pass." Forgiveness is going to take some shit eating and Camille is not willing to do anything that would get her that messy and that she can't delegate to Kimber.
The one person Camille tries to make up with is Teddi. Remember Teddi? She's not a former Housewife, she is currently on this show, even though Camille got more screentime. I shouldn't be too mean to Teddi because she is pregnant and maybe things aren't going well. I don't know. But look at Potomac's Monique Samuels: She was not only present when she was expecting, she almost got into a brawl in someone's backyard. Get it together Teddi.
Anyway, Denise pulls Teddi aside to talk about their issues and Kyle makes Camille go over and say nice things to Teddi. "You can skip the pleasantries with me," Teddi says. "I know you don't like me." All of the women have totally frozen Camille out and it makes it seem like a second resurrection for this villain is out of the question. It's funny because these women forgive each other all the time for some really awful, offensive shit. If Dorit and Erika can be friends after Pantygate, why can't they reembrace Camille? Do you think it has to do with her politics? After she revealed herself as a Brett Kavanaugh supporter, have all of these Democratic donors left Camille to rot in a flyover state?
Speaking of Denise, that's the other storyline for this episode. Well, we also get to see Garcelle talk about a movie she's producing and then actually show up at Kyle's party. Garcelle came to an event! Give her a participation trophy.
The women's problems with Denise continue to be the centerpiece of the season, and she talks about them with Lisa Rinna over breakfast. Well, they order grapefruit juice and French fries, which is not the breakfast of champions, but the breakfast of Kweeeeeeeeeennnnnsssssss!!!!! This is another examination of Denise's reaction to the women talking about threeways in front of her children. I think we have beat this dead horse so much that even the candy inside the pinata is like, "Enough already."
That is part of the problem, though, for Denise. She says the more and more this goes on the more and more chances are that her kids will hear about it. She tries to keep so much from them, especially considering their father, but Rinna thinks it's foolhardy of Denise to think that her kids won't watch TV and see Denise saying sexy things on the air. When talking about this with a friend, he made a very apt analogy. "It's the difference between me as a kid finding my gay older brother's porn stash and him being like, 'Hey, check this out,' and giving me the magazine when it was inappropriate." That's it exactly. If they discover Denise saying these things it's different than her saying them to their face and not caring. I totally get that.
What we can take away from the breakfast is that Denise no longer trusts Rinna because she didn't have her back when the argument went down with everyone. I think that's pretty fair. Rinna also doesn't trust Denise and she broke the fourth wall in a way that I haven't quite seen yet. "Denise may be using the show to change her image from last season," Rinna says in a confessional. "But, guess what, this show is about us being honest and showing our feelings, good bad and ugly, and you can't control it." Someone referencing the show directly and how people use it without obliquely referring to "the girl" or "our group." I love to see it.
We don't see Denise and her issues much at the party other than her husband Aaron getting a talking to from PK, who I will not be denigrating this recap because I appreciate what he did. He stepped in and told Aaron that the best way he can support his wife is by not fighting her battles for her, something he learned the hard way. It seems like this message falls on dumb ears. Sorry, I meant deaf ears. Well, maybe both. Okay, fine. I can't escape this without being a little mean to PK, so I will point out that in his confessional with Dorit he looks a bit like a character on What We Do in the Shadows. That will have to suffice.
We'll see more of the party next week, I suppose. I loved the little moments of it, like when Mauricio, six edibles deep before he even puts on his tux, tells Kyle that the only people they could call to fix the pool light were "Ghostbusters." What I loved the most, though, was just having everyone around. Eileen and Faye and Kim and Glen and Adrienne and the ghost of Taylor Armstrong, all sitting front row to bid on what is surely an awful golf vacation. I loved the breadth of it. I loved the time that we spent together in the past and how it keeps weaving in and out like some sort of X-rated tapestry. I loved being a part of what felt like a universe, each star shining on its own frequency, giving off her own light, as the breeze over the tent blew so hard it's like all of them blurred together just a little bit.