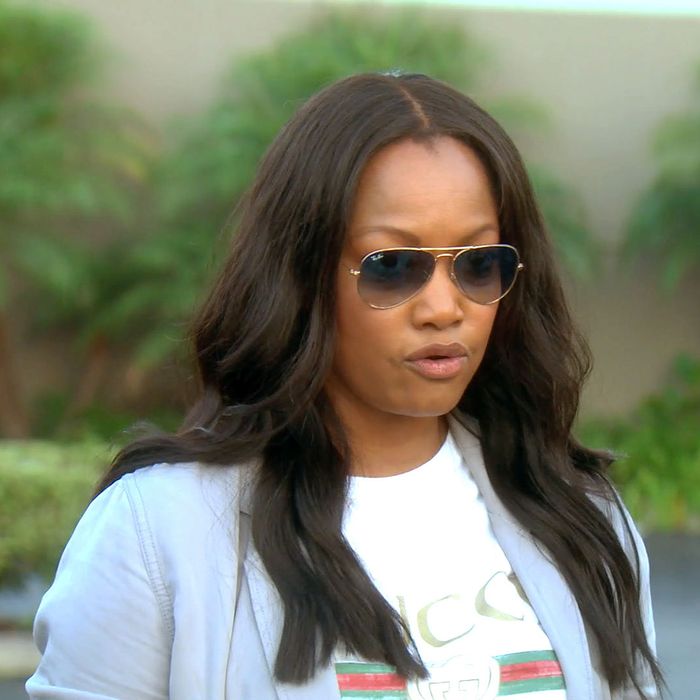 This week on our favorite program Rich Women Doing Things, the rich women did things. They made percolator coffee that is stronger than a bag full of Xanax they definitely don't have in their purses. They spoke surprisingly decent Spanish to their housekeeping staff. They recorded their soap operas in a world where Social Distancing was just the name of a mediocre emo outfit. Mostly they went to Santa Barbara where they wore their petty squabbles like giant baubles.
Well, all but one of the rich women made the trip two hours up the coast. So, is Garcelle on this show or naw? I get it, she's busy. The rich women have lives, which is what makes them attractive candidates to be on the show. But so far, Garcelle hasn't gone on any of the group activities. It seems like she can commit to some dinners and that's about it. Especially in these early days, how is she supposed to form lasting relationship dynamics with the women? It's like long-distance sexting. It's hot and horny at first, but after a while things start to shrivel/dry up and then it's just a chore to try and keep another person engaged when everyone's Skittle is diddle free.
Yes, Garcelle was off filming a TV show and then shooting Coming to America 2 and she is also producing two movies and has two more in development. She is a busy lady. So why is she taking the show if she can't commit fully? Also, why did the producers extend her a contract if they knew she had all of these upcoming commitments? I enjoy her very much when she's around, but it's that when that's the problem, especially for someone just coming into the group. Sutton may be a dud, but at least she cleared the schedule.
As the women arrive at a big mansion in Santa Barbara — home to my in-laws, my favorite brunch spot in the entire world, and the American college with the largest hard alcohol consumption — there are two main fights that need to be adjudicated. The first is between Kyle and the rest of the group and is a continuation of the fight that kicked off the last two episodes about whether Kyle is closer with Teddi than anyone else or if they're a "package deal." She apologizes to Dorit for yelling at her, but Dorit tells the audience, "Kyle has to admit that she's closer to Teddi but the more she denies it, the harder it gets."
Mostly I have questioned why this fight matters at all, but this episode I finally hit on it: This fight is really about Kyle being the new alpha of the group. In the past everyone was organized around Lisa Vanderpump. Even if they weren't her allies, they were in a group that was trying to take her down. That is why, in her absence last season, everyone had a good time, because they were all on equal footing. But now that Kyle has been raised up in prominence, like the ugly square-toed sandals worn by Lisa Rinna, she is a threat to the group. What Dorit, Lisa, and the other women are really saying is, "Kyle is closer to Teddi and that puts my position on the show in jeopardy."
What this whole skirmish really emphasizes is that Kyle Richards is not cut out to be alpha. She's just not. She needs everyone around her to like her, she needs to come across as a good person, even as she's spitting at her coworkers like a pan of bacon grease left on high heat. That is not a way to maintain control. Bethenny Frankel or Nene Leakes were the respective alphas of their show, both by dint of longevity like Kyle. But the difference is they are not afraid to make enemies. They're not afraid to spar and put those coming at them in their places. If someone asked Nene if she is closer to another Housewife (you know, back when people could stand Nene) she would say declaratively that she was.
Kyle can't do that. Kyle needs Dorit to think that she is as close to her as Teddi is. Same with Erika and Lisa Rinna. But that isn't true. It's not that Kyle has changed this season, it's that the circumstances around her have. While producers might have joked that Lisa Rinna is now the one wearing the crown, she's maintained her previous role as shit-stirrer-in-chief and CEO of Own It Enterprises. She's like the CIA. She doesn't want to be at war with anyone, but she will certainly give guerilla armies all the ammunition they need to slaughter a bitch.
The irony of Kyle's new position is that she accuses all the other women of being "fake ass bitches" because they are being passive aggressive. If Kyle were a Pokémon card, her attack value would be negligible but her passive aggression score would be higher than the number of ugly Chanel pieces that Dorit has in her wardrobe. Sure, she can be confrontational and tell people to "fuck off" to their faces, but she can't address the issues that they really have.
Teddi — who, like getting my hair cut, eating in restaurants, and your fucking sourdough starters, I had totally forgotten about — finally pipes up and says that when they argue about whether or not Kyle is close to her, it's in order to shade her. She sees this as a side attack against herself, and she's not entirely wrong. Maybe everyone isn't as over Lucy Lucy Pry Out My Eyeteeth With a Rusty Screwdriver as they purport to be.
Erika was upset by Kyle's attack that she doesn't have close friends and that she's not as close with Dorit as she might think she is, but what really upset Erika was all this drama about her discussing three-ways at Denise's party. After Lisa grills Denise about filming a girl/girl/guy menage for Skinemax classic Wild Things, things eventually get back around to what was said at the party. Denise keeps saying that she's over it and it's no big deal, but she has brought this up more times than Police Academy has sequels. If it's no big deal, why keep harping on it?
I think this one is a case of everyone being both a little bit right and a little bit wrong. After Denise asked Erika and the other ladies to keep the sex talk down at her party, they should have obliged. But since they didn't, Erika has apologized and they all know not to bring these kinds of things up around Denise again. Denise also knows to maybe not have the kids around when the ladies are all hanging out, an arrangement which seemed a little bit odd to begin with.
What the women seem to have a hard time understanding is Denise's stance on sex talk in general. Erika says a few times that it's naïve to think that Denise's 16-year-old daughter and her friends don't know what three-ways are, and she's not wrong. But I also think that Denise is right in that no teen wants to hear their parents and their parents' friends talking about them, just like any parent doesn't want to think about their daughters giving BJs, even when they learned how to do them from a book their mother wrote. (The look on Erika's face when she said she was glad she taught her daughters how to give head was a potent concoction of disgust, awe, amusement, and something along the lines of throwing up in her mouth a little bit, if that is something we didn't stop saying 10 years ago.)
Denise is like all of us and thinks that there are things you talk about with your friends and things you talk about in front of your kids. It makes sense that she would talk all about Aaron's dick and him getting a happy ending in front of the women but not her children, regardless of whether they're Charlie Sheen's kids and have seen some real Tiger Blood shit going down. What the women can't square is that she talks about those things on TV and thinks that is not "in front of" her kids. Denise has a unique ability to compartmentalize — she seems to think the girls are never going to see the show or talk to anyone who has seen it or maybe get clips sent to them on Instagram. That is, of course, ridiculous, but that is the way Denise deals with her career in the reality TV arts and sciences.
If that's how Denise wants it, I think that the rest of the crew needs to respect that, as insane as it sounds. But Erika and Lisa are also right in that Denise is trying to use this to make them seem like bad moms or people who don't understand children because they want to do things differently. Still, that does not excuse Lisa asking, in her leading, accusatory tone, if Denise has talked to her daughters about Charlie Sheen's hookers. I love a Rinna, I love that she owns it, I love that she is uncompromising in her pursuit or radical honesty, but that is a firecracker that is going to explode in her hand, and I don't want to be anywhere nearby when the shrapnel of her fingernails starts flying.