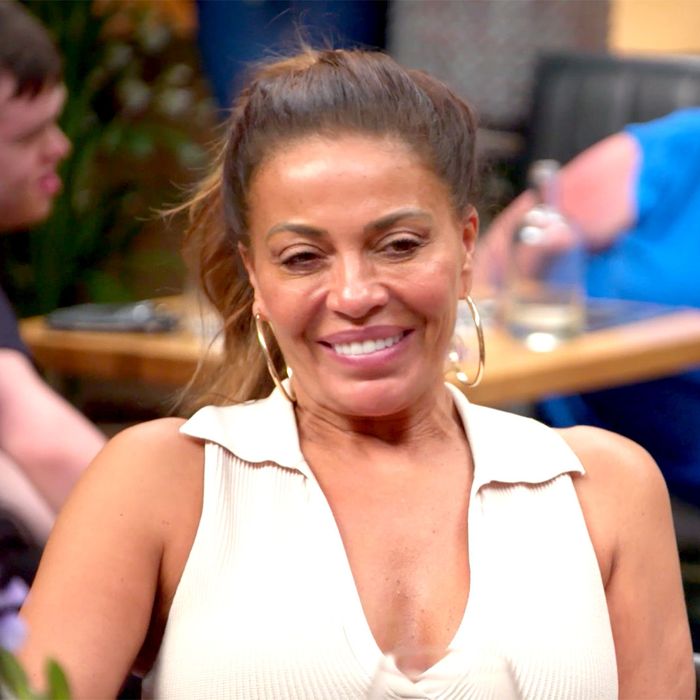 There is a very easy way to see who in the cast has been to college and who has not. No, it isn't about who knows the meanings of words or how to pronounce them, because none of them seem to be able to do either. It's judging how these women chug a Guinness at a local pub in Dublin. Jackie Goldschneider, now that is a bitch who went to college. She necks it (that's how English/Irish people say "chug") in one go, while an Irish lass named Leslie and some other dude don't even get halfway done with theirs. Yes, she might have foam all over her face and her hair, but here is a woman who can unleash the sorority sister that lives inside. Jennifer Fessler also seems to have a college degree, though she gets about as much beer down her front as she does down her gullet. Everyone else? Yeah, no. That is why they are not chugging beers. You think that going to college is about learning a trade, getting an education, or finding yourself, but it's not. It is about getting as much alcohol into your body as quickly as possible, which is why most of this cast is so damn bad at it.
Beer chugging is really the only exciting part of this episode. The girls have a great night out where Jenf falls in the middle of the street and people laugh at her more than they would a busker doing novelty songs. It's such a good night out that everyone passes out in their Sprinter van, which is clearly haunted by the banshee shrieks of Tamra Barney Judge from RHOC's visit to the country seven years ago.
The next morning we get the only two fights happening on the Emerald Isle. I have no clue what is going on during one fight, and the other fight is so old that it can now legally drink, rent a car, and be elected to the House of Representatives. The first fight pops up again at breakfast, and it is between Danielle and Rachel. Everyone is upset on Rachel's behalf for Danielle calling her a rat, something that multiple confessionals have let us know is the meanest insult that a woman from New Jersey could hear. Really? I thought that was, "Your hair is looking flat."
Danielle is mad that Rachel told Marge that Teresa and Jennifer Aydin had warned them about her. Now Rachel thinks that Danielle is a rat for going around telling people she's a rat. But also, somehow, Margaret is involved because she's mad that Jen and Teresa told Danielle that she has an "arsenal of information" to use against her friends. I have no clue what is going on here or why Rachel and Danielle are mad at each other except that maybe they don't want to be mad at any of the old guard because they don't want their slot on the show challenged.
When Marge flat out asks Danielle if she thinks she has an arsenal, she says that Margaret hears things. She specifically means that Marge has heard about Melissa maybe making out in the back of a car with some other dude, but she doesn't want to bring them up. I agree with Margaret that these women hear things about each other. They're getting DMs, IMs, Facebook messages, little hints when they're at the deli, snatches of gossip from the other mothers at their kids' schools. Yes, they hear all sorts of things about one another, but I think it's less about any one person having an arsenal than about how a person does her arsenal.
This, of course, leads to Jennifer saying that Marge talked about Luis last year. Oh, Jesus. Between her and Teresa, they're still going to be fighting about whether or not the New Coke is worth it in the year 2197. God, no one cares about this at all. But for those who do, Marge did say something about Luis, but it was information that was available on the internet, not anything she had heard. Also, unlike what Jen and Teresa say, she let it go. She only mentioned it once to tell Teresa to get ahead of it. Every other time it came up was because of Tweedle Dee and Teres-le Dumb.
T and J accuse Margaret of talking the most shit, but don't all of these women talk equal amounts of shit? Don't they throw around rumors like T-shirts getting shot out of a gun at a Devils game? That's kind of the whole show: Don't hate the player, hate the game. Again, the Danielle and Rachel fight kicks up at dinner that night and it again becomes a proxy war for the ongoing feud between Jennifer and Teresa versus Margaret and Melissa. Marge, who came down to breakfast wearing a shirt that read "Endorsed" in big block letters that she bought from Fetch Novelty Tees and Catchphrases, asks Jennifer if she knows what the word duplicitous means and, of course, she does not.
What Jen pulls out instead is that Margaret is a "boogawolf." With their phones out, Melissa explains this means someone who is terribly ugly or nasty. I don't know; the only definition I could find for it was on Urban Dictionary, every teen's favorite repository of obscure names for sex acts that no one actually engages in. That's why this isn't the read that Jen thinks it is. Everyone who can chug a beer should know what duplicitous means. No one knows what a boogawolf is because not only is it obscure, it's possibly a made-up word. In that spirit, I would like to call Jen a "calackaflocker." Don't know what it means? Well, don't you feel stupid? (You shouldn't.)
The other fight happens on the bus and comes during an interesting discussion about infidelity. Jenf says that Jefff cheated on her and they broke up for two years and dated other people, but then got back together. Everyone on the bus says that infidelity isn't a deal breaker for them, which is funny because they sure get really upset when there are allegations about it happening in their families. Only Teresa says it's a deal breaker, but she also had no idea that Joe Giudice was cheating on her for years under her nose (supposedly!), so what can I say about that?
As Teresa is talking about how she divorced Joe and how close they are now, she adds that Luis wants to be close to Joe for the kids. Rachel asks if Teresa's kids and Melissa's kids get along. These women are always the first to say, "Kids are off limits," and I think they mostly should be, but this isn't a question about the kids, it's a question about how the parents' relationships affect the children, something that I think is very pertinent to the discussion, considering two of the women are in the bus right there.
Teresa says, "They were, but Antonia …" before she can even finish that sentence, Missy G's head spins around faster than a lazy Susan operated by a meth addict. She doesn't want Teresa to say anything negative about her daughter. Teresa claims she's not, but the insinuation is there. What Teresa is saying, basically, is, "The kids were close, but they're not anymore, and it is Melissa and Joe's fault." But instead of Melissa and Joe, it's a 17-year-old with one too many absences on the cheer squad whose name actually comes up.
Melissa points out that her daughter was busy and in another state, and cites the time when Gabriella couldn't come to Papa Gino's first Communion because she had a soccer game. "It's always tit for tat with you," Teresa says. No, that is not tit for that. That is Melissa saying that they didn't get all bent out of shape when one of Teresa's girls was busy, maybe Teresa should show Antonia the same grace. Teresa says that she wants the kids to all stay close, but Melissa has the most withering comeback: If Teresa wants them to be close, she should give them the example of what it is like to be close and have Melissa in the wedding. I don't think she wants to walk down the aisle with Teresa, but it's Melissa showing, once again, that even though Teresa only blames her, she hasn't done anything as bad as her sister-in-law.
The really interesting discussion, however, is Melissa talking to both Margaret and Joe about the situation. After 20 years, Melissa is checked out. Just as we're sick of seeing this fight happen in the exact same way over the exact same shit season after season, Melissa is tired of living it. It's also interesting that we're starting to see her and Joe think about not attending the wedding, and that's before all of this stuff about Melissa cheating hits the group at large. Watching these shows, we all want an inciting incident; we want a single, solitary reason why this relationship ended. But it wasn't that one thing at all. It was all the things. It was a million things. It's not like their relationship was severed like a knife slicing a rope. It was just fraying, fraying, slowly fraying, as each fiber snapped under a stupid argument until there wasn't any rope left except a noose that would hang them all.