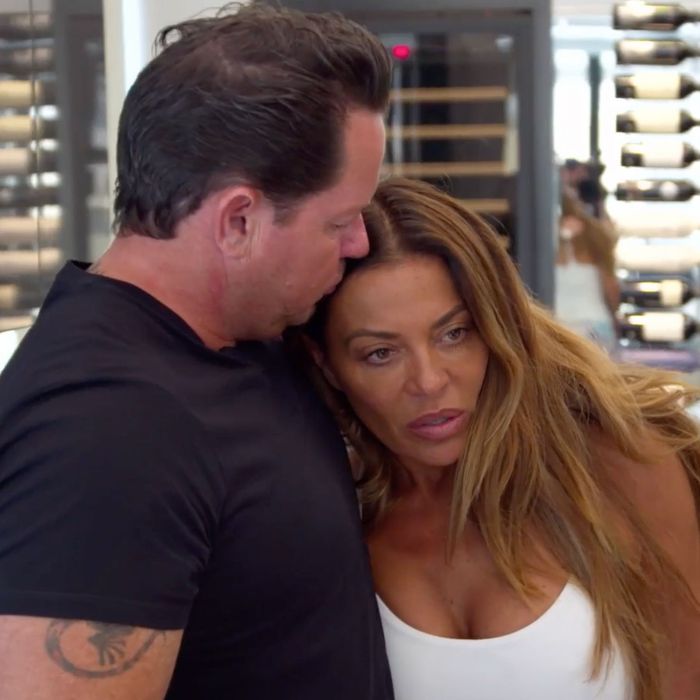 This is the weirdest season of RHONJ to date. Why? Well, we already know what happens at the end: Joe and Melissa don't go to Teresa's wedding and their relationship is entirely fractured. Yet we still watch. But why? To see how they get there, of course, but also, we're not getting the whole story. It seems, at least in the past two episodes, that all of the good storylines are happening off-camera. We're not seeing all these mysteries, so we can't really form an accurate judgment of them. And when they're not dropping hints about what is happening, they're still rehashing the same old shit from last year that we didn't even care about.
What are these mysteries exactly? The first is Pizzagate, a scandal that unfortunately shares a name with a conspiracy theory about Hillary Clinton's emails being pedophiles at an abandoned Charles Edward Cheeze restaurant somewhere in the District of Columbia. Joe Gorga paints it as a business deal gone wrong between him and his sister's now-husband, Luis, which kicked their bad relationship into overdrive. The ins and outs of this mysterious deal are more confusing than learning how to play Dungeons & Dragons after a half-decent edible.
Now there is Pizzagate 2: The Way of Water, and we learn even less. We get some tabloid headlines and gossip from Joe and Melissa that Teresa and former castmate Dina Manzo fell out because Luis and Dina's husband had their business deal gone bad. Did that have anything to do with pizza ovens? We find this out because Dina has begged off being one of Teresa's kajillion bridesmaids and Dolores has replaced her.
Then we find out that Dolores and Dina have so much beef it has been converted into tenderloin, Wellington, and jerky, and there is still a lot of meat left over. Dolores says, "I won't talk about Dina ever." Okay, what happened between these two ex-friends? You can do a little Google and find a decent answer, but why isn't this on the show? Why are we only getting insinuations about what is happening instead of what is actually happening?
What do we have to watch instead? The longest, fakest, most drawn-out visit with a coffee psychic that I have ever seen. I'm sure that coffee grounds can offer all sorts of insight, but you know what else can? Jennifer Aydin. I would say she just Googled the cast, but she seemed to know things about the new girls, so she's definitely a plant. What else? A fight between Danielle and Rachel that no one cares about? More chat about Dolores and Frank when everyone knows that Frank needs to shut up, grow up, and something else that ends in up that I can't think of right now. (No, not sack up. I hate that.)
I do not care. I do not care about any of this. I want to hear more about Pizzagate. I want an in-depth explanation of why Dolores and Dina hate each other. I want to hear from Laura, Marge's ex-friend, who has been mentioned in every episode, but we see her less than we see the ghost of Kim G giggling in her foyer. I want to see every single picture of Frank from 25 years ago with a mustache because that, right there, is my ideal man. Sorry, Dolores, but I would have helped him cheat on you in a New Jersey minute. (That is actually three minutes because of the traffic.)
All the important, interesting things in this season — what happened between Danielle and her brother, why all of Teresa's friends hate Luis, who would want one of Teresa's pizza ovens, which gay told Dolores that her super dark hair confessional look was good — are being hidden from us. But do you know something I really want to know more about? John Fuda raising his son Jaiden alone since he was 18. How did this mountain of gabagool raise what seems to be a reasonably well-adjusted kid without any help? Can we get an AMC limited series about this?
I loved the scene of Rachel and John talking about how Rachel wants to adopt Jaiden because she really sees him as a son. I also loved that we finally got to hear what John does for a living, and, well, in keeping with the season, it is pretty mysterious. They have a parking business, a concierge business, a tile business, and a burger shop. Oh, so they have a whole bunch of cash-only businesses. No red flags here. None at all. But as shady as that sounds, at least he can name his businesses. Joe Gorga has been on this show for over a decade and I have no idea what he does other than show off his guns on construction sites. I mean, I would pay to see that, but I don't think those guns are paying for Melissa's new "sophisticated" Disney princess house.
The big meeting in this episode was the coffee grounds meeting, which Dolores held at Paulie's house because Jen thought if she had everyone over Margaret wouldn't show up. I guess that's only a problem because Dolores had to do the trip reveal at the party, which meant all the ladies, including Jackie and Jenf, had to be there. I have to say, I'm really enjoying these big old casts with lots of friends. I'm finding I'm getting just enough Jackie and Jenf, and they're taking some of the heat off of the big players. I feel the same way about The Real Housewives of Miami, which had nine women, all gems (in their own way). Maybe that is the secret. We just need all their worlds to get bigger.
Anyway, I want to talk about Paulie's, which seems like a giant mansion, unless it is a duplex, and even then, it's still bigger than most of their houses. (What does Paulie do? Don't know. Won't ask. Wouldn't understand even if you explained it.) This place is such a man cave, though. It's like Villa Rosa's ex-husband who moved across the country just to escape the perfume counter that turned into a whole house. It's all chrome and dark wood and glass walls. Guitars are hanging on the walls. No woman has ever done this. Not even Ann and Nancy Wilson of Heart have guitars hanging from the walls because they have taste and know what they are doing. Joan Jett doesn't have guitars hanging on the walls, but she does have a strap-on made out of one, but that hardly counts. What I'm saying is, please let Dolores decorate this apartment because I feel like she's living in a Tesla.
When the parties end, and all the women filter out with their bogus predictions thanks to ChatGPT (the P stands for psychic), they're all a little bit angry and a little bit pissed off. But about what? How Marge told on Jen last year? How Rachel told Marge what Danielle said? That Teresa asked Jen to be a bridesmaid but not Melissa? I wouldn't know what is going on. The show won't tell us anything we want to know.